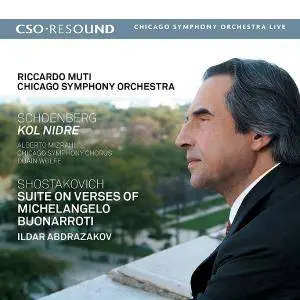 Riccardo Muti & Chicago Symphony Orchestra - Schoenberg: Kol Nidre; Shostakovich: Suite on Verses of Michelangelo Buonarroti (
Classical, Opera | MP3 CBR 320 kbps | 00:56:41 | 131 MB
Label: CSO Resound
This new live recording pairs profound works by two of the 20th century s greatest composers: Arnold Schoenberg and Dmitri Shostakovich. Writer Phillip Huscher describes Schoenberg s 'Kol Nidre' as a 'stark, strong modernist statement,' set to the prayer said on the eve of Yom Kippur the Day of Atonement. Schoenberg, who had fled Europe in 1934, premiered the work in Los Angeles in 1938, one month before the devastating anti-Jewish pogroms of Kristallnacht took place throughout Nazi-Germany. Shostakovich s suite explores similarly weighty concerns, including themes of love, morality, death, and the human spirit through the poetry of the Renaissance master Michelangelo. Although originally conceived to honour the fifth centenary of the artist s birth, Shostakovich s settings became a highly personal testament to concerns the two men shared across the centuries.
Tracklist:
01. Kol Nidre, Op. 39 : Kol Nidre, Op. 39
02. Suite on Verses of Michelangelo Buonarroti, Op. 145a : Suite on Verses of Michelangelo Buonarroti, Op. 145a: I. Truth
03. Suite on Verses of Michelangelo Buonarroti, Op. 145a : Suite on Verses of Michelangelo Buonarroti, Op. 145a: II. Morning
04. Suite on Verses of Michelangelo Buonarroti, Op. 145a : Suite on Verses of Michelangelo Buonarroti, Op. 145a: III. Love
05. Suite on Verses of Michelangelo Buonarroti, Op. 145a : Suite on Verses of Michelangelo Buonarroti, Op. 145a: IV. Separation
06. Suite on Verses of Michelangelo Buonarroti, Op. 145a : Suite on Verses of Michelangelo Buonarroti, Op. 145a: V. Wrath
07. Suite on Verses of Michelangelo Buonarroti, Op. 145a : Suite on Verses of Michelangelo Buonarroti, Op. 145a: VI. Dante
08. Suite on Verses of Michelangelo Buonarroti, Op. 145a : Suite on Verses of Michelangelo Buonarroti, Op. 145a: VII. To the Exile
09. Suite on Verses of Michelangelo Buonarroti, Op. 145a : Suite on Verses of Michelangelo Buonarroti, Op. 145a: VIII. Creativity
10. Suite on Verses of Michelangelo Buonarroti, Op. 145a : Suite on Verses of Michelangelo Buonarroti, Op. 145a: IX. Night
11. Suite on Verses of Michelangelo Buonarroti, Op. 145a : Suite on Verses of Michelangelo Buonarroti, Op. 145a: X. Death
12. Suite on Verses of Michelangelo Buonarroti, Op. 145a : Suite on Verses of Michelangelo Buonarroti, Op. 145a: XI. Immortality