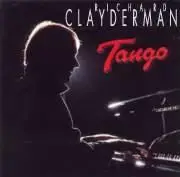 Richard Clayderman - Tango (1996)
Genre: Dance | MP3 256 kbps | 44100 Hz Stereo | ~61 Mb
My father was a piano teacher but above all he was a bandoneon player. When I was a kid I would often hear him at home practicing tango music. 'La Cumbarsita' was one of his favorites.
at home, at music school and later on at the Conservatoire, I was studying Mozart, Chopin, Brahms….but when I was 12 or 13 years old, my father offered me several opportunities to play the piano and the organ with his group. We used to play a series of dance themes: waltz, Paso dobles, boleros, cha cha and of course, Tango.
The tango took off over the world in the 30's and although rock, dance music, techno and rap have infused the world, the tango and its sound remain as inspiring as ever. Whenever I listen to a tango it brings back memories of my father who died over 20 years ago. I can still see his fingers dancing across the keys of his bandoneon.
In this recording, my wish was to associate my piano to rhythms and sounds which are those of today without distorting the essence of tango.
In fact my goal here is to introduce the tango to the uninitiated, bring back good memories to those who know it and, above all, to have my listeners enjoy tango as much as I do.
Merci to the Argentinean composers for the great heritage they have given us.
http://www.clayderman.co.uk/home_page.htm
Tracks:
1. La cumbarsita (Rodriguez/Contursi/Maroni)
2. Mano a mano (Rozzano/Flores/Gardel)
3. A media luz (Donato/Lenzil)
4. Adios pamba mia (Martinez/Mariano)
5. El choclo (Disepolo/Mores)
6. Caminito (de Dios/Penaloza)
7. Sus ojas se Cerraron (Le Pera/Gardel)
8. Volver (Le Pera/Gardel)
9. Tomo y obligo (Gardel/ Le Pera)
10. El dia que me quieras (Gardel/Le Pera)
11. Mi Buenos Aires Querido (Le Pera/Gardel)
http://rapidshare.de/files/24053087/Richard_Clayderman.part1.rar
password: tok
Richard Clayderman - Music Part 2 (1996)
Genre: Dance | MP3 256 kbps |
| 44100 Hz Stereo | ~46,5 Mb
http://rapidshare.de/files/23975368/Richard_Clayderman.part2.rar
password: tok