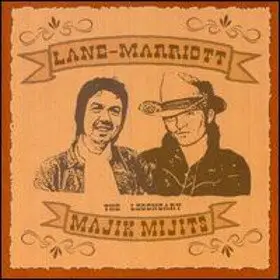 Ronnie Lane & Steve Marriott - The Legendary Majik Mijits (2000)
Pop/Rock | 1CD | MP3 CBR 256kbps | RAR Files 63.7Mb
Released: 2000 | Language: Englisch
Ronnie Lane and Steve Marriott got back together in 1981. Steve flew back from Atlanta, Georgia, to play a one-off gig with Ronnie at the Bridgehouse pub in East London. The gig on 1st September included the band Blind Drunk with old mates Jim Leverton on bass, Mick Green of the Pirates on guitar, Mick "Wynder K Frog" Weaver on keyboards, and Dave Hynes on drums. Sam Brown, daughter of Joe joined on backing vocals.

This line-up recorded an album of material at Ronnie's mobile studio under the working title of The Legendary Majik Mijits, aka The Mijits Strike Back. There are a number of surviving cassettes and these show the tracks have a pub rock feel with Steve and Ronnie taking their share of the lead vocals.

Darlings of Wapping Wharf suggests that A & M Records was keen to sign the Majic Mijits. However, Ronnie's health meant that the band was unable to tour in support of the album and the deal fell through.
Track listing
01 Lonely No More
02 Chicken (If Eht Cap Fits)
03 Toe Rag
04 Bombers Moon
05 Birthday Girl
06 Last Tango In Nato
07 How Does It Feel
08 That's The Way It Goes
09 You Spen It
10 Son Of Stanley Lane
11 Be The One
12 Ruby Jack
13 All Of Nothing (Reprise) (Live Form The Canning Row Gig)
Download RS