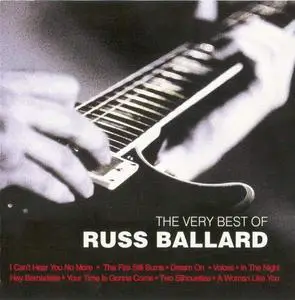 Russ Ballard - The Very Best Of
MP3 320 kbps | 2001 | 57.22+51.74 Mb
"Russ Ballard (born October 31, 1945 in Waltham Cross, Hertfordshire, England) is a British singer/songwriter. Initially he was a guitarist with Buster Meikle & The DayBreakers which incidentally also included his older brother on keyboards together with Bob Henrit on drums. He then went on to joint The Unit 4+2 in the early 60's before becoming the lead singer and guitarist of Argent writing their hit "God Gave Rock and Roll to You", later covered by Kiss.

He left Argent in 1973 and pursued a solo and song writing career. He wrote such hits as Three Dog Night's "Liar", Hot Chocolate's "So You Win Again", Rainbow's "Since You've Been Gone" and America's "You Can Do Magic". As a solo artist he charted once on the U.S. Billboard Hot 100 chart, when "On the Rebound" went to number 58 in 1980.

The song "Voices" from the album Russ Ballard was featured on the Miami Vice episode entitled "Calderone's Return part 2", which aired on 26 October, 1984."
Tracks:
01. I Can't Hear You No More.mp3
02. The Fire Still Burns.mp3
03. Dream On.mp3
04. Voices.mp3
05. In The Night.mp3
06. Hey Bernadette.mp3
07. Your Time Is Gonna Come.mp3
08. Two Shilouettes.mp3
09. A Woman Like You.mp3
Download (rapidshare.de):
Part 1
Part 2