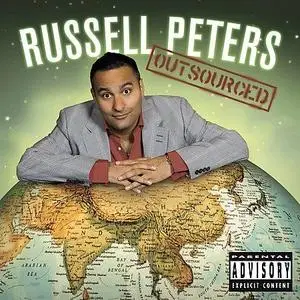 Russell Peters Outsourced (2006) (reuploaded)
Audio - comedy | MP3 | 183 Kbps | 98 Mb (WinRar) | 70mins
Product summary and review
Russell Peters leaves no racial stereotypes unmentioned in his act, especially stereotypes that could be addressed to him: 'It is hot as hell in India and we're hairy!' the South Asian comedian exclaims moments into his live performance CD Outsourced. During the 70-minute show, Russell tackles multicultural issues in a humourous light, ranging from the varying cultural approaches towards child discipline to the North Americanizing of East and South Asian names. Peters's greatest strengths are twofold: First is his uncanny ability to mimic every accent imaginable (from Filipinos to Vietnamese to Americans) and second is his razor-sharp improvisational interplay with his audience that's well documented on this disc. While having a respectable 17-year-long comedy career in Canada, Peters's worldwide acclaim amped up significantly after his performances started surfacing on the Internet. This live set–recorded at the Warfield in San Francisco–captures an audience that clearly eats up his every word. Unlike many live CDs, where much of the humour is physical and doesn't translate well to an audio-only format, Outsourced (also available on DVD) actually loses very little in translation, making it a great choice for the globally minded comedy fan.
Additional info
Mp3 ripped by audio CD track; also contains M3U file. Sorry: no covers.
Thanks go to original uploader.
Download
here