Orkestar Salijević is one of highest rated brass (trumpet) orchestras in Serbia. They are also known as Goran Bregović's official orchestra.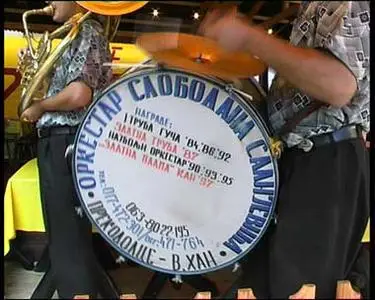 As many others brass orchestras, every year, in August, they participate in Guča Golden Brass Festival. Festival is also a place where in a week pass several hundred thousend people who dancing, drinking, eating; and trumpets don't stop - day and night!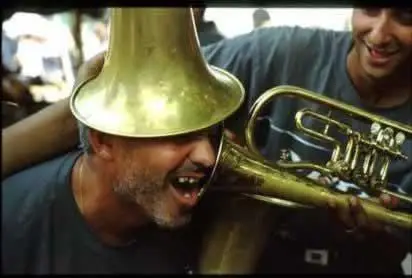 More info
on Festival You can find at:
http://www.guca.co.yu
,
http://www.gucafilm.com
,
http://en.wikipedia.org/wiki/Gu%C4%8Da_trumpet_festival
,
http://www.thisisthelife.com/en/carnivals-festivals/guca-festival-serbia.htm
,
http://www.sabortrubaca.com/
,
http://launch.groups.yahoo.com/group/balkanbrass/?tab=s
.
Photo Gallery
:
http://www.guca.co.yu/galerija/main.php
.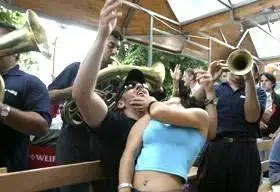 Manual for listening
: very, very loud. And yes, it's very desirable when You listen this to drink some shlivowitz, komovitz, schpritzer or beer… :)
Enjoy !
Tracklist:
[07:11] - Orkestar Salijević - Andjeo čuvar.mp3
[03:02] - Orkestar Salijević - Čaje šukarije.mp3
[04:51] - Orkestar Salijević - Dom.mp3
[03:17] - Orkestar Salijević - Kalašnjikov 2.mp3
[04:12] - Orkestar Salijević - Kristinin čoček.mp3
[05:06] - Orkestar Salijević - Mesečina 2.mp3
[02:31] - Orkestar Salijević - Oro stakato-Hora Stacato.mp3
[03:08] - Orkestar Salijević - Prekoolsko kolo.mp3
[03:22] - Orkestar Salijević - Rečenica.mp3
[03:00] - Orkestar Salijević - Sebastijanov čoček.mp3
[03:05] - Orkestar Salijević - Ševa 2 Hora Stacato.mp3
[04:08] - Orkestar Salijević - Ševa 3 Hora Stacato.mp3
[05:53] - Orkestar Salijević - Srebrin čoček.mp3
[03:34] - Orkestar Salijević - Stani stani Ibar vodo.mp3
[03:22] - Orkestar Salijević - Vlaški Orijent.mp3
[05:26] - Orkestar Salijević - Vranjski čoček.mp3
[04:46] - Orkestar Salijević - Zašto žuris crna devojko.mp3
[04:18] - Orkestar Salijević - Zvižduk.mp3
Pass:
www.AvaxHome.ru
Download from rapidshare.com :===========================

<a href="http://www.FriendlyDuck.com/AF_TA/rel/index.cfm?RST=UNF&TAD=432842&fn=Salijevi%C4%87%20Orkestar%20-%20Povratak%20mese%C4%8Dine" onclick="log_click('Salijevi%C4%87%20Orkestar%20-%20Povratak%20mese%C4%8Dine', 'www.friendlyduck.com'); return true;" target="_blank" rel="nofollow noopener noreferrer">Salijević Orkestar - Povratak mesečine</a>
===========================
===== ===== =====
=== === ===
= = =
Regards from Serbia !!!
= = =
=== === ===
===== ===== =====
===========================