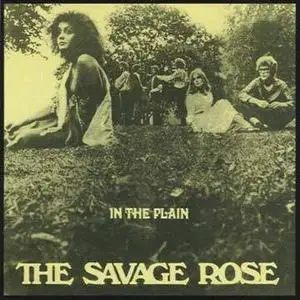 Savage Rose - In The Plain (1968)
190 Kbps MP# / 52 Mb / Zip-file / No password
Savage Rose biography
One of the most well-known rock groups from Continental Europe, Denmark's Savage Rose recorded a wealth of intriguing and eclectic progressive rock in the late '60s and '70s. In their early work, one hears faint echoes of the Airplane, Doors, Pink Floyd, and other psychedelic heavyweights combined with classical jazz and Danish-Euro folk elements. Their arrangements rely heavily on an incandescent, watery organ that sounds like nothing so much as psychedelic aquarium music. The most striking aspect of the band's sound, however, was the vocals of lead singer Annisette. Her childish wispy and sensual phrasing can suddenly break into jarring, almost histrionic wailing, like a Janis Joplin with Yoko Ono-isms, and eerily foreshadows Kate Bush's style.
Stars in their native land, Savage Rose also achieved a bit of underground success abroad, and several of their albums were released in North America. Between 1968 and 1978, the group released nine albums, moving from vaguely psychedelic rock and the heavily gospel-influenced Refugee to the nearly classical ballet score Dodens Triumf and the folky, nearly all-Danish Solen Var Ogsa Din (their first eight albums were sung entirely in English).
Always a radical band – the Black Panthers even invited the group to play at a benefit for Bobby Seale after hearing one of Savage Rose's records – they took the extremely radical step of withdrawing from the studio entirely by the end of 1970s to focus on using their music to support leftist political causes. Although they continued to make music and perform, they were often heard at benefits and free concerts, actually playing in Lebanese hospitals, schools, and refugee camps at the P.L.O.'s invitation. They eased back into recording in the early '80s with Danish-language efforts on small labels, eventually getting back into the mainstream music business with established distribution. Their mid-'90s album, Black Angel, was their first English-language recording in many years, and a substantial Danish hit. By this time the only remaining members from the original band were Thomas Koppel and Annisette (now his wife); Koppel also records and composes symphonic music as a solo artist.
Review of In The Plain by Joe Viglione of AMG:
In the Plain by Denmark's Savage Rose has a striking cover photo with psychedelic color coordinated band members surrounded by wild pink lettering of the group name. "Let's See Her" sounds like Ten Wheel Drive meets Vanilla Fudge; brothers Anders Koppel and Thomas Koppel wrote seven of the eight tracks, and created with this one clever sound and arrangements. The sleeper on In the Plain, though, is the one non-original, five minutes and 38 seconds of "Ride My Mountain," a composition by Jade. It's a wonderful production number where Anisette's vocal screams out over the very together instrumentation. The production is somewhat like Davd Briggs' work on Alice Cooper's Easy Action, while titles like "The Shepherd & Sally" are as experimental as anything on that early Cooper disc. Having the male vocals on "His Own Happiness" is unnecessary, sort of like Big Brother & the Holding Company letting Janis Joplin take a time out. Thankfully, Anissette comes back after a mini-instrumental interlude for a rare look at the band's sangfroid. It is also interesting to hear Thomas Koppel's to-be ex-wife, Llse Maria Koppel, on harpsichord backing his next wife, Anissette. "Evening's Child" is like a psychedelic powwow of jazz-influenced garage rock which cascades into the dirge that is "A Trial in Our Native Town." Without the polish producer Jimmy Miller would bring to the mix on Refugee, In the Plain is a very good look at a highly creative band.
http://rapidshare.de/files/25926074/Savage_Rose_-_In_The_Plain.zip