"She makes music because she has to; it is something she can't really choose. It is a divine gift of God, a means of touching the divine that only a relatively few people are given on this planet. It is very rare and precious, she is blessed to be one of the chosen ones."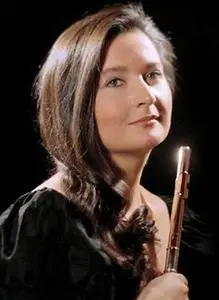 Şefika Kutluer became interested in music at a very early age. However, it was a close family friend, well-known Turkish composer Ulvi Cemal Erkin, who noticed her deep interest in and talent for music. Erkin and her family encouraged Kutluer at every step of her career.
She graduated from Ankara State Conservatory in 1979 with honours. In the same year she became a flute-player in the Presidential Symphony Orchestra. She studied for her role as a soloist in Ankara, Vienna and Rome. She also taught at Ankara State Conservatory for several years. In 1981 she was awarded the "Interpretation Prize" by the Veletri Primavera Musicale. She won first prize at the Doblinger International Flute Competition in Vienna. In 1995 the Turkish Presidental Medal was bestowed on her, the highest honour in Turkey for an individual. She has also performed solos for radio stations such as Radio WGMS-Washington.
Her performances have been broadcast on several international TV and radio stations in England, Switzerland, Germany, Israel, Russia, the Ukraine, Rotterdam, Bratislava, Kiev, Minsk, Vilnius, Moscow, Beijing, Tokyo, Washington D.C., Chicago and New York.
Şefika Kutluer has performed in famous concert halls, such as the Carnegie Hall and Lincoln Center. She has also gone on tour and produced CDs in conjunction with several conductors and orchestras, notably Zubin Mehta, Sir Charles Mackerras, the Scottish Chambers Orchestra, the Northern Symphony Orchestra, the European Union Chamber Orchestra and the Slovak Philarmonic Orchestra.
Her "Carmen Fantasy" CD has been awarded the "Golden CD Prize" by Sony. The prize was presented to her by Suleyman Demirel during a ceremony at the Presidential Palace. In 1998 she became a State artist.
Her latest CD, an interpretion of Mozart, which includes the world premier recording of Mozart's Turkish March arranged for flute and orchestra, was received with great interest world-wide. Sir Charles Mackerras thoroughly appreciated it, declaring it to be excellent. Kutluer's teacher, Viennese Professor Werner Tripp, said that Sefika's new CD is, in one word, beautiful.
For her latest concert she appeared in Minsk, at the Belarussian Philharmonic Concert Hall. Here, she played Borne's "Carmen Fantasie" and Genin's "Carnival of Venice" accompanied by the State Academic Symphony Orchestra. The Minsk Concert started with "Sinfonietta Alla Turca" by Turkish composer E. Sevsay.
Her appearances at International Music Festivals have received very favourable criticism:
*I had never before heard a flute sound so fascinating. PRINCE MIKASA OF JAPAN
*She has ample technical control over her instrument and phrases her music beautifully. ZUBIN MEHTA
*Turkish flautist Sefika Kutluer is now a distinguished member of the music world. I'm deeply impressed by this attractive and emotional musician. Her music is sheer delight. G. EDWARDS-NEW YORK TIMES
*We were all charmed by her virtuosity and interpretation. It was a great pleasure for me to perform with Sefika Kutluer. SIR CHARLES MACKERRAS
*The composition entitled "At the Tomb of Yunus" performed by Sefika Kutluer was excellent, and Yunus Emre's "Philosophy" also extremely interesting. RADIO WGMS-Washington D.C.
*Kutluer has a rich, bright sound, with a glowing vibrato; she fills a large space with her music and calmly takes time to develop the line. AMERICAN RECORD GUIDE Review of the "Romantic Flute"CD
*Turkish "Supremo" Sefika Kutluer's technique, interpretation, and especially her beautiful tone, charmed the entire audience in Kiev. UKRAINE PRESS
*The magic sounds of the flute were melting in the air like the transparent outline of a scarf fluttering behind a beautiful woman, connecting the impetuosity of the music with the graceful smoothness of her gestures. KULTURA - BELARUSSIA
* I am impressed; here we have a master technician who also has great musicianship. The audience was thrilled by the technical excellence displayed by Kutluer; she has a delicate control of the tone. Her articulation of "Flatterzunge" and her tremolo are superb. Her fingering is the best I have seen. But flute players know that fingering is perhaps half the effort; the remainder is the responsibility of the lungs, diaphragm, throat, lips and tongue. Kutluer has all these components completely under control and she imparts a shimmering brilliance to the music. NEW YORK TIMES
*…looking at her, one cannot but desire to call her "Turkey's wonderful pearl". After her concert her homeland came that little bit closer to Belarus and the Belarussian listeners, were as if they felt the life-giving warmth from the far-away Mediterranean in their hearts. SOVETSKAYA BELARUSSIA
http://www.ftp2share.com/file/...alturkkaan.blogcu.com.rar.html
RAR-Password:AlTurkKaan
1. Fantasie pastorale hongroise for Flute and Piano,
Op. 26
Composer Albert Franz Doppler (1821 - 1883)
Performer Sefika Kutluer (Flute)
Namik Sultanov (Piano)
Genre Fantasy / Pastorale
Period Romantic
Country Poland
Recording Studio
2. Sonata for Flute and Piano
Composer Francis Poulenc (1899 - 1963)
Performer Sefika Kutluer (Flute)
Namik Sultanov (Piano)
Genre Sonata
Date Written 1956-1957
Period 20th Century
Country France
Recording Studio
3. Il pastore svizzero
Composer Francesco Morlacchi (1784 - 1841)
Performer Namik Sultanov (Piano)
Sefika Kutluer (Flute)
Genre Fantasy
Date Written 19th Century
Period Romantic
Country Italy
Recording Studio
4. Carnival of Venice, Op. 14
Composer Paul Agricola Génin (1832 - 1903)
Performer Sefika Kutluer (Flute)
Namik Sultanov (Piano)
Genre Variations
Period Romantic
Country France
Recording Studio
5. Syrinx
Composer Claude Debussy (1862 - 1918)
Performer Sefika Kutluer (Flute)
Date Written 1913
Period 20th Century
Country France
Recording Studio
6. Fantasies of Komde
Composer Arif Jangirovich Melikov (1933 - )
Performer Sefika Kutluer (Flute)
Namik Sultanov (Piano)
Genre Fantasy
Period 20th Century
Country USSR
Recording Studio
7. At the Tomb of Yunus
Composer Ekrem Zeki Un (1910 - 1987)
Performer Sefika Kutluer (Flute)
Namik Sultanov (Piano)
Date Written 1932
Period 20th Century
Country Turkey
Recording Studio
From Turkiye
http://alturkkaan.blogcu.com/archive/