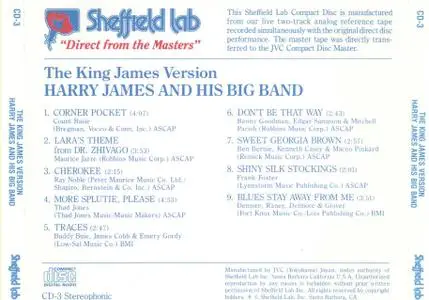 Technical Information
This Sheffield Lab Compact Disc is manufactured from live two-track reference tape recorded simultaneously with the original direct
disc performance of this album. This Compact Disc offers a dramatic increase in transparency and phase linearity due to the exclusive
use of custom electronics and microphones. Because this Compact Disc is manufactured from an original, live, two-track reference tape,
many generations of signal degradation from multi-track recorders and dub-downs is completely eliminated. This Sheffield Lab Compact
Disc has all the unique musical excitement and energy that can only be found in live, unedited performance recordings.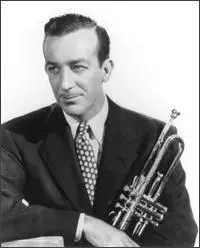 The Artist
Harry Haag James (March 15, 1916 – July 5, 1983) was a popular United States musician and band leader, and a well known trumpet
virtuoso.
The wartime era was crowded with big bands but Harry James with his colorful trumpet playing became one of the most popular swing bands in the nation. The group reflected the circus upbringing of its leader. The men were attired in red mess jackets, white bow ties and
winged collars that went with full dress outfits. Color was the order of the day. He was born Harry Haag James in Albany, Georgia, his
parents were both circus performers His father, Everette Robert James, was the bandleader and trumpet player in the orchestra for
Mighty Haag Circus, and his mother, Maybelle Stewart Clark James, was an aerialist. Growing up in the circus, James became a performer
himself at age four working as a contortionist. He turned to music, first playing the snare drum in the circus band. At age six, after
lessons from his father was playing the trumpet. At twelve, he was the leader of the second band in the Christy Brothers Circus where
his family was then employed. The circus spent each winter in Beaumont, Texas where he received his scant education. He won a state
music contest as trumpeter at fourteen while attending Beaumont High School. James quit school and turned professional playing in local
dance bands. Employment with a national group came in 1935 with Ben Pollack's orchestra and a year later with Benny Goodman. He hit his stride and was very popular with the jazz crowd for his colorful trumpet playing. He formed his own band which was financed by Goodman himself and they debuted at the Benjamin Franklin Hotel in Philadelphia. It featured an unknown male vocalist by the name of Frank Sinatra. Other vocalists singing with the band during its heyday: Helen Forrest, Dick Haymes and Kitty Kallan. Songs made famous by the band which featured Harry playing trumpet solos and in the top ten: 'The Flight Of The Bumble Bee, The Carnival Of Venice, I cried For You and You Made Me Love You.' Some movies James appeared with his band: 'Springtime In The Rockies, Best Foot Forward, Two Girls And A Sailor, Bathing Beauty, If I'm Lucky, Do You Love Me, Carnegie Hall and I'll Get By.' His fabled second marriage to film star Betty
Grable aided his career and the band under his leadership reached remarkable heights. With the big band era over, he dissolved the
orchestra in 1946 but continued performing mostly in Las Vegas. Diagnosed with lymphatic cancer he continued to work. His last
professional job was in Los Angeles nine days before passing away at Valley Hospital in Las Vegas at age 67. His funeral was held in
Las Vegas with Frank Sinatra giving the eulogy. He was interred in the mausoleum at Bunkers Eden Vale Memorial Park.
Tracks
1. Corner Pocket
2. Lara's Theme (From Dr. Zhivago)
3. Cherokee
4. More Splutie, Please
5. Traces
6. Don't Be That Way
7. Sweet Georgia Brown
8. Shiny Silk Stockings
9. Blues Stay Away From Me
Enjoy it!
DOWNLOAD RAPIDSHARE LINKS (covers included), rar files (3% recovery)
(You need FEURIO,NERO, Alcohol or EAC to burn image files to music CD; load CUE file)
:
Downl...ersion part 1 (95.3 MB)
Downl...ersion part 2 (95.3 MB)
Downl...ersion part 3 (26.2 MB)
Rapidget friendly links:
http://rapidshare.de/files/25254483/SL3_HJ_TKJV.part1.rar
http://rapidshare.de/files/25277217/SL3_HJ_TKJV.part2.rar
http://rapidshare.de/files/25251895/SL3_HJ_TKJV.part3.rar
Password (if required):
www.AvaxHome.ru