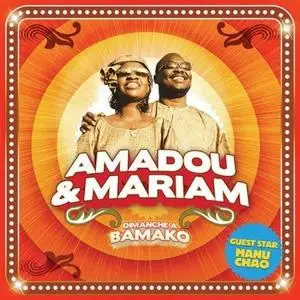 Amadou & Mariam: Dimanche a Bamako (2005)
Rapidshare | MP3 192 kbps | RAR 75MB
Amadou Bagayoko and Mariam Doumbia, a blind married couple whose life story is as remarkable as its music, have long been stars in West Africa. They draw the musical traditions of their natice Mali and the neighboring Ivory Coast, while also embracing the Latin American salsa, Cuban son, reggae, American R&B, and English blues-rock that they discovered via long-distance broadcasts. Dimanche a Bamako, cut in both Paris and Bamako should instantly appeal to fans of Chao's easygoing, dance-oriented, multiethnic mix, as to admirers of Mailan stars Rokia Traore and Ali Farka Toure.
Track listing
1. M'Bife
2. M'Bife Balafon
3. Coulibaly
4. La Realite
5. Senegal Fast Food
6. Artistiya
7. La Fete au Village
8. Camions Sauvages
9. Beaux Dimanches
10. La Paix
11. Djanfa
12. Taxi Bamako
13. Politic Amagni
14. Gnidjougouya
15. M'Bife Blues
Download full album
http://rapidshare.de/files/25450577/addheat.audiobuff.Amadou.Mariam.Dimanche.Bamako.192kbps.rar
You are welcome to download From OxyShare:
http://www.oxyshare.com/get/12...manche.Bamako.192kbps.rar.html