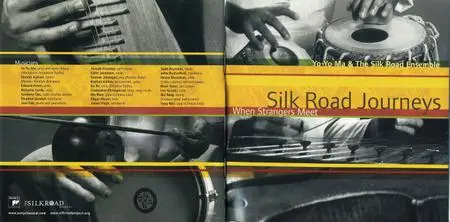 Silk Road Journeys - When Strangers Meet
Yo-Yo Ma & The Silk Road Ensemble
EAC APE | ~318 MB
www.silkroadproject.org
This is a rare case when the music I put here at avax is not ripped by myself. Credits should go to xudong at Demonoid. I just upload it to return and complement Jozzie's recent upload of the music of the Silk Road at
http://avaxhome.ws/music/silkroad.html
.
The purpose of the Silk Road Project is to illuminate the Silk Road's historical contribution to the diffusion of art and culture, identify current voices that best represent this cultural legacy and support new collaborations among artists. This is their first CD, published in 2001 as the result of a two years long collaboration of over 40 musicians from around the world.
Tracklist:
1. Mongolian Traditional Long Song
2. Byambasuren Sharav: Legend of Herlen
3. Blue Little Flower (Chinese Traditional)
4. Mido Mountain (Chinese Traditional)
5. Zhao Jiping: Moon over Guan Mountains
6-7. Michio Mamiya: Five Finnish Folksongs
8. Avaz-e Dashti (Persian Traditional)
9. Frangiz Ali-Zadeh: Habil-Sayagy (In Habil's Style) for Violoncello and Prepared Piano
10. Kayhan Kalhor: Blue as the Turquoise Night of Neyshabur
11. Filippo Azzaiolo: Chi passa per'sta strada
12. Bonus Track: Tan Dun: Desert Capriccio (Music from the film Crouching Tiger, Hidden Dragon)
Every file is 50 MB, except for the last one which is 18 MB. Booklet and cover scans included.
http://rapidshare.de/files/21771031/Yo-Yo_Ma_-__When_Strangers_Meet_-_The_Silk_Road_Project__APE.part1.rar
http://rapidshare.de/files/21775654/Yo-Yo_Ma_-__When_Strangers_Meet_-_The_Silk_Road_Project__APE.part2.rar
http://rapidshare.de/files/21780664/Yo-Yo_Ma_-__When_Strangers_Meet_-_The_Silk_Road_Project__APE.part3.rar
http://rapidshare.de/files/21785503/Yo-Yo_Ma_-__When_Strangers_Meet_-_The_Silk_Road_Project__APE.part4.rar
http://rapidshare.de/files/21790710/Yo-Yo_Ma_-__When_Strangers_Meet_-_The_Silk_Road_Project__APE.part5.rar
http://rapidshare.de/files/21803331/Yo-Yo_Ma_-__When_Strangers_Meet_-_The_Silk_Road_Project__APE.part6.rar
http://rapidshare.de/files/21827564/Yo-Yo_Ma_-__When_Strangers_Meet_-_The_Silk_Road_Project__APE.part7.rar