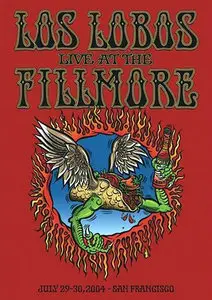 Los Lobos - Live At The Fillmore
XviD | AVI | 1500 Mb | Source resolution: 720x480 | Aspect ratio: 16:9
English | Fontana Mammoth 2004 | AGK Second pass encoding | Time 1:54:01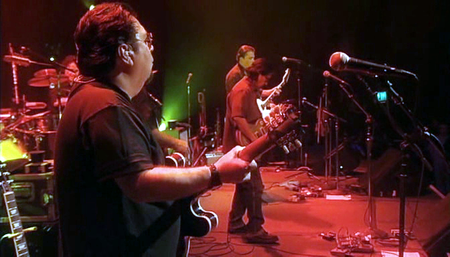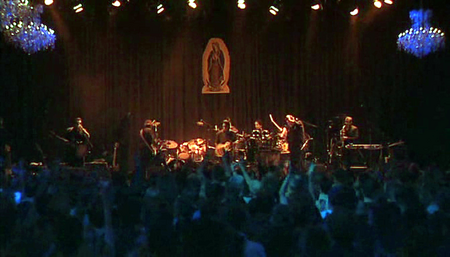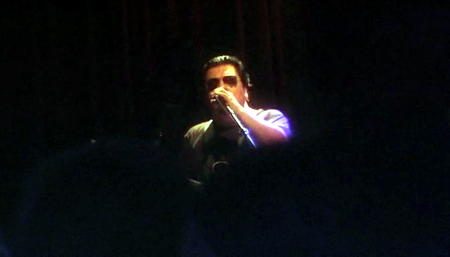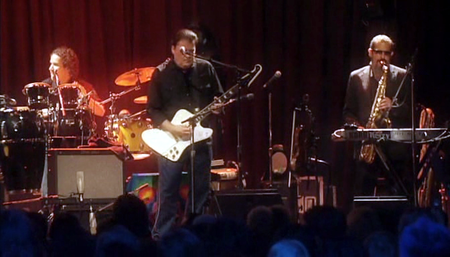 It took a mere 30 years for Los Lobos to produce their first DVD, and the legendary East Los Angeles band has done it right with Live at the Fillmore. Of course, "legendary" is sometimes synonymous with "really good, but not so well known"; as guitarist Cesar Rosas wryly observes in the brief documentary accompanying this generous show (21 songs, drawn from their entire recording career, in a little less than two hours), many acts who once opened for Los Lobos, like Dwight Yoakam, Stevie Ray Vaughan, and Melissa Etheridge, went on to eclipse them in sales and popularity. But that takes nothing away from the considerable power of this performance, which finds the now-seven-piece band rocking with a vengeance. Longtime drummer Louie Perez plays guitar for the most part, joining Rosas and David Hidalgo in a three-guitar front line, and songs like "The Big Ranch," "I Walk Alone," and the crunching "Charmed" find Los Lobos coming on like a combination of Lynyrd Skynyrd, the Allman Brothers, and many of the artists who once played at San Francisco's Fillmore Auditorium, from Cream and Jimi Hendrix to the Grateful Dead and Santana. Of course, they can play pretty much any other style as well, including Cuban jazz ("Maricela"), Mexican-cum-zydeco ("How Much Can I Do?") and even mariachi-tinged reggae ("Maria Christina"); and that's to say nothing of unclassifiable fare like "Kiko and the Lavender Moon," still one of the best of Los Lobos's many superb original songs. Recorded in July 2004, Los Lobos: Live at the Fillmore is a fine representation of one of America's best bands. As Rosas observes backstage, "We love you, man. Don't ever shave."
–Sam Graham