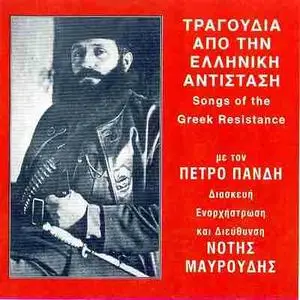 Songs Of the Greek resistance - Τραγούδια Απο την Ελληνική Αντίσταση
Good Quality | 160Kbps | 67,4 Mb
This compilation mostly "i think" concerns the Greek audience. Its a compilation of songs from the greek resistance during WWII. Composers are varius & some of them still unknown.
All songs are sanged by Petros Pandis. Covers included
Παιδιά εδώ ειναι κατα την γνώμη μου ενα cd το οποίο όλοι πρεπει να έχουμε. Πρόκειται γιά τα "Τραγουδια απο την Ελληνική Αντίσταση" τα οποία εχει τραγουδήσει ο Πέτρος Πανδής.
Εξώφυλλο και οπισθόφυλλο συμπεριλαμβάνονται
01 MAURA KORAKIA (anonyme).mp3
02 O ANTARTIS TOU ELAS (anonyme).mp3
03 PESATE THIMATA (anonyme).mp3
04 ST ARMATA (N Karvouni-astrapogianou).mp3
05 BELOGIANIS (D.Renti-L.Chatzi).mp3
06 TO TRAGOUDI TOU ARI (anonyme).mp3
07 PEDIA SIKOTHITE (anonyme).mp3
08 SAN ATSALINO TEIXOS (anonyme).mp3
09 MALIA SGOURA (anonyme).mp3
10 TI TA THELOUME TA OPLA (anonyme).mp3
11 IROES (S.Mpakalis).mp3
12 STOUS DROMOUS (A.Xenou-A.Spiliou).mp3
13 APOPSE THA PLAGIASOUME (anonyme).mp3
14 I SIMAIA (anonyme).mp3
15 TO TRAGOUDI TIS AGROTIAS (anonyme).mp3
16 ANEMOI THIELLES (anonyme).mp3
17 TI THELOUN OI EXTHROI MAS (anonyme).mp3
18 I MANA TOU ANTARTI (anonyme).mp3
19 FISA AGERA (anonyme).mp3
20 AKRONAUPLIA (anonyme).mp3
Download
You are welcome to download From OxyShare:
http://www.oxyshare.com/get/11...ki_antistasi__pandis_.rar.html
Enjoy
pppd