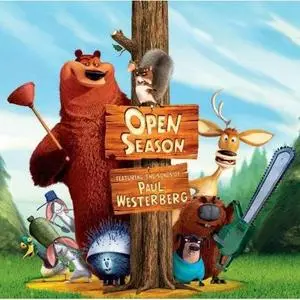 Soundtrack Open Season (Сезон охоты)
Soundtrack | MP3 | VBR ~191 Kbit | 44100Hz Joint Stereo | 67,9 Mb
PAUL WESTERBERG – "OPEN SEASON"

Paul Westerberg's legendary status in rock 'n' roll history is more than secure. As leader of Minneapolis post-punk/pre-grunge icons the Replacements, Westerberg was the creative force behind one of the – if not the – most influential rock bands of the 1980s, creating a template that would later be adapted by such diverse rockers as Nirvana and Ryan Adams, among numerous others. And since 1991, he's maintained a solo career that would make most of his peers green with envy, if critically-acclaimed albums and fan respect still have anything to do with the equation.

Open Season; Featuring The Songs Of Paul Westerberg marks a new direction and career path for this brilliant singer-songwriter, spotlighting his music from the soundtrack of Sony Pictures Animation's first feature-length animated film. The Columbia Pictures release features the voices of such stars as Martin Lawrence, Ashton Kutcher, Debra Messing and Gary Sinise, among others – and tells the tale of a domesticated grizzly bear who befriends a deer, helping him and other wild animals escape a hunter in the forest just as hunting season begins.
http://main.losthighwayrecords...=disc&src=art&pid=1708

01 Paul Westerberg - Meet Me In The Meadow   4.29
02 Paul Westerberg - Love You In The Fall  	   2.51
03 Paul Westerberg - I Belong 		 	         4.13
04 Deathray - I Wanna Lose Control (Uh Oh)     2.02
05 Paul Westerberg - Any Better Than This	 2.55
06 Talking Heads - Wild Wild Life			 3.41
07 Paul Westerberg - Right To Arm Bears		  2.06
08 Paul Westerberg - Good Day			      4.17
09 Paul Westerberg - All About Me		      4.32
10 Deathray - Wild As I Wanna Be		     2.55
11 Paul Westerberg - Whisper Me Luck		 4.18
12 Pete Yorn - I Belong					     3.15

rapidshare.com

pass: www.AvaxHome.ru