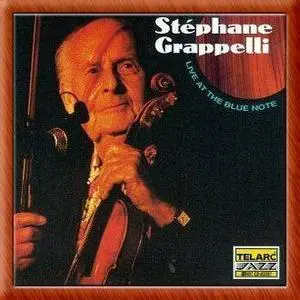 Stephane Grappelli - Live At The Blue Note
Stephane Grappelli - Violin, Bucky Pizzarelli - Guitar, Jon Burr - Bass, John Pizzarelli - Guitar
Telarc Jazz, 1995
APE+CUE | 90*2+63.93 MB
MP3 | 320 kbps | 80.00+68.71 MB
MP3 | 192 kbps | 88.68 MB
"Stephane Grappelli was one of the masters of the jazz violin. In this wonderful Telarc recording one can witness the master's playfulness, charm and talent as he plays before an appreciative and polite audience. I was surprised at the recording quality of the CD - the warmth of reproducing string usually requires vinyl, a VPI turntable and a Jadis tube amp - however this reproduction has a less digital and more natural sound. An enjoyable CD - highly recommended in terms of Grappelli's talent as well as it's engineering."
- Michael Schelb
Ttracks:
1. All God's Chillun Got Rhythm
2. Night And Day
3. I Get A Kick Out Of You
4. It's You Or No One
5. I Let A Song Go Out Of My Heart
6. Honeysuckle Rose
7. 'S Wonderful / Someone To Watch Over Me / I Got Rhythm
8. Nuages
9. Daphne
10. Blue Moon
11. Do You Know What It Means To Miss New Orleans
12. Lady Be Good
13. I'm Thru With Love / I'll Never Be The Same / I Can't Give You Anything But Love
14. Sweet Georgia Brown