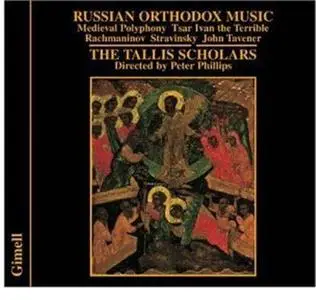 The Tallis Scholars: Russian Orthodox Music
EAC (APE & CUE) | Classical | 1 CD / 238 MB
______________________
Spanning the Middle Ages to the 20th century, the works on this recording were all written under the inspiration of the Orthodox Church. This exploration of Russian Orthodox Music includes such varied composers as Tsar Ivan the Terrible, Rachmaninov and John Tavener.
Anonymous
1 Izbavlenie posla (5.48)
Tsar Ivan the Terrible
2 Kuimi pokhvalienui mi (2.04)
Anonymous
3 Budi imya Gospodnie (1.06)
4 Ot yunosti moieya (1.33)
5 Y vsyu krotost (2.14)
6 Blagoviernomu Tsariu (1.30)
7 Svyatui Bozhe (1.46)
8 Izhe khieruvimui (1.53)
9 V Chiermniem Mori (6.39)
Igor Stravinsky (1882-1971)
10 Otche nash (Our Father) (2.06)
11 Bogoroditsie Dievo (Ave Maria) (1.41)
Sergey Rachmaninov (1873-1943)
12 Lord's Prayer (3.46)
John Tavener (b.1944)
13 Great Canon of St. Andrew of Crete (21.40)
Dmitri Stepanovich Bortniansky (1751-1825)
14 Mnogaya lieta (2.35)
Download links removed by request
Okay, I have decided to provide non-avantgarde files freely without smoke screens, so download to your heart's content. Granted, I will not reupload these files should they be deleted. That would be
your
job.