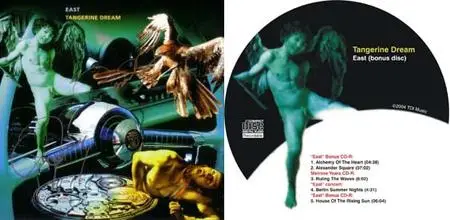 Tangerine Dream - East (with Bonus CD) | (r)1990 | (p)2004 | Electronic
MP3 | CBR 320 kbp/s | Lame 3.96 | Time: 79:49 + 28:19 | Size: 186Mb + 66Mb
Edgar Froese, Paul Haslinger, Jerome Froese, Linda Spa, Hubert Waldner
Recorded February 20th, 1990 at Werner-Seelenbinder-Halle (East Berlin)
Tracks:
1. Marakesh [1990 live version] 8:55
2. Atlas Eyes [1990 live version] 3:15
3. Gaudi Park (Guell Garden Barcelona) [1990 live version] 5:04
4. Cat Scan [1990 live version] 4:51
5. Teetering Scales [1990 live version] 3:26
6. Lily On The Beach [1990 live version] 4:04
7. Nomad's Scale [1990 live version] 8:35
8. Daybreak On The River Spree [1990 live version] 3:46
9. Longing For Cashba [1990 lve version] 9:33
10. Mount Shasta [1990 live version] 4:28
11. Alaskan Summer [1990 live version] 3:31
12. Wall-Street [1990 live version] 3:17
13. Hitchhikers Point [1990 live version] 4:55
14. Long Island Sunset [1990 live version] 7:38
15. Berlin Summer Nights [1990 live version] 4:31
Bonus CD
1. Alchemy Of The Heart 4:38
2. Alexander Square 7:01
3. Ruling the Waves 6:02
4. Berlin Summer Nights 4:31
5. House Of The Rising Sun 6:04
After Rockface, East is the second release of the so-called vault series, consisting of (almost) complete, untouched live concerts taken from Tangerine Dream's vaults and carefully remastered by Jerome Froese. This single CD release includes the complete main set plus one encore of the one-off concert TD performed in February 1990 in East Berlin, about three months after the fall of the Berlin wall, sometimes referred to as the ''Brand'n'burger Concert''.

This was a very special show for various reasons. It was the only gig remotely supporting the studio album Lily On The Beach (1989), as the next live performances of Tangerine Dream took place in late 1990 during the UK Melrose tour. Other tracks performed were taken from Le Parc (1985), Optical Race (1988), Miracle Mile, and Destination Berlin (both 1989). Furthermore, as a novelty, TD appeared with a line-up of five musicians for the first time; in fact this was the first live appearance of both Jerome Froese and Linda Spa as part of the band (Hubert Waldner did no other live performance with TD, but he did appear as guest on Lily On The Beach and Melrose). Finally, this was the last occasion that the band would play live in a divided Berlin, roughly ten years after their famous concert in the Palast der Republik.

Besides the compositions from the studio and soundtrack albums mentioned above, this record features a number of previously unreleased tracks, making it an interesting album for friends of TD's style of the late eighties and early nienties.
Download links:East Part 1
- 98M
East Part 2
- 88M
East Bonus
- 66M
Download Links for RapidGet Users:
http://rapidshare.de/files/13796736/TDEASTLV90_pt1.rar.html
http://rapidshare.de/files/13796581/TDEASTLV90_pt2.rar.html
http://rapidshare.de/files/13798623/TDEASTBO90.rar.html
Password
to UnRAR:
tangram