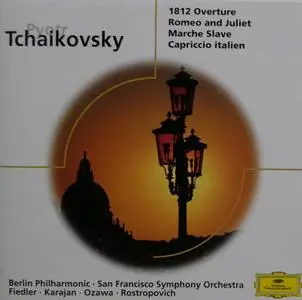 Famous Orchestras and Directors perform masterpieces of Piotr I. Tchaikovsky
Fiedler | Karajan | Ozava | Rostropovich
MP3 | APE
MP3 - 320 KB/S | APE - Extra Quality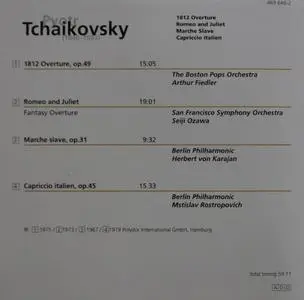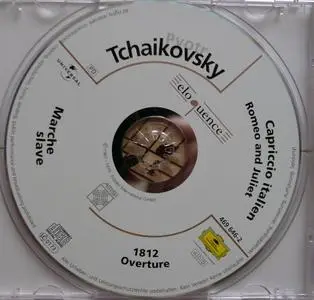 APE Files (97MB + 97MB + 53 MB )
Achtung! Attention! Uwaga! Внимание!
1. Уважаемые товарищи скачивающие! Недавно был обнаружен следующий пренеприятнейший косяк. При скачивании с Megaupload прогой RapidGet (версия 1.05). Файл грузится совсем другой (мне например вместо книжки по корпоративному управлению достался набор каких-то диких агитационных картинок террористической организации "Тигры Тамила". Охренеть, да ?!). Что характерно, со второй попытки, но уже через браузер, книжка скачалась успешно. Что посоветовать - не знаю, я не программер, и в скриптах не шарю. На всякий случай призываю не паниковать :) и если что, скачать тот же файл с другого сервера. Впрочем я надеюсь что все файлы скачаются удачно и вы, в полной мере насладитесь высоким искусством.

Dear friends! Quite a disgusting bug was recently found while downloading from Megaupload within RapidGet (version1.05). It downloads absolutely another file of the same size (as for me, I've dowloaded awesome agitation pics of Tameel Tigers - Thai terroristiс organisarion, by the way, instead of "corporate governance" book). But half an hour later I've dowloaded this book with browser with out any problems. So take care! If you've got any problems with downloading, please mind that it is not my fault.


2. Я тут у себя в компе обнаружил совершенно замечательный концерт. Называется он European Concert 2002. Играют 9 симфонию Дворжака, Брамса, Бетховена и Россини. Вкратце, концерт - великолепный, Claudio Abbado - мощный старик, Berliner Philharmoniker - просто супер! А уж Gil Shaham - это вообще "отвал бошки". Чувак пилит на своем Stradivarius'е "Countess Polignac" 1699 года так что "мама не горюй" :)).
Вопрос такой: заливать ? Он здоровый, 970 метров. Скажите куда лучше, чтобы вам было удобнее качать, а мне заливать. Ради продвижения высокого искусства в широкие массы я готов на всё.

I've found in my collection a great concert. It's a "European Concert 2002" Director : Claudio Abbado, orchestra: Berliner Philharmoniker, and violonist: Gil Shaham. They perform Dvorak, Beethoven, Brahms and Rossini. It is quite big, about 970 MB. So the question is: do you need it ? What file-sharing site should I better use ?

3. Ну и по традиции, прошу, друзья, кто качает, отмечайтесь, пожалуйста в комментах или отправляйте "private message".

Dear friends, if you download some of this files, please, don't forget to give notice to me in comments, or you can use send a "private messages".

Please find some of my previous publications:
Neujahrskonzert_1987_Karajan
Jean Sibelius
Paul Hindemith
Klezmatics Rise Up
Denis Matsuev Tribute to Horovitz
Wiener Philharmoniker 1979 New Year Concert
Horowitz and Toscanini
Kremerata Baltica performs Franz Schubert
Astor Piazzolla Central Park Concert
Gidon Kremer Hommage a Piazzolla
Kremerata Baltica 8 seasons