The Artist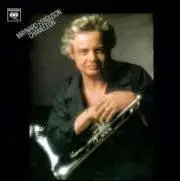 Maynard Ferguson (born May 4, 1928 in Montreal, Canada) is a jazz trumpet player and bandleader He came to prominence playing in Stan Kenton's orchestra, before forming his own band in 1957. He is noted for being able to play accurately in a remarkably high register,
and for his bands, which act as a stepping stone for up-and-coming talent.
Early life
He was born in Verdun, Quebec (now part of Montreal). Encouraged by his mother and father, Maynard was playing piano and violin by the age of four. At nine years old, Maynard heard a cornet for the first time in his local church and asked his parents to purchase him
one. He won a scholarship to the French Conservatory of Music where he received formal training and in 1941, at age thirteen, Maynard
soloed as a child prodigy with the Canadian Broadcasting Corporation Orchestra. During his teen years, he led a band in Montreal. In
1949, he moved to the United States in hopes of joining Stan Kenton's big band in New York City.
Accomplishments in the US
Kenton's band was broken up at this point, so Ferguson began playing with Boyd Raeburn, Jimmy Dorsey, and Charlie Barnet. In 1950, Stan Kenton formed his new Innovations Orchestra in Los Angeles with Ferguson as his star attraction. After the Innovations experiment
proved a commercial failure, Ferguson stayed in the Kenton organization through its shift back into touring as a jazz big band, although he was still too young to travel with the band, and was separately driven by his parents behind the band's bus.
By 1954, Maynard left the Innovations Orchestra to work for Paramount Pictures on film soundtracks in Hollywood. He played lead trumpet on such notable films as The Ten Commandments.
After leaving Paramount, Ferguson had perhaps the most fertile period of his career, leading first the Birdland Dream Band, then his
brilliant bands which featured the likes of Joe Zawinul, Don Menza, Mike Abene, and Jaki Byard. Ferguson's multi-instrumental skills
were much in evidence during this period, as he soloed brilliantly on not just trumpet, but virtually all the brass instruments.
Maynard in Europe
In the mid 1960s, Maynard had a yearning to take his family and his music to England. Maynard's explanation for this move was due to
what he perceived as a resistance to musical change in the States. According to a Down Beat interview, Maynard was quoted as saying
that if the band did not play Maria or Ole, the fans went home disappointed. Maynard found the Europeans, in particular the British
fans, more open to new things musically, in particular the birth of the jazz/rock genre. Tax problems in the United States may have
also prompted Maynard to move to England in the 1960s. Although Maynard has rarely discussed the topic, some speculate his timely move to England enabled him to evade the IRS until 1972 when he returned to the U.S.
Maynard and Timothy Leary
No honest biography of Maynard Ferguson would be accurate or complete without touching on his relationship with 1960s guru Timothy
Leary. Leary's experimentation with the drug LSD is well known. During this period, Maynard experimented with LSD as well. This activity continued for a few years with almost no adverse effects on his playing. Maynard is known to have developed embouchure problems during the late 1960s. It is speculated that the drug use was responsible for his playing difficulties, although they probably gave him such highly introspective experiences, that he became distracted from his music.
By the early 1970s, Ferguson ended his drug use and although it never influenced his music in a negative way, he was back to playing as
well as ever, much to the delight of his fans worldwide.
Modern Influences
Maynard Ferguson is one of a handful of musician/bandleaders to survive the end of the big band era and Rock and Roll. While never a
household name, and with limited popular success, excluding "Gonna Fly Now," he demonstrated a remarkable ability to adapt musically.
His albums show a progression from big band swing, bebop, cool jazz, latin, jazz/rock, fusion with classical and operatic influences.
He enjoyed a remarkable resurgence in the 1970s when he embraced jazz/rock, especially through the album Chameleon. Though this phase is often derided by jazz purists, it attracted a new generation of young school musicians to jazz. Maynard is also often given the
credit for popularizing the tune Birdland with his album Carnival.
Known for his ability to play in the upper ranges of the trumpet, with unmatched lyricism, fans thrill to hear him reach a "double-high
"C". He did develop two unique instruments - a trumpet with both traditional valves (played with the left hand rather than the right)
and trombone style slide called the 'Firebird' as well as a trombone with both a slide & valves called 'Superbone.' The India experience deeply touched him, and he regularly incorporated Indian instruments and influences in albums and concerts, often ending with the ringing of a temple bell. Ferguson's skills as a bandleader should also be mentioned, as he has been able to maintain jazz-oriented large groups that develop young talent for decades.
Maynard: Today
After Maynard Ferguson's return to the U.S. in the 1970s, he has been able to sustain the big band experience on tour by recruiting
talented college musicians, and teaching in high school auditoriums and conducting master classes. There is no other big band, save
"ghost bands" such as the Glenn Miller Orchestra, touring today. Though touring with a lean band of ten musicians, Maynard is a crowd
pleaser with dedicated fans and enjoys a cult-like following. Maynard continues to tour 9 months out of the year with his current band,
Big Bop Nouveau, over the US and Europe sometimes in Japan, Thailand, South America and Australia. A new, highly-anticipated live
album, MF Horn 6 Live at Ronnies, was released March 25th 2006.
The Album
This rather brief (under 36 minutes) CD is a straight reissue of a Mainstream LP by the Maynard Ferguson Orchestra. M.F. and his crew
perform a variety of blues-oriented material including "Every Day I Have the Blues," "Night Train," "What'd I Say" and "I've Got a
Woman." Willie Maiden, Don Sebesky and Mike Abene were responsible for the arrangements and the main soloists are Ferguson (on trumpet and valve trombone), altoists Lanny Morgan and Charlie Mariano, Frank Vicari on tenor and pianist Mike Abene. A fine set, it's the last recording by this excellent orchestra. ~ Scott Yanow, All Music Guide
Maynard Ferguson,trumpet,flugel,valve trombone;
John Bello,trumpet,flugel; August Ferretti,trumpet,flugel;
Jimmy Nottingham,trumpet,flugel; Don Rader,trumpet,flugel;
Bernie Glow,trumpet;
Ray Alonge,french horn; Jimmy Buffington,french horn;
Wayne Andre,trombone; Paul Faulise,trombone;
Urbie Green,trombone; John Messner,trombone;
William Watrus,trombone; Don Butterfield,tuba;
Lanny Morgan,sax,flute,clarinet; Willie Maiden,sax;
Frank Vicari,sax; Roger Pemberton,sax;
Romeo Penque,sax,flute;
Phil Bodner,sax,flute,clarinet,oboe;
Stan Webb,sax,flute,clarinet,oboe;
Mike Abene,piano; Barry Galbraith,guitar;
Richard Davis,bass; Mel Lewis,drums;
George Devens,percussion; Margaret Ross,harp;
Tracks:
1.Everyday I Have The Blues
2.Night Train
3.Mary Ann
4.What'd I Say
5.Baltimore Oriole
6.I Believe To My Soul
7.I've Got A Woman
Listen! You can hear a difference! Enjoy it!
DOWNLOAD RAPIDSHARE LINKS (covers included), rar files (3% recovery)
(You need FEURIO,NERO, Alcohol or EAC to burn image files to music CD; load CUE file)
Downl...s Roar part 1 (95.3 MB)
Downl...s Roar part 2 (95.3 MB)
Downl...s Roar part 3 (44.2 MB)
Password :
www.AvaxHome.ru
RapidGet Friendly
http://rapidshare.de/files/24832318/MFTBRmfsl.part1.rar
http://rapidshare.de/files/24832212/MFTBRmfsl.part2.rar
http://rapidshare.de/files/24824148/MFTBRmfsl.part3.rar
You are welcome to download From OxyShare:
http://www.oxyshare.com/get/203554815244aa7c9486c9b7.95387503/MFTBRmfsl.part1.rar.html
http://www.oxyshare.com/get/130695752844aa7c94871401.98052644/MFTBRmfsl.part2.rar.html
http://www.oxyshare.com/get/28229150344aa7c94871899.48217121/MFTBRmfsl.part3.rar.html
MANY THANKS to Binbonbeach for the tutorials, and ALL uploaders for the wonderful shares