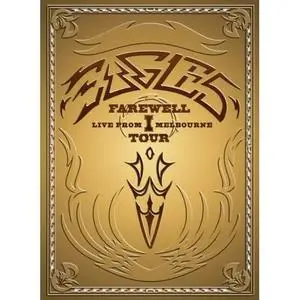 The Eagles - Farewell 1 Tour (2004) - Live From Melbourne DVD

US release date: 14 June 2005
UK release date: 4 July 2005

Running Time 160 Minutes

2 - Disc Set
DVD 1 = 6 gigs | 61 .rar files (60 X 100 mb + 1 X 50 mb)
DVD 2 = 4.6 gigs | 46 .rar files (46 X 100 mb)

Audio:
DTS 5.1 - English
PCM Stereo - English

Additional Release Material:
Production Interviews - The Eagles - Stars

The list of accomplishments and accolades accumulated by The
Eagles is too long to recount, their music having been a
staple of American music since the 1970s, and their popularity
never waning. With five number-one singles and four number-one
albums, two of which are among the best-selling records of all
time, the group has helped form the backbone of classic rock;
hits like Desperado, Hotel California, and Lyin' Eyes
are instantly recognizable and timeless. After helping to
popularize the Southern California rock sound of the '70s, the
group–at this point made up of Joe Walsh, Don Henley, Glenn
Frey, and Timothy Schmit–broke up to pursue solo projects,
but reunited in 1994 in recognition of the ever-loyal fans who
still wanted to see them playing together. This 2004 concert,
held in Melbourne, Australia, during The Eagles' monumental
farewell tour, was one of the highlights of this historic
world event, as one of the most popular American bands of all
time says goodbye to its countless adoring fans.
DISC ONE
1. THE LONG RUN 4:06
2. NEW KID IN TOWN 4:55
3. WASTED TIME 6:11
a) WASTED TIME 5:33
b) WASTED TIME (Reprise) 0:33
4. PEACEFUL EASY FEELING 4:16
5. I CAN'T TELL YOU WHY 4:52
6. ONE OF THESE NIGHTS 3:53
7. ONE DAY AT A TIME 3:30
8. LYIN' EYES 6:19
9. THE BOYS OF SUMMER 4:55
10. IN THE CITY 3:53
11. ALREADY GONE 4:08
12. SILENT SPRING (INTRO) 0:37
13. TEQUILA SUNRISE 2:57
14. LOVE WILL KEEP US ALIVE 4:09
15. NO MORE CLOUDY DAYS 4:08
16. HOLE IN THE WORLD 4:01
17. TAKE IT TO THE LIMIT 3:51
18. YOU BELONG TO THE CITY 7:14
19. WALK AWAY 3:48
20. SUNSET GRILL 6:19
DISC TWO
1. LIFE'S BEEN GOOD 7:35
2. DIRTY LAUNDRY 6:07
3. FUNK #49 5:01
4. HEARTACHE TONIGHT 5:00
5. LIFE IN THE FAST LANE 5:45
6. HOTEL CALIFORNIA 7:47
7. ROCKY MOUNTAIN WAY 5:33
8. ALL SHE WANTS TO DO IS DANCE 4:49
9. TAKE IT EASY 3:42
10. DESPERADO 3:51
BONUS FEATURE: EAGLES INTERVIEWS
DVD 1
http://rapidshare.de/files/22193905/EAGLES_FAREWELL_1_TOUR_DVD1.part01.rar.html
http://rapidshare.de/files/22196922/EAGLES_FAREWELL_1_TOUR_DVD1.part02.rar.html
http://rapidshare.de/files/22191527/EAGLES_FAREWELL_1_TOUR_DVD1.part03.rar.html
http://rapidshare.de/files/22204395/EAGLES_FAREWELL_1_TOUR_DVD1.part04.rar.html
http://rapidshare.de/files/22207826/EAGLES_FAREWELL_1_TOUR_DVD1.part05.rar.html
http://rapidshare.de/files/22211304/EAGLES_FAREWELL_1_TOUR_DVD1.part06.rar.html
http://rapidshare.de/files/22213707/EAGLES_FAREWELL_1_TOUR_DVD1.part07.rar.html
http://rapidshare.de/files/22216978/EAGLES_FAREWELL_1_TOUR_DVD1.part08.rar.html
http://rapidshare.de/files/22219281/EAGLES_FAREWELL_1_TOUR_DVD1.part09.rar.html
http://rapidshare.de/files/22222253/EAGLES_FAREWELL_1_TOUR_DVD1.part10.rar.html
http://rapidshare.de/files/22224225/EAGLES_FAREWELL_1_TOUR_DVD1.part11.rar.html
http://rapidshare.de/files/22226635/EAGLES_FAREWELL_1_TOUR_DVD1.part12.rar.html
http://rapidshare.de/files/22228796/EAGLES_FAREWELL_1_TOUR_DVD1.part13.rar.html
http://rapidshare.de/files/22230473/EAGLES_FAREWELL_1_TOUR_DVD1.part14.rar.html
http://rapidshare.de/files/22231845/EAGLES_FAREWELL_1_TOUR_DVD1.part15.rar.html
http://rapidshare.de/files/22233169/EAGLES_FAREWELL_1_TOUR_DVD1.part16.rar.html
http://rapidshare.de/files/22234457/EAGLES_FAREWELL_1_TOUR_DVD1.part17.rar.html
http://rapidshare.de/files/22235685/EAGLES_FAREWELL_1_TOUR_DVD1.part18.rar.html
http://rapidshare.de/files/22236793/EAGLES_FAREWELL_1_TOUR_DVD1.part19.rar.html
http://rapidshare.de/files/22237911/EAGLES_FAREWELL_1_TOUR_DVD1.part20.rar.html
http://rapidshare.de/files/22238918/EAGLES_FAREWELL_1_TOUR_DVD1.part21.rar.html
http://rapidshare.de/files/22239914/EAGLES_FAREWELL_1_TOUR_DVD1.part22.rar.html
http://rapidshare.de/files/22240883/EAGLES_FAREWELL_1_TOUR_DVD1.part23.rar.html
http://rapidshare.de/files/22241861/EAGLES_FAREWELL_1_TOUR_DVD1.part24.rar.html
http://rapidshare.de/files/22243724/EAGLES_FAREWELL_1_TOUR_DVD1.part25.rar.html
http://rapidshare.de/files/22244812/EAGLES_FAREWELL_1_TOUR_DVD1.part26.rar.html
http://rapidshare.de/files/22246031/EAGLES_FAREWELL_1_TOUR_DVD1.part27.rar.html
http://rapidshare.de/files/22247322/EAGLES_FAREWELL_1_TOUR_DVD1.part28.rar.html
http://rapidshare.de/files/22248809/EAGLES_FAREWELL_1_TOUR_DVD1.part29.rar.html
http://rapidshare.de/files/22250445/EAGLES_FAREWELL_1_TOUR_DVD1.part30.rar.html
http://rapidshare.de/files/22200988/EAGLES_FAREWELL_1_TOUR_DVD1.part31.rar.html
http://rapidshare.de/files/22252162/EAGLES_FAREWELL_1_TOUR_DVD1.part32.rar.html
http://rapidshare.de/files/22254691/EAGLES_FAREWELL_1_TOUR_DVD1.part33.rar.html
http://rapidshare.de/files/22256573/EAGLES_FAREWELL_1_TOUR_DVD1.part34.rar.html
http://rapidshare.de/files/22259893/EAGLES_FAREWELL_1_TOUR_DVD1.part35.rar.html
http://rapidshare.de/files/22267654/EAGLES_FAREWELL_1_TOUR_DVD1.part36.rar.html
http://rapidshare.de/files/22271030/EAGLES_FAREWELL_1_TOUR_DVD1.part37.rar.html
http://rapidshare.de/files/22273407/EAGLES_FAREWELL_1_TOUR_DVD1.part38.rar.html
http://rapidshare.de/files/22276889/EAGLES_FAREWELL_1_TOUR_DVD1.part39.rar.html
http://rapidshare.de/files/22279472/EAGLES_FAREWELL_1_TOUR_DVD1.part40.rar.html
http://rapidshare.de/files/22282994/EAGLES_FAREWELL_1_TOUR_DVD1.part41.rar.html
http://rapidshare.de/files/22287879/EAGLES_FAREWELL_1_TOUR_DVD1.part42.rar.html
http://rapidshare.de/files/22295425/EAGLES_FAREWELL_1_TOUR_DVD1.part43.rar.html
http://rapidshare.de/files/22298069/EAGLES_FAREWELL_1_TOUR_DVD1.part44.rar.html
http://rapidshare.de/files/22301870/EAGLES_FAREWELL_1_TOUR_DVD1.part45.rar.html
http://rapidshare.de/files/22304375/EAGLES_FAREWELL_1_TOUR_DVD1.part46.rar.html
http://rapidshare.de/files/22308087/EAGLES_FAREWELL_1_TOUR_DVD1.part47.rar.html
http://rapidshare.de/files/22318593/EAGLES_FAREWELL_1_TOUR_DVD1.part48.rar.html
http://rapidshare.de/files/22320180/EAGLES_FAREWELL_1_TOUR_DVD1.part49.rar.html
http://rapidshare.de/files/22321634/EAGLES_FAREWELL_1_TOUR_DVD1.part50.rar.html
http://rapidshare.de/files/22322830/EAGLES_FAREWELL_1_TOUR_DVD1.part51.rar.html
http://rapidshare.de/files/22324015/EAGLES_FAREWELL_1_TOUR_DVD1.part52.rar.html
http://rapidshare.de/files/22325116/EAGLES_FAREWELL_1_TOUR_DVD1.part53.rar.html
http://rapidshare.de/files/22326202/EAGLES_FAREWELL_1_TOUR_DVD1.part54.rar.html
http://rapidshare.de/files/22327298/EAGLES_FAREWELL_1_TOUR_DVD1.part55.rar.html
http://rapidshare.de/files/22328381/EAGLES_FAREWELL_1_TOUR_DVD1.part56.rar.html
http://rapidshare.de/files/22329391/EAGLES_FAREWELL_1_TOUR_DVD1.part57.rar.html
http://rapidshare.de/files/22330490/EAGLES_FAREWELL_1_TOUR_DVD1.part58.rar.html
http://rapidshare.de/files/22331583/EAGLES_FAREWELL_1_TOUR_DVD1.part59.rar.html
http://rapidshare.de/files/22315788/EAGLES_FAREWELL_1_TOUR_DVD1.part60.rar.html
http://rapidshare.de/files/22253003/EAGLES_FAREWELL_1_TOUR_DVD1.part61.rar.html
DVD 2
http://rapidshare.de/files/22333962/EAGLES_FAREWELL_1_TOUR_DVD2.part01.rar.html
http://rapidshare.de/files/22336031/EAGLES_FAREWELL_1_TOUR_DVD2.part02.rar.html
http://rapidshare.de/files/22337382/EAGLES_FAREWELL_1_TOUR_DVD2.part03.rar.html
http://rapidshare.de/files/22338862/EAGLES_FAREWELL_1_TOUR_DVD2.part04.rar.html
http://rapidshare.de/files/22340520/EAGLES_FAREWELL_1_TOUR_DVD2.part05.rar.html
http://rapidshare.de/files/22342334/EAGLES_FAREWELL_1_TOUR_DVD2.part06.rar.html
http://rapidshare.de/files/22344195/EAGLES_FAREWELL_1_TOUR_DVD2.part07.rar.html
http://rapidshare.de/files/22346026/EAGLES_FAREWELL_1_TOUR_DVD2.part08.rar.html
http://rapidshare.de/files/22347961/EAGLES_FAREWELL_1_TOUR_DVD2.part09.rar.html
http://rapidshare.de/files/22349897/EAGLES_FAREWELL_1_TOUR_DVD2.part10.rar.html
http://rapidshare.de/files/22351963/EAGLES_FAREWELL_1_TOUR_DVD2.part11.rar.html
http://rapidshare.de/files/22354865/EAGLES_FAREWELL_1_TOUR_DVD2.part12.rar.html
http://rapidshare.de/files/22356987/EAGLES_FAREWELL_1_TOUR_DVD2.part13.rar.html
http://rapidshare.de/files/22360221/EAGLES_FAREWELL_1_TOUR_DVD2.part14.rar.html
http://rapidshare.de/files/22362526/EAGLES_FAREWELL_1_TOUR_DVD2.part15.rar.html
http://rapidshare.de/files/22366313/EAGLES_FAREWELL_1_TOUR_DVD2.part16.rar.html
http://rapidshare.de/files/22371077/EAGLES_FAREWELL_1_TOUR_DVD2.part17.rar.html
http://rapidshare.de/files/22374587/EAGLES_FAREWELL_1_TOUR_DVD2.part18.rar.html
http://rapidshare.de/files/22378120/EAGLES_FAREWELL_1_TOUR_DVD2.part19.rar.html
http://rapidshare.de/files/22383123/EAGLES_FAREWELL_1_TOUR_DVD2.part20.rar.html
http://rapidshare.de/files/22385865/EAGLES_FAREWELL_1_TOUR_DVD2.part21.rar.html
http://rapidshare.de/files/22389687/EAGLES_FAREWELL_1_TOUR_DVD2.part22.rar.html
http://rapidshare.de/files/22392464/EAGLES_FAREWELL_1_TOUR_DVD2.part23.rar.html
http://rapidshare.de/files/22395988/EAGLES_FAREWELL_1_TOUR_DVD2.part24.rar.html
http://rapidshare.de/files/22399109/EAGLES_FAREWELL_1_TOUR_DVD2.part25.rar.html
http://rapidshare.de/files/22401154/EAGLES_FAREWELL_1_TOUR_DVD2.part26.rar.html
http://rapidshare.de/files/22403004/EAGLES_FAREWELL_1_TOUR_DVD2.part27.rar.html
http://rapidshare.de/files/22405820/EAGLES_FAREWELL_1_TOUR_DVD2.part28.rar.html
http://rapidshare.de/files/22411205/EAGLES_FAREWELL_1_TOUR_DVD2.part29.rar.html
http://rapidshare.de/files/22412356/EAGLES_FAREWELL_1_TOUR_DVD2.part30.rar.html
http://rapidshare.de/files/22414018/EAGLES_FAREWELL_1_TOUR_DVD2.part31.rar.html
http://rapidshare.de/files/22415026/EAGLES_FAREWELL_1_TOUR_DVD2.part32.rar.html
http://rapidshare.de/files/22416017/EAGLES_FAREWELL_1_TOUR_DVD2.part33.rar.html
http://rapidshare.de/files/22417000/EAGLES_FAREWELL_1_TOUR_DVD2.part34.rar.html
http://rapidshare.de/files/22418040/EAGLES_FAREWELL_1_TOUR_DVD2.part35.rar.html
http://rapidshare.de/files/22419134/EAGLES_FAREWELL_1_TOUR_DVD2.part36.rar.html
http://rapidshare.de/files/22420262/EAGLES_FAREWELL_1_TOUR_DVD2.part37.rar.html
http://rapidshare.de/files/22421421/EAGLES_FAREWELL_1_TOUR_DVD2.part38.rar.html
http://rapidshare.de/files/22422757/EAGLES_FAREWELL_1_TOUR_DVD2.part39.rar.html
http://rapidshare.de/files/22424175/EAGLES_FAREWELL_1_TOUR_DVD2.part40.rar.html
http://rapidshare.de/files/22425620/EAGLES_FAREWELL_1_TOUR_DVD2.part41.rar.html
http://rapidshare.de/files/22427049/EAGLES_FAREWELL_1_TOUR_DVD2.part42.rar.html
http://rapidshare.de/files/22428677/EAGLES_FAREWELL_1_TOUR_DVD2.part43.rar.html
http://rapidshare.de/files/22430272/EAGLES_FAREWELL_1_TOUR_DVD2.part44.rar.html
http://rapidshare.de/files/22332758/EAGLES_FAREWELL_1_TOUR_DVD2.part45.rar.html
http://rapidshare.de/files/22312725/EAGLES_FAREWELL_1_TOUR_DVD2.part46.rar.html
Passw: Paulo
Sorry…my first post