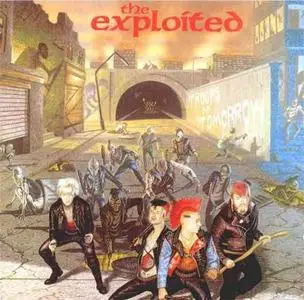 THE EXPLOITED - Troops Of Tomorrow
Punk | 1982 | MP3 | CBR 192 kbit/s | 44.1 kHz | J. Stereo | FhG Codec | 65.19 MB
The Exploited are a seminal rock band from the second wave of U.K. punk rock, in their early years they formed an integral part of the Oi! movement, though their later albums (from 1997 on) are considered to be crossover thrash. Formed in early 1980 in Edinburgh by ex soldier Wattie Buchan, they signed to Secret Records in March 1981 and released debut Ep 'Army Life'. The influential album Punk's Not Dead followed the same year. Despite seemingly constant line-up changessince their inception, the band has managed to maintain, develop, and evolve a highly influential style of punk. Frontman Wattie Buchan has led the many members through over 20 years of constant gigging and recording, creating a worldwide following in the process.
Many fans have noted steady increase in thrashiness can be tracked through the band's history. Their later recordings have been seen as crossing into the realm of thrash metal. But there are some hardcore fans out there who still consider them punk, though less like standard street punk which they were in the late 1970's & early 1980's.
Free of password.
http://rapidshare.de/files/24161076/theexptrooftom.rar
You are welcome to download From OxyShare:
http://www.oxyshare.com/get/27...723530/theexptrooftom.rar.html