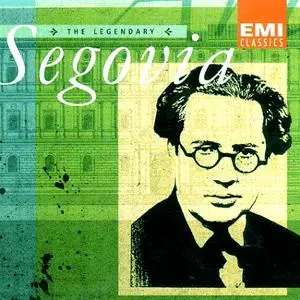 The Legendary Segovia :: Classical Music in Guiter
MP3 | 320 Kbps | 149 MB
"The Segovia heard in these recordings, made between 1927 and 1939, is quite different from the somewhat enfeebled legend who toured and recorded through his 80s. The flashing virtuosity and color of the best of these 78s compares better with the virtuosic standards of the '90s. Just hearing Tárrega's familiar Recuerdos de la Alhambra in this 1927 recording is enough to convince you that you're listening to one of the great guitar virtuosos of all time. It's unclear why Segovia's often-sentimentalized Bach became so famous, and the transcriptions that lead off this disc are quite unstylish by our contemporary standards. But once you get past those and the following Baroque items, which take up only a few minutes, you're into the romantic and 20th-century repertoire that Segovia played so brilliantly. The amazing transfers make the recordings sound much more recent than they actually are".
– Leslie Gerber
Track List:
1. Cello Suite in G major BWV 1007: Prelude
2. Partita No.3 in E BWV 1006: Gavotte & Rondo
3. Prelude in C minor for Lute BWV 999
4. Theme varie, Op.9
5. Menuet
6. Gigue
7. Vivo e energico
8. String Quartet No1 in E-flat maj, Op12: Canzonetta
9. Serenata
10. Suite Espanola - No.1: Granada
11. Suite Espanola - No.3: Sevilla
12. Danza Espanola No.10 in G major, Op.37
13. Fandanguillo
14. Suite Castellan: Fandanguillo
15. Sonatina In A Major: Allegretto
16. Preludio
17. Nocturno
18. Petite Valse
19. Suite In A Major: Prelude: Allemande
20. Suite In A Major: Gavotte
21. Suite In A Major: Sarabande
22. Suite In A Major: Gigue
23. Recuredos de la Alhambra
Rapidshare Link:
***
http://rapidshare.com/files/2939929/TLS-1.rar
46.6 MB
http://rapidshare.com/files/2939943/TLS-2.rar
46.6 MB
http://rapidshare.com/files/2939942/TLS-3.rar
42.3 MB
Password:
don'taskmethepassword
*** Old rapidshare.de links have been replaced by rapidshare.com links.