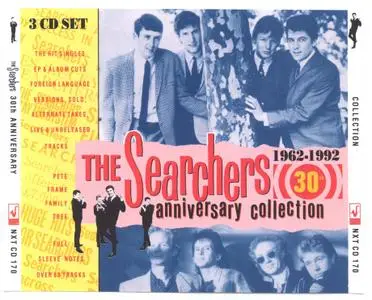 The Searchers - 30 Anniversary Collection [3CD Box Set]
Genre: Rock / 320 kbps Stereo / 492 MB

CD 1: The Singles
CD 2: The Albums & EPs
CD 3: The Rarities

Compiled by Tim Viney, Roger Dopson and Bob Fisher. Digitally transferred from original stereo and mono where available. Unissued titles mixed by Pasqual Byrne at Decca Studios, London. 1983 session mixed down from 24 tracks by Roger Wake, CTS Studios, Wembley.
Tracklisting:CD 1: The Singles
(169.7 Mb)
01 Sweets For My Sweet (2:30)
02 It's All Been A Dream (1:51)
03 Sugar And Spice (2:18)
04 Needles And Pins (2:15)
05 Saturday Night Out (1:47)
06 Don't Throw Your Love Away (2:19)
07 I Pretend I'm With You (2:01)
08 Someday We're Gonna Love Again (2:01)
09 No One Else Could Love Me (2:16)
10 When You Walk In The Room (2:24)
11 (I'll Be) Missing You (2:06)
12 What Have They Done To The Rain (2:36)
13 This Feeling Inside (1:47)
14 Goodbye My Love (2:58)
15 'Till I Met You (3:00)
16 He's Got No Love (2:38)
17 So Far Away (2:04)
18 When I Get HOme (2:13)
19 I'm Never Coming Back (2:03)
20 When I Get Home (2:43)
21 I'm Never Coming Back (2:12)
22 Too Many Miles (2:50)
23 Don't Hide It Away (2:44)
24 Have You Ever Loved Somebody (2:42)
25 It's Just The Way (2:42)
26 Popcorn Double Feature (2:58)
27 Western Union (2:30)
28 I'll Cry Tomorrow (3:49)
29 Second Hand Dealer (3:45)
30 Crazy Dreams (2:35)
http://rapidshare.com/files/3502151/ts30acsd13.part1.rar.html
http://rapidshare.com/files/3503960/ts30acsd13.part2.rar.html
CD 2: The Albums & EPs
(169.9 Mb)
01 Ain't Gonna Kiss Ya (2:06)
02 Love Potion No. 9 (2:07)
03 The System (2:33)
04 Bumble Bee (2:15)
05 Where Have All The Flowers Gone (3:00)
06 Alright (2:11)
07 Farmer John (2:00)
08 Since You Broke My Heart (2:51)
09 Tricky Dicky (2:09)
10 Listen To Me (2:13)
11 Hungry For Love (2:24)
12 Ain't That Just Like Me (2:25)
13 Don't Cha Know (2:03)
14 All My Sorrows (3:27)
15 It's In Her Kiss (The Shoop Shoop Song) (2:16)
16 Sea Of Heartbreak (2:26)
17 I Count The Tears (2:04)
18 This Empty Place (2:09)
19 Can't Help Forgiving You (2:06)
20 Sho' Know A Lot About Me (2:24)
21 Magic Potion (2:36)
22 'Till You Say You'll Be Mine (2:19)
23 I Don't Want To Go On With You (3:01)
24 A Tear Fell (3:02)
25 If I Could Find Someone (2:12)
26 It's Time (2:38)
27 I'll Be Doggone (2:55)
28 Each Time (2:49)
29 You Can't Lie To A Liar (2:24)
30 Four Strong Winds (3:07)
http://rapidshare.com/files/3506029/ts30acad23.part1.rar.html
http://rapidshare.com/files/3507734/ts30acad23.part2.rar.html
CD 3: The Rarities
(152,4 Mb)
01 Tausend Nadelstiche (Needles & Pins) (German Language Version - Previously Unissued In The UK) (2:14)
02 SuB Ist Sie (Sugar And Spice) (German Language Version - Previously Unissued In The UK) (2:17)
03 Bye Bye Johnny (Previously Unissued - Recorded 12/1/64) (2:47)
04 I Don't Want To Go On Without You (Previously Unissued - Recorded 12/1/64) (3:26)
05 I (Who Have Nothing) (Previously Unissued - Recorded 9/4/64) (2:48)
06 Shame Shame Shame (Previously Unissued - Recorded 9/4/64) (2:42)
07 Someday We're Gonna Love Again (Previously Unissued - Recorded 18/6/64) (2:06)
08 Verzeih' My Love (Goodbye My Love) (German Language Version - Previously Unissued In The UK) (2:55)
09 I'll Be Doggone (Alternate Take - Recorded 19/5/65) (3:02)
10 Once Upon A Time (Previously Unissued - Recorded 20/5/65) (2:08)
11 Sweet Little Sixteen (Live) (1:58)
12 Blowin' In The Wind (Live) (2:12)
13 See See Rider/Jenny Take A Ride (2:32)
14 Goodbye, So Long (Live) (2:06)
15 I'll Be Loving You (Live) (2:51)
16 I Don't Believe (Live) (2:32)
17 Stage Door (Tony Jackson & The Vibrations) (2:25)
18 Watch Your Step (Tony Jackson & The Vibrations) (2:45)
19 Aggravation (Chris Curtis) (2:01)
20 Innocent Victim (Previously Unissued - Recorded 19/9/83) (4:01)
21 Good Way To Fall (Previously Unissued - Recorded 19/9/83) (2:57)
22 New Heart (Previously Unissued - Recorded 19/9/83) (3:52)
23 I Don't Want To Be The One (3:53)
24 Hollywood (3:50)
http://rapidshare.com/files/3509780/ts30acrd33.part1.rar.html
http://rapidshare.com/files/3510985/ts30acrd33.part2.rar.html