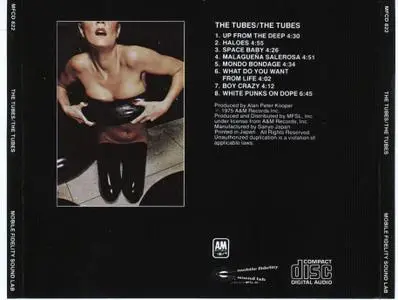 The Tubes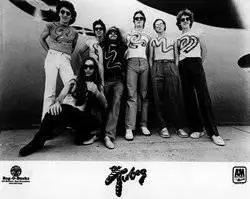 The Tubes are a San Francisco-based theater rock band, popular in the late 1970s and early 1980s, legendary (and/or infamous) for early live performances that combined lewd quasi-pornography with wild satires of media, consumerism and politics.
History of the band
The Tubes are a collection of high school friends from Phoenix, AZ . The Beans and The Red, White and Blues Band eventually merged after relocating to San Francisco in 1969. The core band membership remained largely intact for more than a decade: Fee Waybill (vocals), Re Styles (real name Shirly MacLeod) (vocals), Bill "Sputnik" Spooner (guitar, vocals), Roger Steen (guitar), Prairie Prince (drums), Michael Cotten (synthesizer), Vince Welnick (piano), and Rick Anderson (bass). Ex-Santana percussionist Mingo Lewis was also a fixture for much of the band's history.
Showbiz excess was a common theme of the band's early work, with Waybill sometimes assuming the onstage persona of Quay Lewd, a drunk, drugged-out, barely coherent lead singer, decked out with flashing glasses and impossibly tall platform shoes. "White Punks on Dope," from their debut album, was an absurd anthem of wretched excess, and a tribute to their rich, white teenage fanbase in San Francisco. The song was covered as "TV Glotzer" by Nina Hagen as the opening track of her band's first album.
The Tubes first album was produced by Al Kooper. The 2nd album for A&M, "Young and Rich" was produced by Ken Scott and features the hit "Don't Touch Me There". The Tubes 3rd album for A&M gave way to thematic experimentation with Now and after the classic live record "What do you want from Live," (recorded during their recordbreaking run at the Hammersmith Oden) their fourth for A&MRemote Control was a concept album produced by Todd Rundgren about a television-addicted idiot savant. The cover of Remote Control is also a classic, showing a baby watching Hollywood Squares in a specially made "Vidi-Trainer."
One critic noted that with their media savvy and theatrical skills, The Tubes were born to create rock video, but arrived several years too early. Instead, they put their creativity and art skills into their live performances, in which songs could be full-fledged production numbers, from a beach-movie parody for "Sushi Girl," to leather-clad S&M hijinks in "Mondo Bondage," to the game show antics of "What Do You Want From Life?" At their peak, their act featured dozens of other performers, including tap dancers and acrobats.
These shows were expensive to produce, however, and while they earned the band a reputation for being one of the most entertaining live acts of all time, by the early 1980s they found themselves short of money. At this time the band left A&M Records and moved to Capitol Records. The live shows were scaled back and the band tried to reposition itself as a strait-laced rock band. The Completion Backward Principle, another concept album, posited itself as a motivational business document, complete with shocking pictures of the band members cleaned up and wearing suits. Outside Inside followed a few years later, and these two albums contain the band's classic rock war-horses, "Talk To Ya Later" and "She's A Beauty."
1985's Rundgren-produced Love Bomb went nowhere—Spooner once told a concert audience the record company executives couldn't promote it because they kept "dying of hemorrhoids"—and became the last new Tubes album for over a decade. 1996 brought Genius of America and a reformed lineup, minus Welnick (who had joined the Grateful Dead), Cotten, and Spooner. Welnick died on 2 June 2006 by suicide.
The Album
The Tubes threw a musical monkey wrench into the mid-'70s with this remarkably ambitious debut. Produced by Al Kooper, the record represents an intersection of theatrical rock and what would become punk. In fact, "White Punks on Dope" became an early punk anthem of sorts; Nina Hagen covered it on her debut release a few years later. But pigeonholing the band as punk pioneers would be wrong, since that's just one facet of the band. The first half of the record favors ambitious pop, at times sounding like Todd Rundgren's Utopia or Chicago. The slick "Haloes," the straight-faced silliness of "Malaguena Salerosa," and the oddball arrangements of "Up From The Deep" aren't punk at all. It's the second side where the darker material surfaces, with searing guitar chords and biting commentary. The lyrics are often tongue in cheek, but when The Tubes get serious (e.g., "Boy Crazy"), they can be nearly as nasty as The Stooges. Even when the band dips into The Bonzo Dog Band's bag of tricks on tracks like "What Do You Want From Life," their dementia has a caustic side. Unfortunately, The Tubes proved to be too far ahead of their time, and were regarded by many as a novelty. Yet this album has everything you'd want to see in a debut: ambition, vision, talent, and execution. That the band never managed to cash in on a career that started with so much potential remains one of rock's more distressing disappointments.
Produced by Alan Peter Kooper
Arranged by The Tubes
Re-Arranged by Al Kooper
Strings and horns arranged by Dominic Frontiere
Special thanks to the White Punks Chorus
Engineered by Lee Rhett Kiefer
Mixed by Lee Rhett Kiefer and Al Kooper
Engineering Assistant: Don Seward Wood
Recorded at the Record Plant, Los Angeles, Mar., Apr., 1975
Art Direction: Roland Young
Design: M. Gotten, P. Prince (Airamid Designs)
Back cover photo: lan Patrick
Front cover & poster photos: Harry Mittman
Hands and Body by Re Styles
Poignant translation of Malaguena Salerosa by Jose (Juan Valdez)
Duval Management: Bag-O-Bucks
Album dedicated to Bob Mclntosh and Tom Donahue
Rick Marc Anderson: Bass
Michael David Gotten: Synthesizer
Prairie L'Emprere Prince: Drums
William Edmond Spooner: Guitars, Vocals
Roger Allan Steen: Guitars, Vocals
Fee: Lead Vocal
Vincent LeoWelnick: Keyboards
Tracks:
1. Up From The Deep - 4:28
2. Haloes - 4:53
3. Space Baby - 4:25
4. Malagueña Salerosa - 3:52
5. Mondo Bondage - 4:34
6. What Do You Want From Life - 4:01
7. Boy Crazy - 4:09
8. White Punks On Dope - 6:49
Listen! You can hear a difference! Enjoy it!
DOWNLOAD RAPIDSHARE LINKS (covers included), rar files (3% recovery)
(You need FEURIO,NERO, Alcohol or EAC to burn image files to music CD; load CUE file)
Downl...s, S/T part 1 (95.3 MB)
Downl...s, S/T part 2 (95.3 MB)
Downl...s, S/T part 3 (38.7 MB)
Password :
www.AvaxHome.ru
RapidGet Friendly
http://rapidshare.de/files/24811106/TTTTmfsl.part1.rar
http://rapidshare.de/files/24831769/TTTTmfsl.part2.rar
http://rapidshare.de/files/24814348/TTTTmfsl.part3.rar
You are welcome to download From OxyShare:
http://www.oxyshare.com/get/70...54.93141084/TTTTmfsl.part1.rar
http://www.oxyshare.com/get/13...293073/TTTTmfsl.part2.rar.html
http://www.oxyshare.com/get/39...323297/TTTTmfsl.part3.rar.html
MANY THANKS to Binbonbeach for the tutorials, and ALL uploaders for the wonderful shares