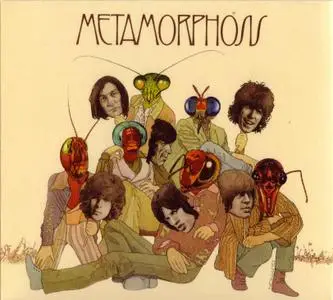 The Rolling Stones - Metamorphosis
DSD 2002 ABCKO Remaster
APE + CUE + COVER
4 RAR + Recovery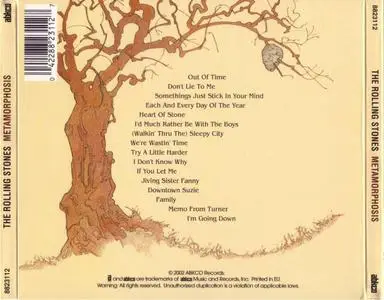 Tracks
01 - Out Of Time.ape
02 - Don't Lie To Me.ape
03 - Some Things Just Stick In Your Mind.ape
04 - Each And Everyday Of The Year.ape
05 - Heart Of Stone.ape
06 - I'd Much Rather Be With The Boys.ape
07 - (Walkin' Thru The) Sleepy City.ape
08 - We're Wastin' Time.ape
09 - Try A Little Harder.ape
10 - I Don't Know Why.ape
11 - If You Let Me.ape
12 - Jiving Sister Fanny.ape
13 - Downtown Suzie.ape
14 - Family.ape
15 - Memo From Turner.ape
16 - I'm Going Down.ape
History
After the release of Hot Rocks 1964-1971 in 1971, an album entitled Necrophelia was compiled for release as the follow-up, featuring many previously unheard tunes. While that project failed to materialize - with More Hot Rocks (Big Hits & Fazed Cookies) being released in its place - most of the unreleased songs were held over for a future project. In 1974, in order to give it an air of authority, Bill Wyman involved himself in compiling an album he entitled Black Box. However, Allen Klein wanted more Mick Jagger/Keith Richard songs in the project for monetary reasons, and Wyman's version remained unreleased. Metamorphosis was issued in its place.
Most tracks that appear on side one of the vinyl album (thus all tracks up until "Try a Little Harder") are mainly demo songs, written by Mick Jagger and Keith Richards for other artists to perform. They were mostly recorded by session musicians like Big Jim Sullivan (who plays the pedal steel guitar sounding guitar parts), Clem Cattini on drums, and Jimmy Page on guitar. On most of these tracks the only Rolling Stones member that appears is Mick Jagger. While "Out Of Time" and "Heart Of Stone" were already well-known, they appear here in drastically different renditions, alongside several other obscure recordings created up until the Sticky Fingers sessions of 1970.
Released in June 1975, Metamorphosis came out the same day as the band's authorized hits collection Made in the Shade and was also seen to be cashing in on The Rolling Stones' summer Tour of the Americas. While the critical reaction was lukewarm (many felt some of the songs were best left unreleased), Metamorphosis still managed to reach #8 in the US, though it only made #45 in the UK. Two singles, "Out Of Time" and a cover of Stevie Wonder's "I Don't Know Why" briefly made the singles charts.
Upon its initial release, Metamorphosis was released with 16 songs in the UK, while the American edition had only 13.
In August 2002, the full UK edition of Metamorphosis was issued - for the first time - in a new remastered CD and SACD digipak by ABKCO Records.
The album's cover art alludes to Franz Kafka's novel: The Metamorphosis.
Extract from Wikipedia

Pass : tnas@avaxhome.ws