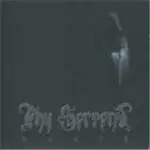 Thy Serpent - Death
Flac lossless | 187 MB | Genre: Black Metal | Playing time: 22:25 | Year: 2000
After a two-year-silence, the Finnish Dark Black Metalians of THY SERPENT are back. Four tracks can be found on the DigiPak-ed "Death" and they really make you want more.
After "Christcrusher" had not only fared less good in the reviews, the serpents have taken a step back into the direction of their great debut "Forests Of Witchery", of more melodic, intensive and less placative songs.
The vocals of the opener "Deathbearer" are not Black Metal anymore, but, suiting the title, deathy, musically it is in the slower mid-tempo and very melodic.
The highlight is "Wounds Of Death", which starts with clean guitars and slow-paced drums, just to raise to mid-tempo-double-bass and super-melodious guitars and keyboards and Azhemin's vocals. This mixture alternates for the rest of the song in a great way, good, really very good!
But also the other two tracks "Sleep In Oblivion" (faster with a Nordic touch to it) and "Parasites" can uphold this level, so I can only hope that THY SERPENT will be able to uphold it for the third full-length-album as well.
Tracklist:
1. Deathbearer
2. Wounds Of Death
3. Sleep In Oblivion
4. Parasites
part 1
part 2
pass:2006