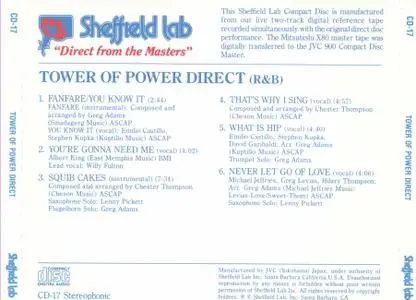 Technical Information
This Sheffield Lab Compact Disc is manufactured from live two-track reference tape recorded simultaneously with the original direct
disc performance of this album. This Compact Disc offers a dramatic increase in transparency and phase linearity due to the exclusive
use of custom electronics and microphones. Because this Compact Disc is manufactured from an original, live, two-track reference tape,
many generations of signal degradation from multi-track recorders and dub-downs is completely eliminated. This Sheffield Lab Compact
Disc has all the unique musical excitement and energy that can only be found in live, unedited performance recordings.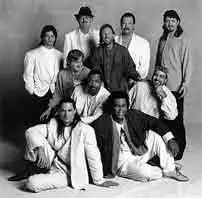 The Artists
An integrated West Coast funk outfit, Tower Of Power became known primarily for its highly professional horn section. But they also had a knack for catchy riff tunes, and a bass player with a phenomenally fast technique and the brains to use it musically: Francis Rocco Prestia. Unlike competitors like War and the Ohio Players, who split songwriting and arranging credits, TOP had a clear division of
labor: saxophonists Emilio Castillo and Steve "Doc" Kupka wrote most of the tunes, first sax Lenny Pickett played most of the solos,
the singer du jour wrote the lyrics, and trumpeter Greg Adams did most of the arrangements. After forming in the Bay Area in the late
60s, the band went through a zillion lineups, hitting a commercial and critical highpoint from 1973 to 1975, then abruptly vanishing
from the charts while many other funk bands continued to thrive. You could build an argument that there's nothing in the TOP catalog
that James Brown hadn't done better before, and even at their best they were prone to third-rate soul ballads, but when they got hold
of a good riff, look out! The TOP horn section has appeared on a bunch of projects, and is perhaps best known for working with 80s cornball Huey Lewis.
Personnel
Michael Jeffries - Lead Vocals
Lenny Pickett - Saxophones (Solo On "Squib Cakes", "Never Let Go Of Love")
Emilio Castillo - Tenor Saxophone
Stephen 'Doc' Kupka - Bari Sax
Greg Adams - Trumpet (Solo On "What Is Hip?"), Flugelhorn (Solo On "Squib Cakes")
Mic Gillette - Trumpet, Flugelhorn, Trombone
Rick Waychesko - Trumpet
Willy Fulton - Guitar, Lead Vocal On "You're Gonna Need Me"
Mark Sanders - Drums
Vito San Filippo - Bass
Chester Thompson - Keyboards
Victor Feldman - Percussion
Guest Singers - James Gilstrap, Edie Lehmann, Oren Waters
Tracks
1. Fanfare/And You Know It
2. You're Gonna Need Me
3. Squib Cakes
4. That's Why I Sing
5. What Is Hip?
6. Never Let Go Of Love
Enjoy it!
DOWNLOAD RAPIDSHARE LINKS (covers included), rar files (3% recovery)
(You need FEURIO,NERO, Alcohol or EAC to burn image files to music CD; load CUE file)
:
Downl...Direct part 1 (95.3 MB)
Downl...Direct part 2 (95.3 MB)
Downl... Direct part 3 (1.9 MB)
Rapidget friendly links:
http://rapidshare.de/files/25347210/SHL_CD_17.part1.rar
http://rapidshare.de/files/25346985/SHL_CD_17.part2.rar
http://rapidshare.de/files/25337324/SHL_CD_17.part3.rar
Password (if required):
www.AvaxHome.ru