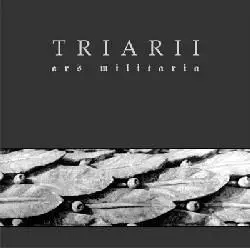 Triarii - Ars Militaria
Genre: Industrial | EAC | Lame 3.90 | 256kbps / 44,1kHz | 92.2 Mb | 51:19
From the outset, German act Triarii are steeped in the European exhultation of late - think of acts such as HERR, Werkraum, Von Thronstahl, A Challenge Of Honour, Karjalan Sissit, Sophia, Arditi, etc (many of them label mates). They've got the logos, soldiers adorn their website, they're named after an elite army devision of the Roman Empire, and there's even a jot of latin thrown in for good measure. The well-worn formula is certainly there. I'm suspicious before I even hear the music - and songs dedicated to Breker don't help. But, we're here for the music.

Beginning with an exhilarating martial piece, "Ars Militaria" starts as it means to go on. Huge, marching, orchestral pieces with heroic chanting over - and I'm impressed. You could be forgiven for thinking you're listening to Sophia or even In Slaughter Natives (this isn't a complaint!). I can hear many clear influences throughout including a vocal style similar to Ordo Rosarius Equilibrio or Blood Axis in places. The music changes here and there from being full-on to more contemplative and subtle in parts, and the album is very well constructed. The strings are really impressive and well orchestrated, and sit nicely with the obligatory snares and war samples. I could even imagine this being used as the soundtrack to some epic tale, especially with tracks like 'Neuropa'.

I wasn't sure about "Ars Militaria" when I first heard it - just another challenger to the throne of those aforementioned - a copycat act? I still have a little doubt about 'Marche Du Capitulation' and 'Serpent, Sun and World Ending', being extremely similar to Sophia and Ordo Rosarius Equilibrio respectively. But giving this a lot of listens I'm quite satisfied that Triarii can very much hold their own when it comes to actually making good, quality, enjoyable music. There are plenty of acts trying to follow suit - and doing it rather badly. I'm happy to say Triarii isn't one of them. Excellent martial industrial shines throughout. Music to make your European heart swell with pride!
Tracklist:
01.Triarii-Anthem Fromthe Iron Flame [04:00] 02.Triarii-Europe in Flames [04:27] 03.Triarii-Mother of Pain [04:26] 04.Triarii-Dark Skies Over Europe [04:15] 05.Triarii-Der Verwundete [03:42] 06.Triarii-Der Verwundete [07:07] 07.Triarii-Regicide II [02:53] 08.Triarii-Marche Du Capitulation [05:05] 09.Triarii-Neuropa [04:11] 10.Triarii-Serpent,sun & World Ending [04:14] 11.Triarii-for the Fallen Ones[03:10] 12.Triarii-Son of the Sun [03:49] Total: 51:19 min
Part №1
Part №2
You are welcome to download From OxyShare:
http://www.oxyshare.com/get/21..._Militaria-2005.part2.rar.html
http://www.oxyshare.com/get/35..._Militaria-2005.part1.rar.html