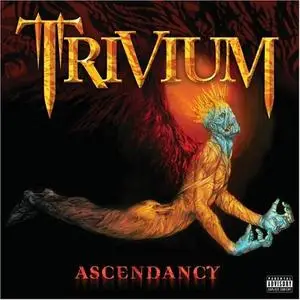 Trivium-Ascendancy [Reissue CD+DVD Tracks][2006]
Power Metal / Thrash Metal
Disc One (CD) | MP3 VBR ~243kbps 139.5 MB | 01:15:26
Disc Two (DVD) | MP3 VBR ~199kbps 42.82 MB | 00:27:59
Country: USA
Label: Roadrunner Records
Official website:
www.trivium.org
Matt Heafy - guitar, lead vocals
Corey Beaulieu - guitar, vocals
Paolo Gregoletto - bass
Travis Smith - drums
Now it's Trivium's turn to receive a much deserved Special Edition for their awesome 2005 opus, Ascendancy, which was recently named 'Album of the Year' in Kerrang! Magazine.
This irresistible little sucker features 4 new tracks to go with the original 12, including a cover of "Master of Puppets," and a bonus DVD containing all of Trivium's videos, plus over 30 minutes of live performance..
Disc One (CD)
1. The End Of Everything 1:21
2. Rain 4:11
3. Pull Harder On The Strings Of Your Martyr 4:51
4. Drowned And Torn Asunder 4:17
5. Ascendancy 4:25
6. A Gunshot To The Head Of Trepidation 5:55
7. Like Light To The Flies 5:40
8. Dying In Your Arms 2:53
9. The Deceived 5:11
10. Suffocating Sight 3:47
11. Departure 5:41
12. Declaration 7:00
13. Blinding Tears Will Break The Skies 5:10
14. Washing Away Me In The Tides 3:48
15. Master Of Puppets 8:11
16. Dying In Your Arms (Radio Mix) 3:05
Disc Two (DVD) - Live at the London Astoria - 9/18/2005
1. The End Of Everything (Intro) 1:23
2. Rain (Live) 4:21
3. Dying In Your Arms (Live) 3:22
4. Like Light To The Flies (Live) 6:23
5. A Gunshot To The Head Of Trepidation (Live) 6:45
6. Pull Harder On The Strings Of Your Martyr (Live) 5:45