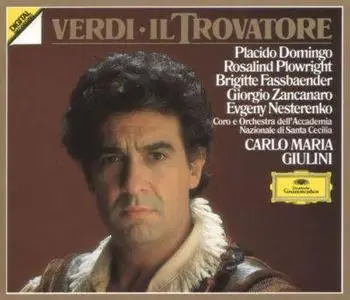 Frontside enlarged view
Classical Opera
Giuseppe Verdi – Il Trovatore
Plácido Domingo, Rosalind Plowright, Brigitte Fassbaender, …
Coro e Orchestra dell'Accademia Nazionale di Santa Cecilia
Cond. Carlo Maria Giulini
Digital Recording
Released 1984
2 Compact Discs | Playing time: 2.19'.53''
lossless apes | cue-file + Cover | 535 mb
5 x 90 mb + 1 x 86 mb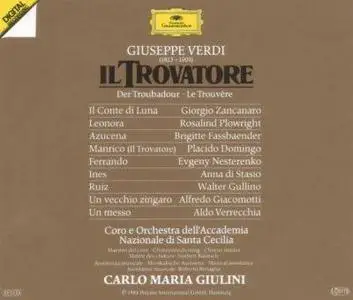 Backside enlarged view
'… The importance of
Il Trovatore
lies in its music;
it displays some of the most ingratiating melodies Verdi ever wrote.
It has been said that in order to mount a successful performance of this opera,
all you need (!) are the four greatest Verdi voices available.
From the soaring phrases of Leonora's opening aria to the martial excitement
of Manrico's
Di quella pira
, all of the conventional operatic forms are used
to give the singers a chance to shine.
Only Azucena does not have the traditional two-part aria,
but she has some of the most memorable solos and duets in the entire opera.
From her entrance with the drama of
Stride la vampa
to the tenderness of her
Act Four duet with Manrico, she displays a full range of emotion.
Di Luna, the baritone villain, is more one dimensional.
The role of Manrico is one of the most difficult that Verdi wrote;
he needs the grace of a lyric tenor for
Ah si, ben mio
and a full dramatic tenor sound for the following
Di quella pira
(which contains two unwritten high Cs that add considerably to its difficulty).
Most tenors find it safer to have this aria transposed down in performance
and some even do this on recordings…'
Complete Composition Descri...rd LeSueur at allmusic.com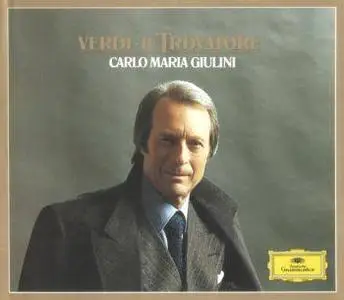 Booklet excerpts are included,
click here for the track listing
and have a look at
opera-guide.ch
to get the libretto and more (english, italian or german)
Download a link collection for the lossless apes
If you prefer the smaller mp3 version:
mp3 HiFi VBR | LAME Enc | cue-file + Cover | 247 MB
7 x 31 mb + 1 x 30 mb
Download a link collection for the mp3s
You know: mp3-files are splitted into 'tiny' parts because not everbody
can afford to download large files. If you don't have to care about
download-speed or discspace, the lossless apes are recommended.
Unfortunately there are some bugs concerning mirroring
to fileHO and uploading.com - you will see…

And you know about the password.
Enjoy!