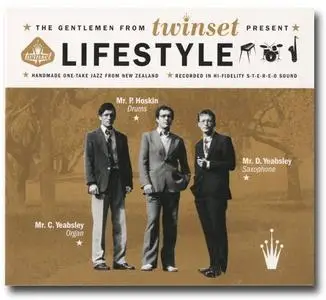 Twinset - Lifestyle (2004)
Jazz
WAV+CUE | 100*3+27.8 MB
MP3 | 320 kbps | 80+31.6 MB
MP3 | 192 kbps | 68.8 MB
"Album number four from the Wellington, New Zealand, jazz trio known as Twinset finds the Yeabsley brothers (Christopher on organ and Daniel on saxophone) and drummer Paul Hoskin moving back to the denser instrumental "boogaloo" sound of their superb 'It's A Summer Feeling' album. Hoskin's subtle yet busy rhythmic drumming and the deep minimal funk of Yeabsley's organ power the swingin' Blue Note inspired tunes (think Jimmy Smith, Jack McDuff etc), while the second Yeabsley adds colourful and inspired tenor, alto and soprano sax flourishes as required. The album has a tougher (and welcome) overall sound also, reflecting the trio's growing maturity in the studio (the album is self produced) and the influential assistance of both Nick McGowan (recording engineer) and The Drop's Mu (mastering). Easily the best New Zealand jazz record I have heard in 2004, 'Lifestyle' should find plenty of fans throughout this summer - and deservedly so. Recommended."