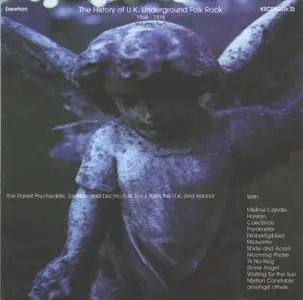 Various - The History Of Uk Underground Folk Rock Vol.2 (rarest psychedelic)
MP3 224 Kbps | 1999 |Label: Erewhon | 66.98 MB + 40.66 MB
After the UK folk explosion of the early sixties, artists like The Incredible String Band, Pentagle, Cob, Fairport Convention and Strangely Strange led the genre into an experimental phase embracing psychedelia.
The Erewhon CD series has fortunately released the majority of the rarest releases of that era, albums that were often privately issued and now command hundreds of pounds amongst collectors.
These collections include some of the best tracks by those artists together with previously unavailable songs by the Trees, Tir Na Nog, Mellow Candle and Horison amongst others.
Opening with a sublime hippie masterpiece by Shide and Acorn, this volume journeys through the classic electric folk of Loudest Whisper, Midwinter and Gallery. Not to forget Baroque moments form Tir Na Nog and Mellow Candle, the potent musicianship of Caedmon and the lost psychedelic genius of parameter. More can be found on volume two and forthcoming releases.
AMG REVIEW: You can think of this as sort of an equivalent to specialty series like Nuggets, Rubble, and Pebbles that unearthed very obscure 1960s rock, the difference being that this focuses on British folk-rock of the late '60s and '70s. Although artists like Fairport Convention, Steeleye Span, the Incredible String Band, and Pentangle are fairly popular and well-known, there have been very few discs dedicated to excavation of other bands working along the same lines that never got anywhere (commercially that is). This CD is compiled from rare albums, along with presenting previously unavailable songs by the Trees, Tir Na Nog, Mellow Candle, and Harison. Now, when the Trees and Mellow Candle are by far the most recognizable names on the track listing, you know this is digging deep. Note, however, that unlike many anthologies of obscure genre music — for whatever genre — the quality on this and Vol. 2 of this series is pretty high, and virtually guaranteed to appeal to fans of classic British folk-rock in the Fairport/Steeleye/Incredibles mold. Whether high female vocals in the Sandy Denny/Jacqui McShee style or fairly exotic acoustic-based folk-psych is your bag, there's a lot of it here. While there may not be anything as outstanding as the best of the well-known bands, it's a fine soundtrack for imagining yourself hiking through the British greenlands, with the style's characteristic emphasis on minor-based, folky melodies. Some of the stuff will appeal to psychedelic fans of any kind, too, like Parameter's "Emmeline," with its Ray Davies-like vocal, wiggly guitar, and general aura of disembodied cloudiness. — Richie Unterberger
Tracklist
01 - mellow candle - silver song.mp3
02 - stone angel - the bells of dunwich.mp3
03 - loudest whisper - silent o moyle.mp3
04 - parameter - sun gone.mp3
05 - shide and acorn - i used to live within a world.mp3
06 - blue epitaph - ffief.mp3
07 - mark newman - mustapha.mp3
08 - mourning phase - ring out the bells.mp3
09 - no. 9 bread street - girl for all seasons.mp3
10 - melton constable - river lane.mp3
11 - parameter - virgin childe.mp3
12 - florison - epic.mp3
13 - waiitng for the sun - waiitng for the sun.mp3
14 - moths - halfdans daughter.mp3
15 - caedmon - london psalm.mp3
16 - tir na nog - daisy lady.mp3
17 - flibbertigibbet - my lagan love.mp3
18 - midwinter - sactuary stone.mp3
Download:
http://rapidshare.de/files/24812136/underground_folk_rock_1968-1978__volume_2_.part2.rar
http://rapidshare.de/files/24834756/underground_folk_rock_1968-1978__volume_2_.part1.rar
Cover
http://rapidshare.de/files/24871595/uufr_cover.rar
Previous post:
Various - The History Of Uk Underground Folk Rock Vol.1

Great Zeppelin: Tribute To Led Zeppelin
World Cup Football 2006 - 32 National Anthems
Paint It Black - Rolling Stones covers
The Piano Tribute to Iron Maiden
A Tribute to Bon Jovi - Livin On A Prayer

A Fire Inside EPs
Cheap Cologne Presents: The...Album - Metallica vs Jay Z
Practical Magic: Music From The Motion Picture
A Guitar Odyssey - A Tribute To Yngwie Malmsteen
Bat Head Soup: A Tribute to Ozzy
A Special Tribute To Pink Floyd
Ian Gillan: Gillan's Inn