Underground Session Vol. 2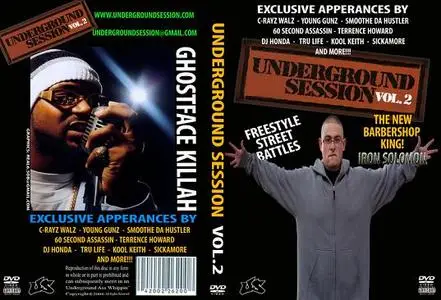 DVD-Rip
DivX
Underground Session is young street Cats taking rap battles to a whole new level.
Going from borough to borough - Challenging the hottest mcs in the hood, where it all goes down at the barber shop. Who will remain king?
Go head to head in a shut `em down elimination battle.
See who gets spanked in their own hood. These guys make you feel like you`re in the front row with all the energy they spitting, literaly!
These are real street battles that will have you on the floor laughing with the slick lines and tongue slashing lyrics.
These are streets battles gone wild! Never before have you seen it done like this. Check out Underground Session. YOU WOULDN`T WANT TO MISS IT!
Download:
http://rapidshare.de/files/22634304/Underground_Session_2.part01.rar
http://rapidshare.de/files/22645494/Underground_Session_2.part02.rar
http://rapidshare.de/files/22656358/Underground_Session_2.part03.rar
http://rapidshare.de/files/22716211/Underground_Session_2.part04.rar
http://rapidshare.de/files/22724624/Underground_Session_2.part05.rar
http://rapidshare.de/files/22793589/Underground_Session_2.part06.rar
http://rapidshare.de/files/22802466/Underground_Session_2.part07.rar
http://rapidshare.de/files/22886018/Underground_Session_2.part08.rar
For more info:
http://myspace.com/undergroundsession