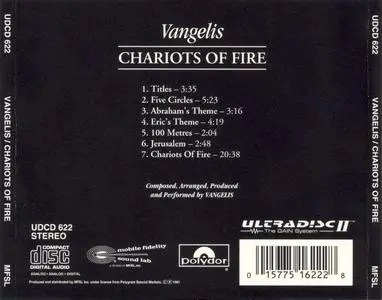 CD FULL RANGE ONLY | EXACT AUDIO COPY IMAGE (WAV+CUE) | 424 MB (231 MB RAR)| MOBILE FIDELITY SOUND LAB | AUDIOPHILE CD
Mobile Fidelity Sound Lab has been the undisputed pioneer and leader in audiophile recordings since the company's inception in 1977. Established by dedicated audiophiles, Mobile Fidelity's first and foremost goal was to offer faithfully reproduced high fidelity recordings that would compliment the numerous advances occurring in audio delivery systems. Throughout its history, Mobile Fidelity has remained true to this goal, pioneering state-of-the-art technologies and setting audiophile standards that remain in place today.
In response to rapid advancements in both recording formats and audio delivery systems over the past several years, Mobile Fidelity has maintained its ongoing commitment to improving industry standards. This has resulted in the introduction of numerous innovations in the audiophile arena: half-speed mastered Original Master Recording™ LPs, Ultra High Quality Records™ (UHQRs), high fidelity cassettes, consumer alignment devices for phono cartridges and audio cassette decks, Original Master Recording™ compact discs, the 24-karat gold plated Ultradisc™ CD and the Ultradisc™ Ultra High Resolution™ (UHR). To this day the independently owned firm continues its commitment to exceeding industry standards.
This is a true Collector's find for those individuals who want to own the finest and rarest pieces of musical history. It is similar to owning the artist's own Rare Gold Record Album in a Gold CD pressing. You will be one of the last people in the world to own these Limited Edition Long Out of Print Masterpieces that will add true value to your Collection.
MFSL LIMITED GOLD EDITION. This 24-Karat Gold Limited Edition is an audiophile collectors item that simply gives the feeling of being directly in the studio with the artist.
This recording is mastered from the Original Session Tapes and the disc is custom pressed using 24-Karat Gold (known for its superior qualities and resistance to oxidation). This Out of Print Gold bonafide collectible disc has all Liner Notes, Photos, and Artwork from the Original LP faithfully recreated.
A SONIC WORK OF ART. These Out of Print gems are the Ferrari of the audiophile CD market. Many over the last year have doubled or tripled in value. The future of these collectibles is so exciting because each piece is a sonic work of art that will never be reproduced using this expensive 24-Karat Gold mastering process. You will be one of only a few thousand in the world owning this audiophile classic.
RELEASE:
Vangelis: Chariots of fire
Original Released, 1981
Mobile Fidelity Sound Lab, Polydor UDCD 622
Format:CD
MFSL Release Date:Jan-2000
UltraDisc II, 24 karat gold CD
Track listing
1. Titles (03:35)
2. Five Circles (05:23)
3. Abraham's Theme (03:16)
4. Eric's Theme (04:19)
5. 100 Metres (02:04)
6. Jerusalem (02:48)
7. Chariots of Fire (20:38)
Total Duration: 00:42:03
Original Release Info:
Original score composed and performed by Vangelis.
Recorded at Nemo Studios, London, England.
While only serious film buffs are likely to recall Hugh Hudson's role as the director of the Oscar-winning CHARIOTS OF FIRE, the Greek composer Vangelis became, and remained, a household name with his soundtrack for the 1981 film. At the time, the theme song was parodied as being excessively saccharin.
Indeed, with titles such as "Five Rings" and "100 Metres," the album wears its Olympian heart on its sleeve. Nonetheless, CHARIOTS OF FIRE is often a brooding work, and if the prevailing memory of this album is one of slow-motion runners and heady triumph, Vangelis's synthesizer work often conveys a sense of isolation and lost glory.
Listening! You can hear a difference! Enjoy it!
LOOK VANGELIS- CHARIOTS OF FIRE VIDEO (VH-1) HERE:
VIDEO VH-1
Links tested by laila (thanks) 21/05/2006
DOWNLOAD (megaupload: sorry) LINKS rar files (3% recovery) (You need FEURIO,NERO, Alcohol, EAC to burn image to music CD; load CUE file):
Download V_COF_MFSL.part 1 (98.2 MB)
Download V_COF_MFSL.part 2 (98.2 MB)
Download V_COF_MFSL.part 3 (83.2 MB)
Password (if this is require):
www.AvaxHome.ru
DOWNLOAD MOMOSHARE LINK COVERS:
Download Covers (1.08 MB)
NO PASSWORD