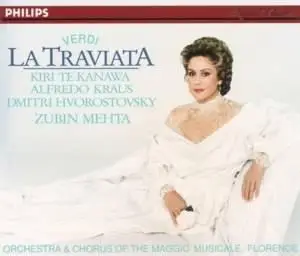 Classical Opera
Giuseppe Verdi – La Traviata
Kiri Te Kanawa, Alfredo Kraus, Dmitri Hvorostovsky
Orchestra del Maggio Musicale Fiorentino, Cond. Zubin Mehta
PHILIPS CDA First Release from 1993
DDD Digital Recording
2 CDA | Playing Time: 2.08'.59''
mp3 VBR 192kbps | LAME Enc | ID3tags, Cover, Playlists | 93 Mb
or
ape 478-490 kbps + cue | Cover | 449 MB
downloads from rapidshare or megaupload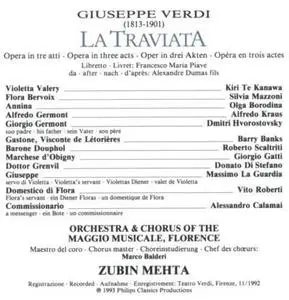 Composition Description by Richard LeSueur

The last of the three great operas of Giuseppe Verdi's middle period, La Traviata is now one of his most popular works. Written for the Teatro la Fenice in Venice, it was first heard on March 6, 1853. The libretto, by Francesco Maria Piave, details the ill-fated love affair between a young gentleman named Alfredo Germont and a terminally ill courtesan named Violetta. It is based on the play La dame aux camélias by Alexander Dumas, Jr., which premiered the previous year.

Perhaps surprisingly, La Traviata's opening night was a fiasco. Legend gives two reasons for the failure: the generous size of the soprano (supposedly dying of consumption!) and the use of a contemporary stage setting, which was considered distasteful at the time (subsequent performances were re-set in the 1700s; the reinstatement of Verdi's original conception did not occur until the 1880s). Verdi withdrew the opera and, after making significant changes in the second and third acts, premiered the new version at the Teatro Gallo di San Benedetto in 1854. It is in this version that the opera has enjoyed its continued success…
Continue reading at allmusic.com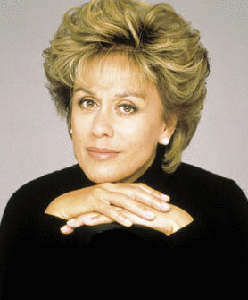 Get some information about the wonderful
Dame Kiri Te Kanawa
,
Alfredo Kraus
,
Dmitri Hvorostovsky
or
Zubin Mehta
at wikipedia.
Maybe you wish to have a look at the
tracking list
with additional information
and some streaming media samples.
The italian libretto is available
here at karadar.com
.
If you like classical opera there are a some highly recommended
avax-postings listed at the bottom of this page.
Password for all files:
www.AvaxHome.rump3s @ rapidshare:
http://rapidshare.de/files/23789357/VLTmp3.part01.rar.html
http://rapidshare.de/files/23789986/VLTmp3.part02.rar.html
http://rapidshare.de/files/23791179/VLTmp3.part03.rar.html
http://rapidshare.de/files/23791707/VLTmp3.part04.rar.html
http://rapidshare.de/files/23792192/VLTmp3.part05.rar.html
mp3s @ megaupload:
http://www.megaupload.com/?d=SM4GQTDJ
http://www.megaupload.com/?d=PLMJY0J2
http://www.megaupload.com/?d=X8AFTAI5
http://www.megaupload.com/?d=9D376590
http://www.megaupload.com/?d=0KYW2JJK
apes @ rapidshare:
http://rapidshare.de/files/23760710/VLTCD1.part1.rar.html
http://rapidshare.de/files/23762031/VLTCD1.part2.rar.html
http://rapidshare.de/files/23763280/VLTCD1.part3.rar.html
http://rapidshare.de/files/23764638/VLTCD2.part1.rar.html
http://rapidshare.de/files/23766051/VLTCD2.part2.rar.html
http://rapidshare.de/files/23767521/VLTCD2.part3.rar.html
apes @ megaupload:
http://www.megaupload.com/?d=IUO03PCK
http://www.megaupload.com/?d=HRF86M6M
http://www.megaupload.com/?d=38GL9JOP
http://www.megaupload.com/?d=5UOLUEY4
http://www.megaupload.com/?d=171XODMZ
http://www.megaupload.com/?d=L22THBKW
Enjoy!Some other of many avax-publications concerning classical opera
you might have not seen yet:

http://www.avaxhome.ws/music/complete_classical_opera_collection.html
http://www.avaxhome.ws/music/famousovertures.html
http://www.avaxhome.ws/music/carreras.html
http://www.avaxhome.ws/music/catalani_la_wally.html
http://www.avaxhome.ws/music/la_tebaldi.html
http://www.avaxhome.ws/music/maria_callas_legend.html
http://www.avaxhome.ws/music/puccini_tosca.html
http://www.avaxhome.ws/music/wagner_orchestral_karajan_040206.html
http://www.avaxhome.ws/music/maria_callas_puccini_arias_032006.html
http://www.avaxhome.ws/music/cecilia_bartoli_mozart_arias_032006.html
http://www.avaxhome.ws/misc_and_web/callas_forever.html