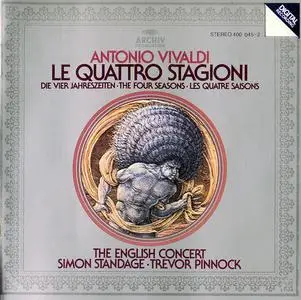 Vivaldi: The four seasons
The English Concert / Standage / Pinnock
Only 15 MB files, but APE or MP3 HQ, you have the choice!
For me this version of the well-known "Four seasons" is the most beautiful ever recorded.
1 CD ARCHIV 1982, home ripped with EAC.
APE+CUE if you love quality, or MP3 LAME VBR HQ if you prefer a smaller size download.
Covers available.
To help little connections, I made only 15 MB files, with 3% restoration, and sfv files to verify quality of downloads. I am sorry for RS Premium owners, but these ones won't forget to use Rapidget.
Password for all files is standard
www.AvaxHome.ru
APE+CUE (15 MB x 12 + 13 MB x 1 + sfv)
http://rapidshare.de/files/22562497/vi4sape.part01.rar.html
http://rapidshare.de/files/22562879/vi4sape.part02.rar.html
http://rapidshare.de/files/22563053/vi4sape.part03.rar.html
http://rapidshare.de/files/22563275/vi4sape.part04.rar.html
http://rapidshare.de/files/22563474/vi4sape.part05.rar.html
http://rapidshare.de/files/22563787/vi4sape.part06.rar.html
http://rapidshare.de/files/22564123/vi4sape.part07.rar.html
http://rapidshare.de/files/22564457/vi4sape.part08.rar.html
http://rapidshare.de/files/22564782/vi4sape.part09.rar.html
http://rapidshare.de/files/22565008/vi4sape.part10.rar.html
http://rapidshare.de/files/22565214/vi4sape.part11.rar.html
http://rapidshare.de/files/22565549/vi4sape.part12.rar.html
http://rapidshare.de/files/22565853/vi4sape.part13.rar.html
http://rapidshare.de/files/22565854/vi4sape.part01.sfv.html
MP3 (15 MB x 3 + 11 MB x 1 + sfv)
http://rapidshare.de/files/22566200/vi4slame.part1.rar.html
http://rapidshare.de/files/22566533/vi4slame.part2.rar.html
http://rapidshare.de/files/22566871/vi4slame.part3.rar.html
http://rapidshare.de/files/22567048/vi4slame.part4.rar.html
http://rapidshare.de/files/22567049/vi4slame.part1.sfv.html
Covers (1,6 MB)
http://rapidshare.de/files/22567081/vi4scov.rar.html