COMPLETE RIVERSIDE RECORDINGS OF WES MONTGOMERY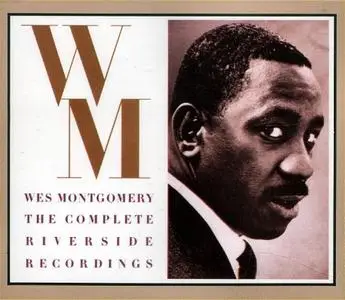 Review from allmusic:
"Wes Montgomery recorded exclusively for the Riverside label during the four years covered by this massive 12-CD box set and, although his later albums for Verve and particularly the pop/jazz A&M dates sold many more copies, it is from his Riverside dates that his legacy was primarily formed. Virtually unknown at the time of his debut on Riverside, Montgomery soon became a major influence whose style is still copied decades later. The guitarist is heard in quite a few different settings here: in trios with organist Melvin Rhynbe and a quartet with pianist Tommy Flanagan; as a sideman on different sessions with Nat Adderley, Harold Land, and Cannonball Adderley; performing with his brothers, Buddy and Monk; holding his own with pianist George Shearing, vibraphonist Milt Jackson, and tenor great Johnny Griffin; and (for an album ironically titled Fusion) playing with strings for the first time. All in all, there is a tremendous amount of rewarding performances included in this essential set, most of which show why Wes Montgomery is still considered one of the all-time great jazz guitarists. "
LINKS:
http://rapidshare.de/files/23242363/The_Complete_Riverside_Recordings__of_wes_montgomery-_Disc_11by_KAYAMAN.rar.html
http://rapidshare.de/files/23252470/The_Complete_Riverside_Recordings_of_wes_montgomery_-_Disc_10by_KAYAMAN.rar.html
http://rapidshare.de/files/23261968/The_Complete_Riverside_Recordings_of_wes_montgomery_-_Disc_09by_KAYAMAN.rar.html
http://rapidshare.de/files/23268653/The_Complete_Riverside_Recordings_of_wes_montgomery_-_Disc_01by_KAYAMAN.rar.html
http://rapidshare.de/files/23274387/The_Complete_Riverside_Recordings_of_wes_montgomery_-_Disc_02by_KAYAMAN.rar.html
http://rapidshare.de/files/23277351/The_Complete_Riverside_Recordings_of_wes_montgomery_-_Disc_03by_KAYAMAN.rar.html
http://rapidshare.de/files/23280133/The_Complete_Riverside_Recordings_of_wes_montgomery_-_Disc_04by_KAYAMAN.rar.html
http://rapidshare.de/files/23283935/The_Complete_Riverside_Recordings_of_wes_montgomery_-_Disc_05by_KAYAMAN.rar.html
http://rapidshare.de/files/23316749/The_Complete_Riverside_Recordings_of_wes_montgomery_-_Disc_08_fixed_by_KAYAMAN.rar.html
http://rapidshare.de/files/23326170/wes-riverside-covers.rar.html
http://rapidshare.de/files/23331800/The_Complete_Riverside_Recordings_-_Disc_12-by_KAYAMAN.part1.rar.html
http://rapidshare.de/files/23335894/The_Complete_Riverside_Recordings_-_Disc_12-by_KAYAMAN.part2.rar.html
http://rapidshare.de/files/23348760/The_Complete_Riverside_Recordings_of_wes_montgomery_-_Disc_07_fixed_by_KAYAMAN.rar.html
http://rapidshare.de/files/23356620/The_Complete_Riverside_Recordings_of_wes_montgomery_-_Disc_06by_KAYAMAN.rar.html
pass:KAYAMAN