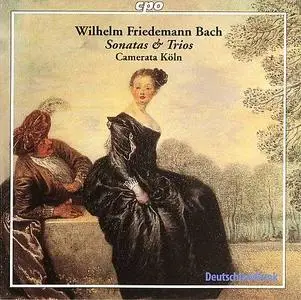 Wilhelm Friedemann Bach - Sonata & Trios (Camerata Koln)
16 tracks | MP3 192 Kbps | RAR | 95Mb
Many of the very best features of W.F. Bach's music are explored lovingly in Camerata Köln's superb survey of Bach's tiny surviving amount of chamber music on CPO's W.F. Bach: Sonatas & Trios. This includes two stunning flute sonatas discovered only a few years ago, including the Sonata in E minor that opens the disc – a melting, mercurial piece that winds around in a completely unpredictable manner, like a wild vine that springs up on the side of a shed.
~Uncle Dave Lewis, All Music Guide
1. Sonata for Flute and Basso Continuo in E minor, F 52 (12:49)
2. Trio Sonata for Violin/Flute, Violin and Basso Continuo in B flat major, F 50 (11:21)
3. Trio Sonata for 2 Flutes and Basso Continuo in D major, F 48 (15:08)
4. Sonata for Flute and Piano in F major, F 51 (12:56)
5. Trio Sonata for 2 Flutes and Basso Continuo in A minor, F 49 (4:08)
6. Trio Sonata for 2 Flutes and Basso Continuo in D major, F 47 (8:28)
CAMERATA KOLN
Karl Kaiser (Flute)
Michael Schneider (Flute)
Sabine Lier (Violin)
Ingeborg Scheerer (Violin)
Yasunori Imamura (Lute)
Rainer Zipperling (Cello)
Sabine Bauer (Harpsichord)
<a href="http://www.FriendlyDuck.com/AF_TA/rel/index.cfm?RST=UNF&TAD=432842&fn=Wilhelm%20Friedemann%20Bach%20-%20Sonata%20%26%20Trios%20%28Camerata%20Koln%29" onclick="log_click('Wilhelm%20Friedemann%20Bach%20-%20Sonata%20%26%20Trios%20%28Camerata%20Koln%29', 'www.friendlyduck.com'); return true;" target="_blank" rel="nofollow noopener noreferrer">Hosted on RS via blogspot</a>
no mirror please