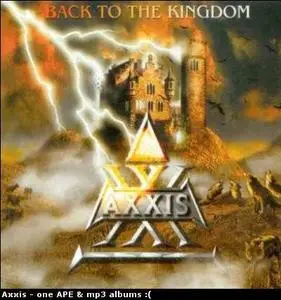 Axxis - Back To The Kingdom (2000)
EAC, APE, CUE, LOG, Covers => 380 Mb | mp3 vbr/192/320 cbr => 700 Mb
Power Metal
Немецкая команда "Axxis", исповедующая мелодик-метал образовалась в конце 80-х годов. В изначальный состав вошли вокалист Бернард Вейсс, гитарист Вальтер Питч, басист Вернер Клейханс и барабанщик Ричард Майклски. В 1988-м было записано первое демо "Tears Of The Trees", которое со второго раза музыкантам удалось пропихнуть на EMI. Получив контракт с "EMI Electrola", группа записала альбом "Kingdom Of The Night", ставший в 1989 году лучшим дебютом среди германских банд.[cut] В сентябре состоялся тур в поддержку этого альбома, включавший в себя совместные выступления с "Black Sabbath". Перед записью второго диска в команде появился клавишник Харри Оллерс. Выпустив в свет "Axxis II" команда прокатилась по Европе уже в качестве хедлайнеров. Годом позже в продаже появился концертник "Access All Areas", закрепивший хорошую репутацию тевтонцев.
Слава о немецких рокерах докатилась и за океан, и музыкантов пригласили записывать очередной альбом в Филадельфии. Продюсировать пластинку взялся Джоуи Бэйлин. Такая постановка вопроса открывала перед музыкантами новые рынки, в том числе и Японию. В Стране Восходящего солнца был выпущен специальный CD "Profile", в поддержку которого Вейсс и Питч устроили там акустический тур. Затем состоялись европейские гастроли, на которых группу разогревал "Парк Горького". Теперь команду узнали во всем мире, и записывать свое очередное творение она отправилась в Мекку рока – Лос-Анджелес. Продюсером "Matters Of Survival" стал Кит Олсен, имевший 25-летний стаж работы в шоу-бизнесе и имевший дело с такими известными коллективами как "Fleetwood Mac", "Whitesnake", "Foreigner", "Scorpions".
Перед началом сессий Олсен нанес визит музыкантам в Германию, где вместе с ними отобрал 12 из 30 треков для будущего диска. Надо ли говорить, что пластинку ожидал неизбежный успех. Концертная популярность "Axxis" к тому времени также была велика, и они уже запросто смогли выступить перед 30-тысячной аудиторией на фестивале "Rock Am Ring".
Перед записью следующего альбома, "Voodoo Vibes", музыканты решили, что вполне созрели для того, чтобы самим заняться продюсированием, тем более что некоторый опыт в этом деле у них уже был. Результат получился впечатляющим, и пластинка звучало гораздо мощнее, чем это получилось у маститого американского продюсера. Работа была проделана всего за 18 дней, что еще раз доказало мастерство музыкантов. Германский промоушен-тур команда провела в компании с "U.D.O.". Казалось, что дела у "Axxis" идут хорошо, но в начале 1998-го о своем уходе объявил один из основателей группы Вальтер Питч и проект оказался на грани развала.
Очухаться от удара команде удалось лишь к 2000 году, когда на лейбле "Massacre" вышел очередной альбом, "Back to the kingdom". Состав группы несколько обновился, и включал в себя двух новичков – гитариста Гуидо Вемейера и басиста Куно Нимейера. На следующий год вышла еще одна студийная работа коллектива, а кроме того, музыканты поучаствовали в записи трибьюта "Led Zeppelin", исполнив кавер на песню "Good Times, Bad Times".
Axxis - The Official Site=>
http://www.axxis.de/
Wikipedia Info=>
http://de.wikipedia.org/wiki/Axxis
The Band:
Bernhard Weiss: lead vocals, guitar
Harry Oellers: keys, guitar, vocals
Guido Wehmeyer: guitar, vocals
Kuno Niemeyer: bass, vocals
Ritchie Michalski: drums, vocals
Tracklist:
01. Shadowman
02. Like A Sphinx
03. Flashback Radio
04. Heaven In Black
05. Only God Knows…
06. Sea Of Love
07. White Lights
08. Why Not?!
09. My Little Princess
10. Without You
11. Ice On Fire
12. Nana, Hey, Hey, Kiss Him Goodbye
13. Be A King (Bonus Track)
EAC extraction logfile from 6. July 2007, 14:03 for CD
Axxis / Back To The Kingdom
Used drive : _NEC DVD_RW ND-4550A Adapter: 5 ID: 0
Read mode : Secure with NO C2, accurate stream, disable cache
Read offset correction : 48
Overread into Lead-In and Lead-Out : No
Used output format : E:\Program Files\eac-0.95b4\MAC.exe (Monkey's Audio Lossless Encoder)
High Lossless Compression
Other options :
Fill up missing offset samples with silence : Yes
Delete leading and trailing silent blocks : No
Native Win32 interface for Win NT & 2000
Range status and errors
Selected range
Filename E:\Axxis - Back To The Kingdom (2000)\Axxis - Back To The Kingdom (2000).wav
Peak level 100.0 %
Range quality 100.0 %
CRC FEAFBDCD
Copy OK
No errors occured
End of status report
APE, CUE, LOG
Part 1=>
http://rapidshare.com/files/41478972/trz_ABTTK0.part1.rar
Part 2=>
http://rapidshare.com/files/41479150/trz_ABTTK0.part2.rar
Part 3=>
http://rapidshare.com/files/41479319/trz_ABTTK0.part3.rar
Part 4=>
http://rapidshare.com/files/41479538/trz_ABTTK0.part4.rar
Part 5=>
http://rapidshare.com/files/41479737/trz_ABTTK0.part5.rar
Covers
Covers=>
http://rapidshare.com/files/41503557/trz_ABTTK0_cov.rar
Albums in mp3:
Axxis - Acces All Areas (1991) Live - 192=>
http://rapidshare.com/files/41481391/trz_m1Aaaa91.rar
Axxis - Axxis II (1990) - 192=>
http://rapidshare.com/files/41481662/trz_m2Aaii90.rar
Axxis - Back To The Kingdom (2000) - 320 - part 1=>
http://rapidshare.com/files/41483290/trz_m31Abttk00.rar
Axxis - Back To The Kingdom (2000) - 320 - part 2=>
http://rapidshare.com/files/41483444/trz_m32Abttk00.rar
Axxis - Collection Of Power (2000) Live Acoustic & Unreleased - 192=>
http://rapidshare.com/files/41481841/trz_m4Acop00.rar
Axxis - Eyes Of Darkness (2001) - 192=>
http://rapidshare.com/files/41482106/trz_m5Aeod01.rar
Axxis - Kingdom Of The Night (1989) - 192=>
http://rapidshare.com/files/41482342/trz_m6Akotn89.rar
Axxis - Matters Of Survival (1995) - 192=>
http://rapidshare.com/files/41482603/trz_m7Amos95.rar
Axxis - Paradise In Flames (2006) - 320 - part 1=>
http://rapidshare.com/files/41483675/trz_m81Apif06.rar
Axxis - Paradise In Flames (2006) - 320 - part 2=>
http://rapidshare.com/files/41483869/trz_m82Apif06.rar
Axxis - The Big Thrill (1993) - 192=>
http://rapidshare.com/files/41482867/trz_m9Atbt93.rar
Axxis - Voodoo Vibes (1997) - 192=>
http://rapidshare.com/files/41483119/trz_m10Avv97.rar
Axxis-Paradise_In_Flames-Ltd.Ed.-2006-DJH (incl. 2 bonus tracks) - vbr - part 1=>
http://rapidshare.com/files/41484024/trz_m111Apif06le.rar
Axxis-Paradise_In_Flames-Ltd.Ed.-2006-DJH (incl. 2 bonus tracks) - vbr - part 2=>
http://rapidshare.com/files/41478688/trz_m112Apif06le.rar
Комплект обложек к mp3 альбомам (кроме "Back To The Kingdom")=>
http://rapidshare.com/files/41510039/trz_A_all_cov.rar
Архивы (WinRAR v3.70) с информацией для восстановления 3%. Pass: Terrorizer