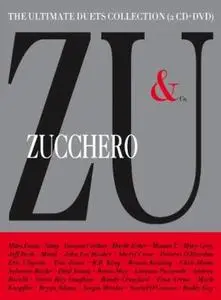 CD1
1. Dune Mosse with Miles Davis
2. Muoio per Te with Sting
3. Indaco dagli Occhi del Cielo with Vanessa Carlton (feat. Haylie Hecker)
4. Il Grande Baboomba with Mousse T.
5. Like the Sun with Macy Gray (feat. Jeff Beck)
6. Baila Morena with Manà
7. Ali d'Oro with John Lee Hooker
8. Blue with Sheryl Crow
9. Pure Love with Dolores O'Riordan
10. A Wonderful World with Eric Clapton
11. Pippo – Nasty Guy with Tom Jones
12. Hey Man – Sing a Song with B.B.King
13. Il Volo – The Flight with Ronan Keating
14. Così Celeste with Cheb Mami
15. Diavolo in Me – A Devil in me with Solomon Burke
16. Senza una Donna – Without a Woman with Paul Young
17. Il Mare… with Brian May
18. Miserere with Luciano Pavarotti & Andrea Bocelli
Download here part 1 for CD 1
Download here part 2 for CD 1
Download here part 3 for CD 1
CD2
1. Mama with Stevie Ray Vaughan
2. Diamante with Randy Crawford
3. I'm in Trouble with Tina Arena
4. Who Will the Next Fool Be? with Mark Knopfler (feat. Jools Holland, Scooty Moore, D.J. Fontana)
5. Eres Mi Religion – Eri la Mia Religione with Manà
6. Mama Get Real (remix English single) with Mousse T.
7. Io Vivo (In Te) – I'm Ready with Bryan Adams
8. Let The Good Times Roll with B.B.King
9. Un Oceano di Silenzi with Sergio Mendes
10. Va, Pensiero with Sinèad O'Connor
11. Before You Accuse Me with Buddy Guy
12. Un piccolo aiuto with Eric Clapton