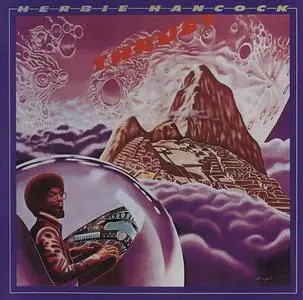 Herbie Hancock - Thrust (1974)
EAC rip | FLAC + CUE + LOG -> 251Mb | MP3 @320 -> 91Mb
Full Artwork @300 dpi -> 27Mb
Columbia / Legacy
Despite its rather silly sci-fi cover, 1974's THRUST is a top-tier album by composer/keyboardist Herbie Hancock. On this excellent follow-up to the legendary HEADHUNTERS, Hancock lays into some seriously deep grooves on his Fender Rhodes, and is backed by many of the same musicians from HEADHUNTERS, including bassist Paul Jackson and woodwind master Bennie Maupin.
The opening track, "Palm Grease," is a slick future-funk workout that breaks down into highly percussive passages, while "Actual Proof" coasts along on Hancock's bright melodies, which are enhanced by Jackson's burbling bass lines and Maupin's deft, breezy alto-flute playing. Of the four lengthy pieces that make up THRUST, "Butterfly" stands out as the disc's most reflective track, with Hancock taking his typically frenetic jazz fusion sound into surprisingly delicate and lyrical territory. While this outing will always be overshadowed by HEADHUNTERS, it remains one of Hancock's finest releases and is essential for fans of '70s funk-laden jazz.
Personnel: Herbie Hancock (Fender Rhodes piano, Clavinet, synthesizer); Bennie Maupin (soprano & tenor saxophones, saxello, alto flute, bass clarinet); Paul Jackson (electric bass); Mike Clarke (drums); Bill Summers (percussion).
Recorded at Wally Heider Studios, San Francisco, California in 1974. Includes liner notes by Mike Clarke.
Song Title
1. Palm Grease
2. Actual Proof
3. Butterfly
4. Spank-A-Lee