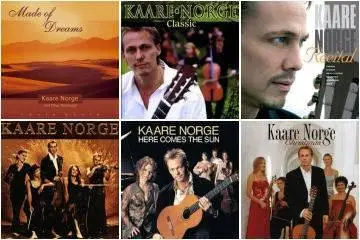 Kaare Norge - Six Albums | 1997-2005 | Genre: Classical, Guitar
APE 1411 kbps | 44100 HZ Stereo | 1,18 GB in total
The Danish Guitarist Kaare Norge,has in countless reviews been described as one of his generations foremost guitar masters on his chosen instrument - "The Classical Guitar". Since his debut in 1988, he has given more than 3500 Concerts around the world and released 16 recordings.
More info and full tracklist at:
KaareNorge.dk
Files are hosted by Rapidshare… No Oxyshare mirrors please !!!

Made of Dreams
http://rapidshare.de/files/25590435/KNMOD.part1.rar
http://rapidshare.de/files/25593884/KNMOD.part2.rar
http://rapidshare.de/files/25597797/KNMOD.part3.rar

Classic
http://rapidshare.de/files/25562543/KNC.part1.rar
http://rapidshare.de/files/25568607/KNC.part2.rar
http://rapidshare.de/files/25573368/KNC.part3.rar

Recital
http://rapidshare.de/files/25625206/KNR.part1.rar
http://rapidshare.de/files/25629167/KNR.part2.rar

Morning has Broken
http://rapidshare.de/files/25579208/KNMHB.part1.rar
http://rapidshare.de/files/25585400/KNMHB.part2.rar

Here Comes the Sun
http://rapidshare.de/files/29653465/KNHCTSun.part1.rar
http://rapidshare.de/files/29660843/KNHCTSun.part2.rar

Christmas
http://rapidshare.de/files/29630785/KNChrist.part1.rar
http://rapidshare.de/files/29647023/KNChrist.part2.rar
Password: Sankerib
Have a look at my many previous uploads at: Project Sankerib

Please report dead links by sending me a: Personal Message