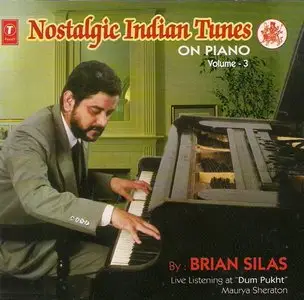 Brian Silas - Nostalgic Indian Tunes on Piano Vol 3
EAC | FLAC (with CUE) | No Log | MP3 (320 kbps) | 292MB + 129MB | Instrumental | RS
His 10 years tryst with the piano has got Brian fame and accolades from audiences in India and abroad. His genius has arrested the attention of the connoisseur as well as the uninitiated.
Although the piano has been widely used in picturising the romance in the Indian cinema, it is ironic that the main melody (song) was seldom composed with the piano in mind. It therefore becomes even more amazing how Brian has achieved in bringing out every nuance and detail of the lyrics and music becoming a one man orchestra on this grand instrument.
Brian has pioneered this technique to adapt the Piano a distinctively western instrument to the music of his own country. He evokes the nostalgia of great music directors like Khayyam, Salil Choudhary, O.P. Nayyar, S.D. Burman, Laxmi Kant Pyare Lal, Ravi and the inimitable Madan Mohan, leaving his audience spell bound.
Tracks:
1) Julmi Sang Aankh LAdi (Movie - Madhumati)
2) Kahin Door Jab Din Dhal Jaye (Movie - Anand)
3) Dil Ki Nazar Se (Movie - Anari)
4) Mohe Bhool Gaye Sawariya (Movie - Baiju Bawra)
5) Jo Vaada Kiya Wo Nibhaana Padega (Movie - Taj Mahal)
6) Mann Dole Mera Tann Dole (Movie - Nagin)
7) Kaanto Se Kheech Ke (Movie - Guide)
8) Aaja Re Ab Mera Dil (Movie - Aah)
9) Unko Ye Shikayat Hai (Movie - Adalat)
10) Hum Pyaar Main Jalne Walon Ko (Movie - Jailor)
11) Mera Jeevan Kora Kaagaz (Movie - Kora Kaagaz)
12) Aansoon Bhari Hai (Movie - Parvarish)
13) Dhire Se Aaja Ri (Movie - Shabaab)