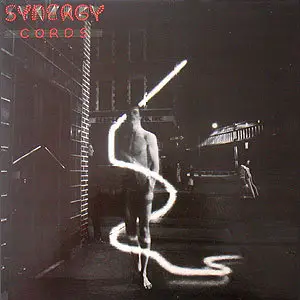 Synergy "Cords"(1978)
FLAC & CUE | 96/24 Stereo | 9 X 100 MB +42 MB | Covers included
Genre: Electronic | Label: Passport PB-6000 | Source: LP Clear Vinyl 1st Pressing
Synergy's (Mr. Larry Fast) finest release, in my humble opinion.
The music in here is Grandiose, but also eerie. The fact that the original gatefold had a photo of the composer in front of one of the Twin Towers with a "Cord" connecting him to it is a bit disturbing. I am positive he was tapping into the muse of the Universe in here-maybe he saw how the future was , since the music fits the bleak world we only thought would exist in only our weirdest dark fantasies.
This LP will move you and you will not be the same person after hearing it.
Ripped at 96/24 resolution from a brand new sealed clear vinyl LP 1st Pressing : gatefold cover and states"Distributed by Arista Records", this LP will challenge your Stereo System and even better, it decodes almost perfectly on Surround with Dolby Pro Logic Music setting (Dimension=+1 /Panorama=ON).
Tracklist:
1 On Presuming To Be Modern I 3:06
2 Phobos And Deimos Go To Mars (Parts 1 & 2) 7:14
3 Sketches Of Mythical Beasts 3:32
4 Disruption In World Communications 4:18
5 On Presuming To Be Modern II 2:58
6 A Small Collection Of Chords 1:25
7 Full Moon Flyer 7:43
8 Terra Incognita 3:50
9 Trellis 3:38
10 On Presuming To Be Modern III 3:25
This is the first Synergy album to feature another musician, Pete Sobel , on Looped "a la Fripp" Guitar Synth.
For more detailed info you can hear it from the horse's mouth:
http://synergy-emusic.com/cords.html
Transfer by kap'n krunch
Uploaded by Empanadilla
available via rapidshare.com
rar archive password: mojave
Tech talk:
TT: Technics SL-QL2 Linear Tracking
Stylus: Ortofon OMP20
Preamp: Akiyama MX-1
Card; MOTU 828 mk II
Recording program : Logic Pro
Decode and Post: : Declicked manually in izotope and mixed in Logic Pro
Conversion .aiff to FLAC; MacFLAC
To keep up to date with all the latest Quad/SACD/DVD-A rips,
please join the surround sound music sharing discussion group:
http://groups.google.com/group/SurroundSound
Public Service Announcement:
Please support the new releases.
It's the right thing to do.
Besides, Factory pressed discs last much longer and play better
than writable media. Support the artists!
if you want to p2p it, please credit me, but
NO MIRRORS
***
Note about the links-very important, please pay attention:
Click