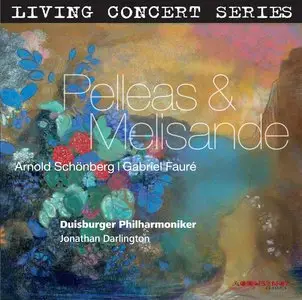 Duisburg Philharmonic Orchestra dir. Jonathan Darlington - Schoenberg / Fauré: Pelleas & Melisande
FLAC 192KHz / 24Bit | Full Artwork | Stereo | 2.10GB | 2009
These are Studio Master files from Linn Records, so NO LOG and NO CUE. See
www.linnrecords.com
for more details.

Enjoy the sound of late-Romanticism with Arnold Schönberg's Symphonic Poem and the Neo-Classical atmospheric pictures of Gabriel Fauré's incidental music.
The Studio Master files are 192kHz / 24 bit.
The LIVING CONCERT SERIES embodies, in a very special way, the basic concept behind ACOUSENCE's PHILOSOPHY-LABEL. These music recordings are planned to provide, aside from exceptional musical content and an audiophile sound quality, above all, emotionally intense performances. The spontaneity and naturalness of a live performance, combined with a highly refined recording technique, that is capable of transmitting the smallest of sound-nuances, so essential in portraying atmosphere and emotional content, provide a true "Concert" experience.
Recording producer, recording engineer: Ralf Kolbinger / Ralf Koschnicke
Mixing engineer, editor: Ralf Koschnicke
Recording facilities: ACOUSENCE recording mobile / ACOUSENCE recordings
Recording location: Mercatorhalle Duisburg, 13./14.02.2008
c & p 2009 ACOUSENCE records
This album is licensed for download from Acousence Records.
Arnold Schönberg (1874-1951) "Pelleas und Melisande", Symphonic Poem op. 5 (1902/03)
Gabriel Fauré (1845-1924) "Pelléas et Mélisande", Suite op. 80 (1898/1900)
"Pelléas et Mélisande"
01 - Ein wenig bewegter - zoegernd.flac
02 - Heftig - sehr warm in breiter Bewegung.flac
03 - Lebhaft - etwas zurückhaltend - Wieder lebhaft.flac
04 - Ein wenig bewegter - Sehr rasch.flac
05 - Langsam - Heftig.flac
06 - Sehr langsam.flac
07 - Sehr langsam gedehnt.flac
08 - Ein wenig bewegt.flac
09 - Langsam.flac
10 - Ein wenig bewegter.flac
11 - Viel rascher beschleunigend.flac
12 - Wieder wie vorher.flac
13 - Nach und nach etwas bewegter.flac
14 - Etwas bewegt - heftig.flac
15 - In gehender Bewegung.flac
16 - Breit.flac
17 - Nach und nach wieder ins Tempo.flac
18 - Prelude.flac
19 - Fileuse.flac
20 - Sicilienne.flac
21 - La Mort de Melisande.flac
The title "Pelléas et Mélisande" awakens associations with the play by Maurice Maeterlinck, with the opera of Claude Debussy as well as with orchestral works of composers such as Gabriel Fauré, Arnold Schönberg and Jean Sibelius. This symbolist drama about forbidden love is renowned for its complexity, deep thoughts and little action, which is not meant pejoratively, but highlights that the work is not easily accessible. Arnold Schönberg composed a vast and demanding symphonic poem, and even the pieces of incidental music need an explanation when detached from the stage.
Maurice Maeterlinck and Symbolism
The lyricist and dramatist Maurice Maeterlinck (1862-1949) belongs, besides Paul Verlaine (1844-1896), Arthur Rimbaud (1854-1891) and Stéphane Mallarmé (1842-1898), to the most important representatives of symbolist literature. Symbolism consciously turns away from positivism and naturalism and underlines the mysterious in the world and in the soul. The authors refer to the unreal and aim to create a floating atmosphere. In their ambiguity the writings are directed less towards an understanding than towards the production of suggestive moods. In 1890 Maurice Maeterlinck first drew attention to himself with the drama "La princesse Maleine", although he achieved his most enduring success with the drama "Pelléas et Mélisande" written in 1892. This five act play was first performed on May 16, 1893 in the Théâtre de Bouffes-Parisiens in Paris and was, in contrast to the works by the other symbolists, soon to be experienced in numerous other theatres and was not restricted merely to French speaking countries.
The drama "Pelléas et Mélisande"
With the subject matter of "exceeding normal love", the drama "Pelléas et Mélisande" becomes a counterpart to Richard Wagner's music drama "Tristan and Isolde". Maurice Maeterlinck found the material in different dramas, stories and fairy tales. Tragic threesome relationships are not only to be found in Wagner's music drama, but also in Dantes "Divine Comedy". in the episode about Francesca da Rimini, and in Ludwig Tieck's drama "The Life and Death of the Holy Genevieve". The poet found further motives in William Shakespeare's "Othello" (jealousy!) as well as in fairy tales of the Brothers Grimm. Relevant are also the Well Scene in the "Frog Prince" and the Hair Scene in "Rapunzel".
In accordance with its lyric nature the scenario of the drama dispenses with coarse effects and thereby gains a rather subliminal expressiveness: The widowed Golaud, grandson of King Arkel of Allemonde, finds the weeping Mélisande in the forest by a spring. At his castle he marries the unknown lady. He asks his brother Pelléas to intercede with his grandfather Arkel on his behalf, since for political reasons his marriage to a different woman had already been arranged. Mélisande remains in an oppressed state, and her only rays of hope are her encounters with Golaud's brother Pelléas. A strangely unconscious love relationship develops, which is accompanied by mysterious incidents: As Mélisande's ring falls by mistake into the well, Golaud falls at the same moment from his horse. His wife claims to have lost her ring in the grotto. Accompanied by Pelléas, she is horrified to encounter there three old men exhausted by hunger. The scene in which Pelléas wraps himself into Mélisande's long hair is especially poetic. However, Golaud becomes distrustful and has Pelléas and Mélisande observed by Yniold, his son from his first marriage. Golaud's jealousy increases, and when Pelléas is about to depart on a lengthy journey and says goodbye to Mélisande, he is killed by his brother. Although Mélisande could flee, her death is now inevitable. As she is dying, Golaud asks for her forgiveness, and asks for the truth about her relationship to his brother. Her thoughts however are only concerned with her daughter, just born, who must now live alone in a gloomy world. Up until the end, everything remains unclear.
The Sound of Late-Romanticism: Arnold Schönberg's Symphonic Poem
It was Richard Strauss (1864-1949) who drew the attention of Arnold Schönberg, ten years his junior, to Maurice Maeterlinck's drama "Pelléas et Mélisande". Strauss, whose great operatic successes were still ahead of him, nevertheless recommended this material as a basis for an opera. Without knowing about Debussy's project, Arnold Schönberg did not write an opera, but a symphonic poem. By this he stepped into closer competition with Richard Strauss rather than with Claude Debussy. "Pelleas und Melisande" is Arnold Schönberg's first large orchestral work. At that time the composer had moved his centre of activity from Vienna to Berlin. During the years 1901 to 1903 he was the conductor at Ernst von Wolzogen's cabaret "Überbrettl", and later also accepted a teaching position at the Sternschen Conservatoire. The symphonic poem "Pelleas und Melisande" was completed on the 28th February 1903, but the first performance did not take place until the 25th January 1905 in Vienna.
It was Arnold Schönberg's aim with "Pelleas und Melisande" to write a consciously modern composition. With this in mind, he attempted to follow on from Richard Wagner's and Richard Strauss's established musical language, even to extend it. On the other hand, he was keen to grasp as many details of the drama as possible in his orchestral work. Many years later Schönberg regretted not having realised the original opera plan, particularly as his work would clearly have differed from Claude Debussy's composition. But the orchestral work is nevertheless a significant composition, about which Schönberg said: "On the other hand, the Symphonic Poem was an advancement for me, because it taught me to express moods and characters in precisely formed musical units, a procedure which an opera may not have served so well." He further explained about his Symphonic Poem: "It is completely inspired by Maurice Maeterlinck's wonderful drama. Apart from only few omissions and slight changes in the order of the scenes, I tried to reflect every detail. Maybe, as often happens in music, more space is dedicated to the love scenes." This he achieved, summoning up all his forces in a 45 minute composition with an enormous instrumentation and an emphatically advanced harmony.
At its premiere the work aroused opposition because its dimensions appeared too enormous, and for the audience there was too little melodiousness. Although in the first performances one believed to hear only an aimless rambling, the Schönberg pupil Alban Berg proved in 1920 for the first time the strict architecture: the single movement Symphonic Poem subliminally presents the four movements of a symphony. Accordingly, the first section, which relates firstly to Golaud and Mélisande and then to Pelléas and Mélisande, is founded on the model of a classical sonata form. The second section has the structure of a Scherzo and treats the scene at the fountain, shows Pelléas kissing his beloved's hair and continues up to the scene in the cavern under the castle. The third section deals with love and parting, and Golaud's fratricide, in the form of a slow symphonic movement. The finale, a reprise of the first section, is a reflection on Mélisande's death.
Arnold Schönberg characterises the three central figures with extensive leitmotives. Harmoniously Schönberg begins to go new ways, using chords of fourths for the first time. Chromaticism also plays an important role in the composition. In this manner, a work of spectacular expressiveness was created, in addition however, not freely wandering, but following a strict plan. Performances of Arnold Schönberg's remarkable symphonic poem are seldom to be experienced since the composer did not continue in the late-romantic style - even more excessive is the choice of forces in "Gurre-Lieder" - but turned towards new objectives.
The Neo-Classical Atmospheric Pictures of Gabriel Fauré's Incidental Music
Gabriel Fauré's success with his incidental music "Pelléas et Mélisande" seems in relation to his biography at first unpredictable, since for nearly forty years he worked as a church musician. In addition he wrote, above all, songs and chamber music, and with his only opera "Pénélope" he later had a substantial success. Indeed, orchestral music hardly concerned him, and it is significant that his best known orchestral pieces were originally stage compositions. Namely, the suite "Pelléas et Mélisande" and the divertissement "Masques et Bergamasques".
Gabriel Fauré wrote his incidental music "Pelléas et Mélisande" for the English-language première of Maeterlinck's play on the 21st June 1898 at the Prince of Wales Theatre in London. The original incidental music consists of a total of nineteen musical numbers, for which the composer repeatedly reused existing material. Then in 1900 Fauré arranged three of the longer orchestral pieces into a Suite, extended the orchestral forces, and added a Sicilienne. Still in its three-movement version the Suite op. 80 was first heard on the 3rd February 1901 in Paris. Thus Fauré's music had arrived both in the theatre and in the concert hall.
The orchestral suite "Pelléas et Melisande" consists, in its final version, of four movements, which captivate the listener with wonderfully sensitive neo-classical atmospheric pictures. It goes without saying that leitmotives hardly play a role here. Of more importance is the particular atmosphere of individual scenes of the play. The "Prélude" stresses the prevailing fairy-tale mood of the drama and offers room for the presentation of nostalgic feeling. At the same time, the magic forest is also presented, because it is there that Golaud - in the incidental music a bugle call is repeatedly assigned to him - meets the mysteriously tender Mélisande. The second movement, "La Fileuse" ("the spinner girl"), remembers the music of Fauré's teacher Camille Saint-Saëns and his symphonic poem "The Spinning-Wheel of the Omphale": Above the softly circling movement of the spinning-wheel, the woodwinds firstly present a melancholic melody, joined later by the strings. Thematic imitations point to an aesthetic workmanship. With the gentle "Sicilienne" (No. 3) the spectrum of expressions is considerably extended. This movement relates back to one of Fauré's earlier compositions. Flute and harp lend the "Sicilienne" a brightness which cannot however be found in the play. "La mort de Mélisande" (No. 4), a movement of restrained melancholy and exquisite beauty, concludes both the Incidental Music and the Orchestral Suite.
Michael Tegethoff

Part of Linn Products Ltd, world leaders in sound reproduction equipment, Linn Records was formed in 1983.

While Linn engineers were testing their flagship product, the Sondek LP12 turntable, they became frustrated with the poor quality of some of the specialist test LPs they were using. The measurements were swamped by record imperfections. Better test discs were needed so work began on an LP cutting lathe as a research product to improve testing for the LP12.

The first albums to be cut and subsequently released were Carol Kidd's debut album and A Walk Across the Rooftops by the Blue Nile. Thus Linn Records was born…

Today the label is one of the world's leading audiophile labels specialising in classical, jazz and Celtic music. We reproduce our music on CD (or SACD), Vinyl and now as high quality Downloads.

We exist to introduce the broadest range of involving musical experiences to a worldwide audience of discriminating individuals who are on a personal quest of musical ecstasy and enlightenment. The beautiful compositions and artistic performances are perfectly captured by our expert engineers on recordings of unprecedented truth.

There is a whole world of Linn music to explore. The high quality sound reproduction that results from our investment of time and effort means that as a listener you can simply hear more, and hear it more clearly. It can sound uncannily like the musicians are in the room with you. As the true qualities of the music are more audible, music that you never thought would move you starts to make sense, and its seductive power can be tremendous. Please have a listen to our music and judge for yourselves. Sound clips are available on all the album pages.

We believe music is essential for human well-being and the better it is reproduced the more benefit it delivers. Because of this we record our music to the highest specification. This means that great care is taken in recording sessions and in the manufacturing process to ensure that the atmosphere and integrity of the musical performance is maintained.

Our people all have a love of music and pay high attention to detail. Find out about the key personnel and read an interview with one of our top sound engineers.

We pride ourselves in looking after you and aim to provide an excellent service. We treat your details with confidentiality, we do not pass on or sell your details to other companies and we have put security certificates in place to protect your payment details.

We are a small team based in the countryside just South of Glasgow in Scotland.

Linn Records is a subsidiary company of Linn Products - an independent company specialising in precision engineered sound and vision. Linn Products was founded in 1972 by Ivor Tiefenbrun to produce the Linn Sondek record player, which is still in production. Today, Linn designs and manufactures an extensive range of original products, renowned for their performance, and sold around the world. Systems range from £1000 to £1m.

Downloads
http://rapidshare.com/files/322943627/duischfau.part01.rar
http://rapidshare.com/files/322943641/duischfau.part02.rar
http://rapidshare.com/files/322943613/duischfau.part03.rar
http://rapidshare.com/files/322943702/duischfau.part04.rar
http://rapidshare.com/files/322944760/duischfau.part05.rar
http://rapidshare.com/files/322944991/duischfau.part06.rar
http://rapidshare.com/files/322944860/duischfau.part07.rar
http://rapidshare.com/files/322944986/duischfau.part08.rar
http://rapidshare.com/files/322946263/duischfau.part09.rar
http://rapidshare.com/files/322946378/duischfau.part10.rar
http://rapidshare.com/files/322946530/duischfau.part11.rar
http://rapidshare.com/files/322945497/duischfau.part12.rar