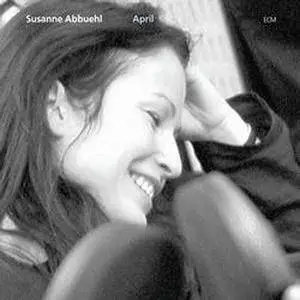 Susanne Abbuehl - April (2001) {ECM}
EAC Rip | FLAC with CUE and log | scans | 297 mb
MP3 CBR 320kbps | RAR | 158 mb
Genre: jazz, vocal jazz
April
is the 2001 CD by jazz singer Susanne Abbuehl. Released by ECM Records, as per the norm with the label, this was produced by Manfred Eicher.
As anybody who's read my reviews/rants will attest, I'm generally not a big fan of jazz vocalists. Too many of 'em seem stuck in a Great American Songbook time-warp, singing lots of co-dependent my-man-treats-me-so-bad-but-he's-my-man clichéd lyrics, and while jazz instrumentalists have made amazing strides in the past 30 or so years, whereas most singers…well, you get the point, I think. Notable exceptions are Cassandra Wilson, Barbara Sfraga and a name very new to me, this Susanne Abbuehl.

Ms. Abbuehl has a luscious yet marvelously understated voice that can only be compared (most) favorably with Sheila Jordan, Annette Peacock and the late Jeanne Lee, with more than a bit of the wise sensuality of Helen Merrill. She doesn't go in for cheap/cheesy sentimentality or show-offish scatting, but instead goes for a minimalist purity, stretching syllables and phases just so, wringing or imparting the emotion of/in the song with the utmost care, but driven by a serene confidence. In many ways, Abbuehl is a vocal counterpart to pianists Paul Bley, Marilyn Crispell and even Thelonious Monk, masterful key-crackers known for their unique sense(s) of economy. No surprise one of the highlights of April is a lovely, achingly minimal take on Monk's "'Round Midnight." Carla Bley's "Ida Lupino" (made famous by Bley's ex-husband Paul) and the ominous, Indian-influenced "A.I.R". Some tracks feature musical settings of poems by e. e. cummings – and normally this would make me CRINGE because when many jazz players take on modern poetry the results are usually academic-sounding and overly austere (i.e., parched, bone-dry). Abbuehl's approach, though minimal and austere, is infused with a quiet passion that makes judicious use of the melisma of Arabic or Klezmer music – and it is exciting in a natural, unassuming fashion. Her fellow musicians are up to her level, using melodious sounds much the way a painter would – not verse/chorus/verse or head arrangement/solos/head arrangement, but as lines and dabs of paint on a canvas. April is an beautiful album that' either audacious in its simplicity or deceptively simple in its audaciousness. This might be hyperbole, but I think this Susanne Abbuehl may prove to be a crucial, monster and perhaps innovative talent in years to come. Nope, scratch that: she is already.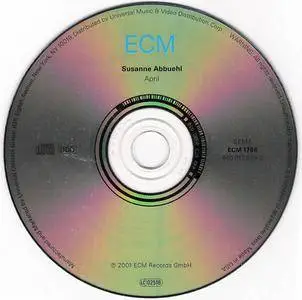 01. Yes is a pleasant country
02. Ida Lupino
03. Closer
04. all I need
05. A.I.R. (All India Radio)
06. Seven - Somewhere I have never travelled, gladly beyond
07. skies maybe blue; yes
08. 'Round Midnight
09. maggie and milly and molly and may
10. since feeling is first
11. Mane na
Susanne Abbuehl
-voice
Wolfert Brederode
-piano, harmonium, melodica
Christof May
-clarinet, bass clarinet
Samuel Rohrer
-drums, percussion
Produced by
Manfred Eicher
Engineer-
Jan Erik Kongshaug
EAC extraction logfile from 20. March 2006, 19:34 for CD
Susanne Abbuehl / April

Used drive : LITE-ON DVDRW SOHW-1633S Adapter: 0 ID: 0
Read mode : Secure with NO C2, accurate stream, disable cache
Read offset correction : 12
Overread into Lead-In and Lead-Out : No

Used output format : Internal WAV Routines
44.100 Hz; 16 Bit; Stereo

Other options :
Fill up missing offset samples with silence : Yes
Delete leading and trailing silent blocks : No
Installed external ASPI interface


Track 1
Filename D:\FLAC\Susanne Abbuehl - April (2001) [FLAC] {ECM}\01 - Yes is a pleasant country.wav

Pre-gap length 0:00:02.00

Peak level 98.5 %
Track quality 100.0 %
Test CRC 999D399E
Copy CRC 999D399E
Copy OK

Track 2
Filename D:\FLAC\Susanne Abbuehl - April (2001) [FLAC] {ECM}\02 - Ida Lupino.wav

Pre-gap length 0:00:03.77

Peak level 97.8 %
Track quality 100.0 %
Test CRC 2DEA9EDE
Copy CRC 2DEA9EDE
Copy OK

Track 3
Filename D:\FLAC\Susanne Abbuehl - April (2001) [FLAC] {ECM}\03 - Closer.wav

Pre-gap length 0:00:04.42

Peak level 98.6 %
Track quality 100.0 %
Test CRC 4FC14DD0
Copy CRC 4FC14DD0
Copy OK

Track 4
Filename D:\FLAC\Susanne Abbuehl - April (2001) [FLAC] {ECM}\04 - All I need.wav

Pre-gap length 0:00:03.24

Peak level 83.0 %
Track quality 99.9 %
Test CRC 5575DD14
Copy CRC 5575DD14
Copy OK

Track 5
Filename D:\FLAC\Susanne Abbuehl - April (2001) [FLAC] {ECM}\05 - A.I.R. (All India Radio).wav

Pre-gap length 0:00:04.49

Peak level 100.0 %
Track quality 100.0 %
Test CRC B8ED0508
Copy CRC B8ED0508
Copy OK

Track 6
Filename D:\FLAC\Susanne Abbuehl - April (2001) [FLAC] {ECM}\06 - Seven - Somewhere I have never travelled, gladly beyond.wav

Pre-gap length 0:00:06.40

Peak level 98.1 %
Track quality 100.0 %
Test CRC 8293F8A7
Copy CRC 8293F8A7
Copy OK

Track 7
Filename D:\FLAC\Susanne Abbuehl - April (2001) [FLAC] {ECM}\07 - Skies maybe blue; yes.wav

Pre-gap length 0:00:03.64

Peak level 99.9 %
Track quality 100.0 %
Test CRC 47152746
Copy CRC 47152746
Copy OK

Track 8
Filename D:\FLAC\Susanne Abbuehl - April (2001) [FLAC] {ECM}\08 - 'Round Midnight.wav

Pre-gap length 0:00:03.90

Peak level 48.4 %
Track quality 100.0 %
Test CRC D800DFDD
Copy CRC D800DFDD
Copy OK

Track 9
Filename D:\FLAC\Susanne Abbuehl - April (2001) [FLAC] {ECM}\09 - Maggie and Milly and Molly and May.wav

Pre-gap length 0:00:04.37

Peak level 98.5 %
Track quality 100.0 %
Test CRC 7091B58D
Copy CRC 7091B58D
Copy OK

Track 10
Filename D:\FLAC\Susanne Abbuehl - April (2001) [FLAC] {ECM}\10 - Since feeling is first.wav

Pre-gap length 0:00:04.76

Peak level 69.8 %
Track quality 100.0 %
Test CRC E8C66CF5
Copy CRC E8C66CF5
Copy OK

Track 11
Filename D:\FLAC\Susanne Abbuehl - April (2001) [FLAC] {ECM}\11 - Mane na.wav

Pre-gap length 0:00:03.82

Peak level 98.7 %
Track quality 100.0 %
Test CRC 5443457C
Copy CRC 5443457C
Copy OK

No errors occured


End of status report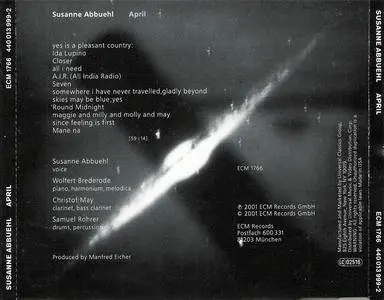 Check out other titles in
my Avaxhome blog