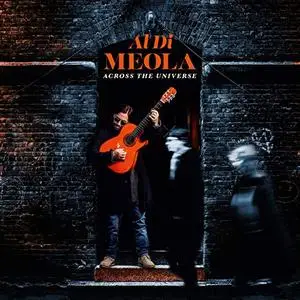 Al Di Meola - Across the Universe (2020)
WEB FLAC (Tracks) - 390 MB | Cover | MP3 CBR 320 kbps - 143 MB | 01:01:46
Jazz, Fusion, Guitar | Label: earMUSIC
'Across The Universe' is a homage to The Beatles and their influence on generations of musicians and music lovers all over the world. You will enjoy the instantly recognizable Beatles melodies blended into the elaborated and unique style of one of the greatest jazz guitarists of our time. These recordings not only are means to pay tribute to the Beatles, whom Di Meola had admired since his teenage years, but also go back in time and capture all the moments that define him today as a man and guitarist who inspired generations of musicians. Di Meola invites his audience to accompany him on his very personal musical journey throughout his life. A life that has been accompanied by iconic Beatles songs like 'Hey Jude', 'Here Comes The Sun', 'Strawberry Fields Forever' and 'Yesterday'. 'Across The Universe' is a musical retrospective of Al Di Meola's life, his music and his unique career of almost five decades.
TRACKLIST
01. Here Comes the Sun
02. Golden Slumbers Medley
03. Dear Prudence
04. Al Di Meola & John Lennon - Norwegian Wood
05. Mother Nature's Son
06. Strawberry Fields Forever
07. Yesterday
08. Your Mother Should Know
09. Hey Jude
10. I'll Follow the Sun
11. Julia
12. Till There Was You
13. Here, There and Everywhere
14. Octopus's Garden
–––––––––––-
DON'T MODIFY THIS FILE
–––––––––––-
PERFORMER: auCDtect Task Manager, ver. 1.6.0 RC1 build 1.6.0.1
Copyright © 2008-2010 y-soft. All rights reserved
http://y-soft.org
ANALYZER: auCDtect: CD records authenticity detector, version 0.8.2
Copyright © 2004 Oleg Berngardt. All rights reserved.
Copyright © 2004 Alexander Djourik. All rights reserved.
FILE: 14. Octopus's Garden.flac
Size: 5219698 Hash: 6B1CCBF07643729332E237BFC5D6B141 Accuracy: -m0
Conclusion: CDDA 100%
Signature: 392C547B3779256880F7429140554D74009CF45E
FILE: 13. Here, There and Everywhere.flac
Size: 9493552 Hash: 44520D7631616A184AD5CB4277069BDF Accuracy: -m0
Conclusion: CDDA 100%
Signature: F1308140446D4331259D35FACABC16BA37234C78
FILE: 12. Till There Was You.flac
Size: 31937010 Hash: EC33A333CDB59E256DA339556F92DBA5 Accuracy: -m0
Conclusion: MPEG 95%
Signature: 5DEF6EB193A7AE8071679083552F4D7902C27C41
FILE: 11. Julia.flac
Size: 30726971 Hash: 2C6EE580547E8055764B45DB18B612C8 Accuracy: -m0
Conclusion: CDDA 100%
Signature: 982ABE0B82E0EAC566CBBAFF6A1C672CE6F3CA61
FILE: 10. I'll Follow the Sun.flac
Size: 28707734 Hash: 7A11AF48491F3D0AE3A3408BA68F551F Accuracy: -m0
Conclusion: MPEG 95%
Signature: 10C7F1A8F55F2D265F0E5874BAAF76881948A8C9
FILE: 09. Hey Jude.flac
Size: 29104428 Hash: B3F1B86DA0A437819CBC3A63158B9E7F Accuracy: -m0
Conclusion: CDDA 100%
Signature: AF64B7512143373EE604625697B51CA9C315C686
FILE: 08. Your Mother Should Know.flac
Size: 31162447 Hash: 301CECFECFD136A224775A0F0A59793A Accuracy: -m0
Conclusion: CDDA 100%
Signature: 73FFADF97D3775BADA69A3C093FE42EE71E7BA71
FILE: 07. Yesterday.flac
Size: 26125172 Hash: 7BBF81F6E5BD3C00DD11BBF2492A8EDC Accuracy: -m0
Conclusion: CDDA 100%
Signature: DBECD7A8F903DA058CB82AF856032F567E8E5DA2
FILE: 06. Strawberry Fields Forever.flac
Size: 43045980 Hash: 0335FB4FE3499FAF765FE7E9A3FC364F Accuracy: -m0
Conclusion: CDDA 100%
Signature: F9A49343BB30DA9B9D3A6893B9F40E5B07BDE952
FILE: 05. Mother Nature's Son.flac
Size: 28192175 Hash: 5428F930C0F4FDAAA50F830E1E081C1E Accuracy: -m0
Conclusion: MPEG 95%
Signature: CA2B2823208589976132CCF6539B33FBB487BB79
FILE: 04. Norwegian Wood.flac
Size: 44764534 Hash: A24EAE2B32C7FE3CBA21C35CF4B9B6D5 Accuracy: -m0
Conclusion: CDDA 100%
Signature: 79DA54632DEA90E02AD89FFF861C098E90A993C1
FILE: 03. Dear Prudence.flac
Size: 30975907 Hash: 041BB4A647D5B47730090AE14245AD03 Accuracy: -m0
Conclusion: MPEG 95%
Signature: AF180B34D11E9E44685B5D07738CFE5E2776E55D
FILE: 02. Golden Slumbers Medley.flac
Size: 45280628 Hash: A888FC22761CA96093FE03054BA35879 Accuracy: -m0
Conclusion: CDDA 100%
Signature: AC1C50F6F3AE384CB2B53A8B0D3F8E34EE2FA420
FILE: 01. Here Comes the Sun.flac
Size: 24245695 Hash: 6DAE930B8AB46DB2403C5F2EE2192F5F Accuracy: -m0
Conclusion: CDDA 100%
Signature: 6FC5AAB90C2F194532EE7F5E574A773E9D297AE1
All thanks go to the original releaser