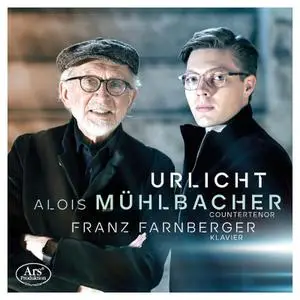 Alois Mühlbacher, Franz Farnberger - Urlicht (2022)
WEB FLAC (tracks) - 292 MB | Tracks: 21 | 209:01
Style: Classical | Label: Ars Produktion
Gustav Mahler and Richard Strauss were united by their deep relationship to literature and especially to poetry as a source of inspiration for its musical interpretation and transcendence into a sphere of expression that reflected their own feelings about life. Nevertheless, both composers worked on their texts in very different ways. While Mahler adjusted the texts through a multitude of interventions - omissions, rearrangements, and even his own additions - according to need and expressive demand, Strauss stuck strictly to the poems.
On this release Alois Muhlbacher performs an exciting program combining the lieder of both of these composers. He is joined by pianist Franz Farnberger.
Tracklist:
1. No. 9, Wo die schönen Trompeten blasen
2. No. 11, Urlicht
3. Die erwachte Rose, TrV 90
4. No. 1, Ruhe, meine Seele!
5. No. 8, Allerseelen
6. No. 1, Traum durch die Dämmerung
7. No. 1, Ich trage meine Minne
8. No. 2, Nichts
9. No. 4, Ach, weh mir unglückhaftem Mann
10. No. 2, Du meines Herzens Krönelein
11. No. 1, All mein' Gedanken
12. No. 3, Die Nacht
13. No. 1, Waldseligkeit
14. No. 1, Das Rosenband
15. No. 1, Zueignung
16. No. 4, Morgen!
17. No. 1, Ich atmet' einen linden Duft!
18. No. 2, Blicke mir nicht in die Lieder
19. No. 5, Liebst du um Schönheit
20. No. 3, Ich bin der Welt abhanden gekommen
21. No. 4, Um Mitternacht


FILE: 11. No. 1, All mein' Gedanken.flac
Size: 7338003 Hash: BCDFEAB1875EE4A8826D0320F62E62C9 Accuracy: -m0
Conclusion: CDDA 100%
Signature: F5CB0C51B008D02825103663B96813C9D4404F36
FILE: 12. No. 3, Die Nacht.flac
Size: 11697223 Hash: C6DD80665D7D08E97220C1BFB11F98D2 Accuracy: -m0
Conclusion: CDDA 100%
Signature: 7BC22E36B58ED0742F32755E7C247E15A9C85AF5
FILE: 13. No. 1, Waldseligkeit.flac
Size: 12752666 Hash: FC54D7CC09857286BB79E3F79F2E771B Accuracy: -m0
Conclusion: CDDA 100%
Signature: E018F4A80515B903DA6EBDA10415E8E2B5C697AD
FILE: 14. No. 1, Das Rosenband.flac
Size: 14601847 Hash: 9D42B0362645655CAAA554E9C127F817 Accuracy: -m0
Conclusion: CDDA 99%
Signature: 439DCFEBFA3EE40DCEC474B2E8DD045060A06B12
FILE: 15. No. 1, Zueignung.flac
Size: 9748589 Hash: FEE642AC5FE197FBBCB8A055E27455E7 Accuracy: -m0
Conclusion: CDDA 100%
Signature: F848C24C2102BDB66A1F456518E53DD44DCB9030
FILE: 16. No. 4, Morgen!.flac
Size: 14678964 Hash: B6797010DE1AA594A664ED4819CA307C Accuracy: -m0
Conclusion: CDDA 100%
Signature: DD8971085E114DC26FF7569EE80E2DBBB3C1DDA6
FILE: 17. No. 1, Ich atmet' einen linden Duft!.flac
Size: 11510580 Hash: 5D9F44E091DBEB4BA1C76542BA0D5B70 Accuracy: -m0
Conclusion: CDDA 100%
Signature: 21B2A5BE12FFABA5DDEA721D420876F1AEFEE560
FILE: 18. No. 2, Blicke mir nicht in die Lieder.flac
Size: 7833368 Hash: 112913BBED49E7ADDCDAF3FC608EEFFC Accuracy: -m0
Conclusion: CDDA 100%
Signature: CBEAA622CD11FC29D35F2545956FB086A7869CF7
FILE: 2. No. 11, Urlicht.flac
Size: 20245375 Hash: F123E893320A160AFF70354B5A0DFE2B Accuracy: -m0
Conclusion: CDDA 100%
Signature: 0341C707B058FECE04F41C48738B26BC987A7505
FILE: 20. No. 3, Ich bin der Welt abhanden gekommen.flac
Size: 23411950 Hash: C48209AD9B2F2380A269FC5F0DECCB09 Accuracy: -m0
Conclusion: CDDA 100%
Signature: B7BEC633E11DD770FA80E8DA2442821A94839717
FILE: 21. No. 4, Um Mitternacht.flac
Size: 27010629 Hash: 9B2F1416EB12EBC7D02F54FD3151134E Accuracy: -m0
Conclusion: CDDA 99%
Signature: 074F3DF29D5C2326983DD3604C5A7C647D3D4572
FILE: 3. Die erwachte Rose, TrV 90.flac
Size: 15949934 Hash: C5ADE50C8196ED8CDD8736AF1C0EE6E2 Accuracy: -m0
Conclusion: CDDA 100%
Signature: 3E5D5B9DFC60D430B113CF3E98ED2994F519CE16
FILE: 4. No. 1, Ruhe, meine Seele!.flac
Size: 15372732 Hash: 5FD45CDD82E884B9CB7C9B6D6FBC743F Accuracy: -m0
Conclusion: CDDA 99%
Signature: 8E92FEEF1FC1858FA7A8D46D95488FB4BFD5F55A
FILE: 5. No. 8, Allerseelen.flac
Size: 14439434 Hash: 72963397AB93BA2FBC31098A278A1FE3 Accuracy: -m0
Conclusion: CDDA 100%
Signature: 1A54F41170C049B06E97C29769A8BA6709BDBA44
FILE: 7. No. 1, Ich trage meine Minne.flac
Size: 11999306 Hash: B2343B79F1130AFE8E8596DCF09B2423 Accuracy: -m0
Conclusion: CDDA 99%
Signature: 2C6AECC3845BE184C1D92A5A2732F38A1053DF04
FILE: 8. No. 2, Nichts.flac
Size: 8193862 Hash: 2C39B7DCF9BB3EAFF8797DCB70DA7A85 Accuracy: -m0
Conclusion: CDDA 99%
Signature: 24B16DE528F5259E9DBC04BF9D99332723C6B487