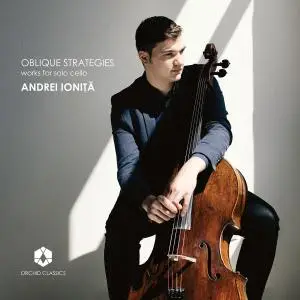 Andrei Ionita - Oblique Strategies (2019)
WEB FLAC (tracks+booklet) - 266 MB | Tracks: 21 | 70:57 min
Style: Classical | Label: Orchid Classics
Described in The Times as One of the most exciting cellists to have emerged for a decade, former BBC New Generation Artist Andrei Ionita draws together some of the greatest music ever written for solo cello. Ionita gives the world-premiere recording of Australian composer Brett Deans 11 Oblique Strategies, from which the album takes its name. Deans work was inspired by the Oblique Strategy cards invented by Brian Eno and Peter Schmidt to spark creativity. In J.S. Bachs exquisite Cello Suite No.1 a sense of harmony is created using a single melodic line, with mesmerising results. Kodálys pioneering Sonata (1915) is another giant of the solo cello repertoire, and the album concludes with Black Run (2001) by contemporary Swedish polymath Svante Henryson.
Tracklist:
01. Cello Suite No. 1 in G Major, BWV 1007: I. Prelude
02. Cello Suite No. 1 in G Major, BWV 1007: II. Allemande
03. Cello Suite No. 1 in G Major, BWV 1007: III. Courante
04. Cello Suite No. 1 in G Major, BWV 1007: IV. Sarabande
05. Cello Suite No. 1 in G Major, BWV 1007: V. Menuets I & II
06. Cello Suite No. 1 in G Major, BWV 1007: VI. Gigue
07. 11 Oblique Strategies: No. 1, Listen to the Quiet Voice
08. 11 Oblique Strategies: No. 2, A Line Has Two Sides
09. 11 Oblique Strategies: No. 3, Don't Stress One Thing More Than Any Other
10. 11 Oblique Strategies: No. 4, Look at a Small Object, Look at Its Centre
11. 11 Oblique Strategies: No. 5, What Are the Sections Sections Of:
12. 11 Oblique Strategies: No. 6, Don't Be Frightened to Show Your Talents
13. 11 Oblique Strategies: No. 7, Disciplined Self-Indulgence
14. 11 Oblique Strategies: No. 8, Bridges - Build - Burn
15. 11 Oblique Strategies: No. 9, Ghost Echoes
16. 11 Oblique Strategies: No. 10, Disconnect from Desire
17. 11 Oblique Strategies: No. 11, In a Very Large Room, Very Quietly
18. Cello Sonata in B Minor, Op. 8: I. Allegro maestro ma appassionato
19. Cello Sonata in B Minor, Op. 8: II. Adagio (Con gran' espressione)
20. Cello Sonata in B Minor, Op. 8: III. Allegro molto vivace
21. Black Run
FILE: 01. Cello Suite No. 1 in G Major, BWV 1007_ I. Prelude.flac
Size: 10103711 Hash: 03A39B8AC2155861C9568E50B2697DB6 Accuracy: -m0
Conclusion: CDDA 100%
Signature: 18C1EE03FD2564C1E0511F0F859F3065847BE600
FILE: 02. Cello Suite No. 1 in G Major, BWV 1007_ II. Allemande.flac
Size: 16918966 Hash: 1365649391678DD80BB48224A43F208A Accuracy: -m0
Conclusion: CDDA 100%
Signature: 54DC8CAA21862D820707C3EB83C79103C57A19FC
FILE: 03. Cello Suite No. 1 in G Major, BWV 1007_ III. Courante.flac
Size: 10400220 Hash: 8096D0428B34AD0EC92C1A4ACC6467B5 Accuracy: -m0
Conclusion: CDDA 100%
Signature: 146923D7651FFADDCA946A56373234B8260EC5EB
FILE: 04. Cello Suite No. 1 in G Major, BWV 1007_ IV. Sarabande.flac
Size: 11558292 Hash: 59C0DC755B499A708D8499AA8B130092 Accuracy: -m0
Conclusion: CDDA 100%
Signature: 2F323E7404213BB8E9C7A9E289E7D779034C4E06
FILE: 05. Cello Suite No. 1 in G Major, BWV 1007_ V. Menuets I & II.flac
Size: 12189703 Hash: F4E0D1242F467744F97A1CC6396FE084 Accuracy: -m0
Conclusion: CDDA 100%
Signature: 3968CAE8F267308F21D18B45448A483B83277243
FILE: 06. Cello Suite No. 1 in G Major, BWV 1007_ VI. Gigue.flac
Size: 7704870 Hash: F51BF0456E9614F16D3B8C010BC7CB86 Accuracy: -m0
Conclusion: CDDA 100%
Signature: 8FA49F6B20823149E74F3E033EC288F37639872F
FILE: 07. 11 Oblique Strategies_ No. 1, Listen to the Quiet Voice.flac
Size: 6394162 Hash: 79B2F3D40AA77E4F9FCFEF245827AB55 Accuracy: -m0
Conclusion: CDDA 100%
Signature: 8AB7080D1877FBFDF754AB6E013E7F824E5B59BF
FILE: 08. 11 Oblique Strategies_ No. 2, A Line Has Two Sides.flac
Size: 3089975 Hash: EEC38687CE78F2A0EBC839EF9F55C512 Accuracy: -m0
Conclusion: CDDA 100%
Signature: 3EACDA3664835A1F056DFF1C42D54E5530E3CE6C
FILE: 09. 11 Oblique Strategies_ No. 3, Don't Stress One Thing More Than Any Other.flac
Size: 2572761 Hash: 80627CF3636E1388043D605C99E3F765 Accuracy: -m0
Conclusion: CDDA 100%
Signature: 53F1112C959F3293034D48DC796CC04D64CF996E
FILE: 10. 11 Oblique Strategies_ No. 4, Look at a Small Object, Look at Its Centre.flac
Size: 3730898 Hash: EC93F36A17552CC5DCF950A6F81D2722 Accuracy: -m0
Conclusion: CDDA 100%
Signature: A27317582B58BD6B851B2A23850EE1901A0F06F2
FILE: 11. 11 Oblique Strategies_ No. 5, What Are the Sections Sections Of_.flac
Size: 5597351 Hash: 9E4D843CDB3D3851A8D093E85B6D4332 Accuracy: -m0
Conclusion: CDDA 100%
Signature: 4962ABD14535D7DAC54693E3458E392DCA54AC0D
FILE: 12. 11 Oblique Strategies_ No. 6, Don't Be Frightened to Show Your Talents.flac
Size: 9266571 Hash: 778DD51E96A0364F0D5C0B768D75AD1C Accuracy: -m0
Conclusion: CDDA 100%
Signature: 8AFFC2A20309010465CD83DCFF29F521F24BDED3
FILE: 13. 11 Oblique Strategies_ No. 7, Disciplined Self-Indulgence.flac
Size: 3998841 Hash: 62086480996290677F3E3F15DFAF065B Accuracy: -m0
Conclusion: CDDA 100%
Signature: CC89CCB5C627B72A2335A0C02A890973E3869B27
FILE: 14. 11 Oblique Strategies_ No. 8, Bridges - Build - Burn.flac
Size: 5114729 Hash: 4A5E08448E9B9E8473D92072AC871EE2 Accuracy: -m0
Conclusion: CDDA 100%
Signature: AB77617D5BF9285F2308C11E23AF02EF34A5A2F4
FILE: 15. 11 Oblique Strategies_ No. 9, Ghost Echoes.flac
Size: 7887229 Hash: 4BE872B8D47E051B7B752A424372E0FB Accuracy: -m0
Conclusion: CDDA 99%
Signature: F4D25CA99B04AAFDD0258B60769FEC52FA8758B9
FILE: 16. 11 Oblique Strategies_ No. 10, Disconnect from Desire.flac
Size: 5518785 Hash: 9853387499AC4B97077762652B7F575C Accuracy: -m0
Conclusion: CDDA 100%
Signature: 59D38FA184EE73793AAFB3C1A44C34CD8F6037CD
FILE: 17. 11 Oblique Strategies_ No. 11, In a Very Large Room, Very Quietly.flac
Size: 4132098 Hash: E00CBA196CE90CC154726E61660577BA Accuracy: -m0
Conclusion: CDDA 100%
Signature: 4055B0EDD36388C0FFC31F775AC961C4D40FB008
FILE: 18. Cello Sonata in B Minor, Op. 8_ I. Allegro maestro ma appassionato.flac
Size: 39037185 Hash: 6731C068E2AB344A772E1CFB6DFF15FB Accuracy: -m0
Conclusion: CDDA 100%
Signature: ECEDA700AD13B65D03E36127275D3235AF6B71B2
FILE: 19. Cello Sonata in B Minor, Op. 8_ II. Adagio (Con gran' espressione).flac
Size: 48417831 Hash: A1BB2E27B2C910D1446A66F23A426C14 Accuracy: -m0
Conclusion: CDDA 100%
Signature: 460A4CBD86E5413F3868C4DCD2B7CDA340D6B137
FILE: 20. Cello Sonata in B Minor, Op. 8_ III. Allegro molto vivace.flac
Size: 50274980 Hash: 5BBE72FD358493E66D584BECDB827926 Accuracy: -m0
Conclusion: CDDA 100%
Signature: BC49C62347B02BF02150B0996E884C4F397D921F
FILE: 21. Black Run.flac
Size: 14609644 Hash: 22D372ECD9986C46E3B0F3E417216FDC Accuracy: -m0
Conclusion: CDDA 100%
Signature: B0EE2AEE1C7D5675D6791ED3ABCA6EADFC93F13E