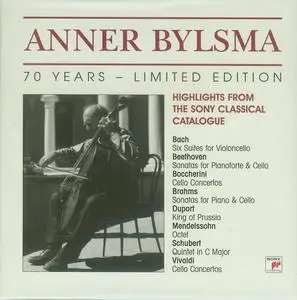 Anner Bylsma - 70 Years. Limited Edition (Highlights From The Sony Classical Catalogue) (2004) (11 CDs Box Set)
EAC Rip | FLAC (Image+.cue, log) | 11 CDs, 11:45:12 min | 3,1 Gb | Covers->1,24 mb
Genre: Classical / Label: Sony Classical
Those who collected CDs in the early years may remember Sony Classical's outstanding "Vivarte" series, which generally provided music using original instruments. Anner Bylsma one of the finest cellists of his time. Anner Bylsma celebrated his 70th birthday when this set was originallyl issued on 2004. It really mattered not what repertoire this cellist chose to play because his art is so all-embracing. He is gifted with a beautiful cello sound, formidable technique and wonderfully convincing interpretive ideas.
CDs:
CD 01: Bach
CD 02: Bach
CD 03: Beethoven
CD 04: Beethoven
CD 05: Boccherini
CD 06: Brahms, Schumann
CD 07: Duport, Beethoven, Romberg, Boccherini
CD 08: Mendelssohn-Bartholdy, Gade
CD 09: Mozart
CD 10: Schubert
CD 11: Vivaldi

CD 01: Bach
01-06 J.S. Bach - Suite No. 1 in G major, BWV 1007
07-12 J.S. Bach - Suite No. 2 in D minor, BWV 1008
13-18 J.S. Bach - Suite No. 3 in C major, BWV 1009
Anner Bylsma - violoncello

CD 02: Bach
01-06 J.S. Bach - Suite No. 4 in E-flat major, BWV 1010
07-12 J.S. Bach - Suite No. 5 in C minor, BWV 1011
13-18 J.S. Bach - Suite No. 6 in D major, BWV 1012
Anner Bylsma - violoncello

CD 03: Beethoven
01-04 Beethoven - Sonata for Pianoforte & Violoncello in A major, Op. 69
05-07 Beethoven - Sonata for Pianoforte & Violoncello in F major, Op. 5, No. 1
08-10 Beethoven - Sonata for Pianoforte & Violoncello in F major, Op. 5, No. 2
Anner Bylsma - violoncello,
Jos van Immerseel - pianoforte

CD 04: Beethoven
01-04 Beethoven - Sonata for Pianoforte & Violoncello in C major, Op. 102, No. 1
05-07 Beethoven - Sonata for Pianoforte & Violoncello in C major, Op. 102, No. 2
08 Beethoven - 12 Variations on "Ein Mädchen oder Weibchen" from Mozart's Opera "Die Zauberflöte" for Pianoforte & Violoncello in F major, Op. 66
Anner Bylsma - violoncello,
Jos van Immerseel - pianoforte

CD 05: Boccherini
01 Boccherini - Overture (Sinfonia) in D major, G. 521
02-04 Boccherini - Concerto for Violoncello & Orchestra in D major, G. 476
05-07 Boccherini - Octet (Notturno) in G major, Op. 38, No. 4, G. 470
08-10 Boccherini - Concerto for Violoncello & Orchestra in C major, G. 573
11-14 Boccherini - Sinfonia in C minor, G. 519
Anner Bylsma - violoncello,
Tafelmusik, Jeanne Lamon (on period instruments)

CD 06: Brahms, Schumann
01-03 Brahms - Sonata for Piano & Violoncello in E minor, Op. 38
04-08 Schumann - 5 Stücke im Volkston, Op. 102
09-12 Brahms - Sonata for Piano & Violoncello in F major, Op. 99
Anner Bylsma - violoncello,
Lambert Orkis - piano

CD 07: Duport, Beethoven, Romberg, Boccherini
01-03 Duport - Sonata in D major for 2 Violoncellos & Pianoforte, Op. 2, No. 1
04 Beethoven - 12 Variations on Theme "See the Conqu'ring Hero Comes" from Händel's Oratorio "Judas Macabaeus", WoO. 45
05 Duport - 9th Excercise in D minor for 2 Violoncellos
06-08 Romberg - Sonata No. 1 in E-flat major for Violoncello & Pianoforte
09-11 Boccherini - Sonata in E-flat major for 2 Violoncellos
12 Beethoven - 12 Variations on Theme "Bei Männern, welche Liebe fühlen" from Mozart's Opera "Die Zauberflöte"
Anner Bylsma - violoncello I,
Kenneth Slowik - violoncello II,
Stanley Hoogland - pianoforte

CD 08: Mendelssohn-Bartholdy, Gade
01-04 Mendelssohn-Bartholdy - Octet for 4 Violins, 2 Violas & 2 Violoncellos in E-flat major, Op. 20
05-08 Gade - Octet for 4 Violins, 2 Violas & 2 Violoncellos in F major, Op. 17
L'Archibudelli & Smithsonian Chamber Players

CD 09: Mozart
01-06 Mozart - Divertimento, KV. 563 for Violin, Viola & Cello
07-08 Mozart - Adagio & Fugue after Wilhelm Friedemann Bach, KV. 404a, No. 6 for Violin, Viola & Cello
09-10 Mozart - Adagio & Fugue after Johann Sebastian Bach, KV. 404a, No. 1 for Violin, Viola & Cello
11-12 Mozart - Adagio & Fugue after Johann Sebastian Bach, KV. 404a, No. 2 for Violin, Viola & Cello
13-14 Mozart - Adagio & Fugue after Johann Sebastian Bach, KV. 404a, No. 3 for Violin, Viola & Cello
L'Archibudelli

CD 10: Schubert
01-04 Schubert - String Quintet in C major, D. 956 (op. Post. 163)
05 Schubert - Rondo in A major for Violin & String Quintet, D. 438
Anner Bylsma - violoncello,
Vera Beths - violin; Lisa Rautenberg - violin; Jody Gatwood - violin; Steven Dann - viola; Kenneth Slovik - violoncello

CD 11: Vivaldi
01-03 Vivaldi - Concerto for Violoncello, Strings & Basso continuo, RV. 418
04-06 Vivaldi - Concerto for Strings & Basso continuo, RV. 117
07-09 Vivaldi - Concerto for Strings & Basso continuo, RV. 143
10-12 Vivaldi - Concerto for Violin, Violoncello, Strings & Basso continuo, RV. 547
13-15 Vivaldi - Concerto for 2 Violins, 2 Violoncellos, Strings & Basso continuo, RV. 575
16-18 Vivaldi - Concerto for 4 Violins, Strings & Basso continuo, RV. 549
19-21 Vivaldi - Concerto for Violoncello, Strings & Basso continuo, RV. 413
22-24 Vivaldi - Concerto for Strings & Basso continuo, RV. 134
25-27 Vivaldi - Concerto for Strings & Basso continuo, RV. 159
Anner Bylsma - violoncello,
Tafelmusik, Jeanne Lamon (on period instruments)

CD 01
EAC extraction logfile from 10. May 2006, 19:16 for CD
Bach, Johann Sebastian (1685-1750) / 6 Suites a Violincello solo senza Basso (I BWV 1007-9)
Used drive : PLEXTOR DVDR PX-712A Adapter: 0 ID: 1
Read mode : Secure with NO C2, accurate stream, disable cache
Read offset correction : 30
Overread into Lead-In and Lead-Out : Yes
Used output format : Internal WAV Routines
44.100 Hz; 16 Bit; Stereo
Other options :
Fill up missing offset samples with silence : Yes
Delete leading and trailing silent blocks : No
Native Win32 interface for Win NT & 2000
Range status and errors
Selected range
Filename D:\Bylsma 70 Years Limited Edition\CD1\Bach - 6 Suites a Violincello solo senza Basso (I BWV 1007-9).wav
Peak level 98.0 %
Range quality 100.0 %
CRC 19F577FF
Copy OK
No errors occured
End of status report


CD 02
EAC extraction logfile from 10. May 2006, 19:42 for CD
Bach, Johann Sebastion (1685-1750), Anner Bylsma - Violoncello and Violoncello piccolo (tr. 13-18) / 6 Suites a Violincello solo senza Basso (II BWV 1010-13)
Used drive : PLEXTOR DVDR PX-712A Adapter: 0 ID: 1
Read mode : Secure with NO C2, accurate stream, disable cache
Read offset correction : 30
Overread into Lead-In and Lead-Out : Yes
Used output format : Internal WAV Routines
44.100 Hz; 16 Bit; Stereo
Other options :
Fill up missing offset samples with silence : Yes
Delete leading and trailing silent blocks : No
Native Win32 interface for Win NT & 2000
Range status and errors
Selected range
Filename D:\Bylsma 70 Years Limited Edition\CD2\Bach - 6 Suites a Violincello solo senza Basso (II BWV 1010-13).wav
Peak level 98.0 %
Range quality 100.0 %
CRC D7A552AA
Copy OK
No errors occured
End of status report


CD 03
EAC extraction logfile from 10. May 2006, 19:53 for CD
Jos van Immerseel, Anner Bylsma / Beethoven - Complete Sonatas for Pianoforte and Violoncello, Disc 1
Used drive : PLEXTOR DVDR PX-712A Adapter: 0 ID: 1
Read mode : Secure with NO C2, accurate stream, disable cache
Read offset correction : 30
Overread into Lead-In and Lead-Out : Yes
Used output format : Internal WAV Routines
44.100 Hz; 16 Bit; Stereo
Other options :
Fill up missing offset samples with silence : Yes
Delete leading and trailing silent blocks : No
Native Win32 interface for Win NT & 2000
Range status and errors
Selected range
Filename D:\Bylsma 70 Years Limited Edition\CD3\Beethoven - Complete Sonatas for Pianoforte and Violoncello, Disc 1.wav
Peak level 99.5 %
Range quality 100.0 %
CRC 4F10EA9F
Copy OK
No errors occured
End of status report


CD 04
EAC extraction logfile from 10. May 2006, 20:02 for CD
Jos van Immerseel, Anner Bylsma / Beethoven - Complete Sonatas for Pianoforte and Violoncello, Disc 2
Used drive : PLEXTOR DVDR PX-712A Adapter: 0 ID: 1
Read mode : Secure with NO C2, accurate stream, disable cache
Read offset correction : 30
Overread into Lead-In and Lead-Out : Yes
Used output format : Internal WAV Routines
44.100 Hz; 16 Bit; Stereo
Other options :
Fill up missing offset samples with silence : Yes
Delete leading and trailing silent blocks : No
Native Win32 interface for Win NT & 2000
Range status and errors
Selected range
Filename D:\Bylsma 70 Years Limited Edition\CD4\Beethoven - Complete Sonatas for Pianoforte and Violoncello, Disc 2.wav
Peak level 98.2 %
Range quality 100.0 %
CRC 265DD75F
Copy OK
No errors occured
End of status report


CD 05
EAC extraction logfile from 10. May 2006, 20:13 for CD
Tafelmusik / Boccherini - Cello Concertos
Used drive : PLEXTOR DVDR PX-712A Adapter: 0 ID: 1
Read mode : Secure with NO C2, accurate stream, disable cache
Read offset correction : 30
Overread into Lead-In and Lead-Out : Yes
Used output format : Internal WAV Routines
44.100 Hz; 16 Bit; Stereo
Other options :
Fill up missing offset samples with silence : Yes
Delete leading and trailing silent blocks : No
Native Win32 interface for Win NT & 2000
Range status and errors
Selected range
Filename D:\Bylsma 70 Years Limited Edition\CD5\Boccherini - Cello Concertos.wav
Peak level 100.0 %
Range quality 100.0 %
CRC 6F8F01AF
Copy OK
No errors occured
End of status report


CD 06
EAC extraction logfile from 10. May 2006, 20:47 for CD
Anner Bylsma and Lambert Orkis / Brahms Sonatas for Piano and Cello & Schumann 5 Stucke im Volkston
Used drive : PLEXTOR DVDR PX-712A Adapter: 0 ID: 1
Read mode : Secure with NO C2, accurate stream, disable cache
Read offset correction : 30
Overread into Lead-In and Lead-Out : Yes
Used output format : Internal WAV Routines
44.100 Hz; 16 Bit; Stereo
Other options :
Fill up missing offset samples with silence : Yes
Delete leading and trailing silent blocks : No
Native Win32 interface for Win NT & 2000
Range status and errors
Selected range
Filename D:\Bylsma 70 Years Limited Edition\CD6\Brahms Sonatas for Piano and Cello & Schumann 5 Stucke im Volkston.wav
Peak level 99.9 %
Range quality 100.0 %
CRC 5A0CFDAE
Copy OK
No errors occured
End of status report


CD 07
EAC extraction logfile from 10. May 2006, 20:29 for CD
Anner Bylsma / The Cello and the King of Prussia
Used drive : PLEXTOR DVDR PX-712A Adapter: 0 ID: 1
Read mode : Secure with NO C2, accurate stream, disable cache
Read offset correction : 30
Overread into Lead-In and Lead-Out : Yes
Used output format : Internal WAV Routines
44.100 Hz; 16 Bit; Stereo
Other options :
Fill up missing offset samples with silence : Yes
Delete leading and trailing silent blocks : No
Native Win32 interface for Win NT & 2000
Range status and errors
Selected range
Filename D:\Bylsma 70 Years Limited Edition\CD7\The Cello and the King of Prussia.wav
Peak level 90.5 %
Range quality 100.0 %
CRC 57C11A08
Copy OK
No errors occured
End of status report


CD 08
EAC extraction logfile from 10. May 2006, 22:42 for CD
Smithsonian Chamber Orchestra / Mendelssohn & Gade - Octets for Strings
Used drive : PLEXTOR DVDR PX-712A Adapter: 0 ID: 1
Read mode : Secure with NO C2, accurate stream, disable cache
Read offset correction : 30
Overread into Lead-In and Lead-Out : Yes
Used output format : Internal WAV Routines
44.100 Hz; 16 Bit; Stereo
Other options :
Fill up missing offset samples with silence : Yes
Delete leading and trailing silent blocks : No
Native Win32 interface for Win NT & 2000
Range status and errors
Selected range
Filename D:\Bylsma 70 Years Limited Edition\CD8\Mendelssohn & Gade - Octets for Strings.wav
Peak level 99.7 %
Range quality 100.0 %
CRC A173B6EA
Copy OK
No errors occured
End of status report


CD 09
EAC extraction logfile from 10. May 2006, 22:11 for CD
L'Archibudelli / Mozart - Divertimento K.563; 4 Adagios & Fugues
Used drive : PLEXTOR DVDR PX-712A Adapter: 0 ID: 1
Read mode : Secure with NO C2, accurate stream, disable cache
Read offset correction : 30
Overread into Lead-In and Lead-Out : Yes
Used output format : Internal WAV Routines
44.100 Hz; 16 Bit; Stereo
Other options :
Fill up missing offset samples with silence : Yes
Delete leading and trailing silent blocks : No
Native Win32 interface for Win NT & 2000
Range status and errors
Selected range
Filename D:\Bylsma 70 Years Limited Edition\CD9\L'Archibudelli - Mozart - Divertimento K.563; 4 Adagios & Fugues.wav
Peak level 95.5 %
Range quality 100.0 %
CRC 677AE3A6
Copy OK
No errors occured
End of status report


CD 10
EAC extraction logfile from 10. May 2006, 21:27 for CD
Beths, Bylsma, Dann, Gatwood, Rautenberg / Schubert - Quintet in C; Rondo in A
Used drive : PLEXTOR DVDR PX-712A Adapter: 0 ID: 1
Read mode : Secure with NO C2, accurate stream, disable cache
Read offset correction : 30
Overread into Lead-In and Lead-Out : Yes
Used output format : Internal WAV Routines
44.100 Hz; 16 Bit; Stereo
Other options :
Fill up missing offset samples with silence : Yes
Delete leading and trailing silent blocks : No
Native Win32 interface for Win NT & 2000
Range status and errors
Selected range
Filename D:\Bylsma 70 Years Limited Edition\CD10\Schubert - Quintet in C & Rondo in A.wav
Peak level 94.8 %
Range quality 100.0 %
CRC 71CC7549
Copy OK
No errors occured
End of status report


CD 11
EAC extraction logfile from 10. May 2006, 21:10 for CD
Anner Bylsma, Tafelmusik, Jeanne Lamon / Vivaldi - Concertos for Strings
Used drive : PLEXTOR DVDR PX-712A Adapter: 0 ID: 1
Read mode : Secure with NO C2, accurate stream, disable cache
Read offset correction : 30
Overread into Lead-In and Lead-Out : Yes
Used output format : Internal WAV Routines
44.100 Hz; 16 Bit; Stereo
Other options :
Fill up missing offset samples with silence : Yes
Delete leading and trailing silent blocks : No
Native Win32 interface for Win NT & 2000
Range status and errors
Selected range
Filename D:\Bylsma 70 Years Limited Edition\CD11\Vivaldi - Concertos for Strings.wav
Peak level 95.3 %
Range quality 100.0 %
CRC 8874DFB0
Copy OK
No errors occured
End of status report